It features some of the most spectacular modern single-seat racing cars, the cleverest driver aids and fabulous competition, yet the British Hillclimb Championship remains an underrated gem.
The basic ethos of hillclimbing has changed little since it started in the early 20th century: to drive a car as fast as possible up a defined hill. Of course, the hills are now surfaced and mainly on private land rather than public gravel roads, where it all started over 115 years ago. However, closed public roads are still used for competition in Northern Ireland and the Channel Islands.
These days, state-of the-art hillclimb single-seaters are purpose-built projectiles rather than the recycled circuit racers that used to be the norm. They're capable of reaching 60mph from a standing start in little more than two seconds and breaking 140mph on certain hills. Cars with in excess of 600bhp, launch control and traction control are at the front of the split-second action.
However, while Cosworth V8 Indycar engines are at the top of the game, an ever-increasing number of diminutive and ultra-light motorbike-engined cars are on the attack. And it all happens on ribbons of asphalt akin to a single-lane country road, with very little margin for error.
Alex Summers, British champion in 2015, was runner-up this season to accomplished champion Wallace Menzies. "There are plenty of cars in the 600bhp to 700bhp bracket. We have traction control and paddle-shift sequential gearboxes," says Summers. "We have a yaw- and throttle-based traction control system on the Firestorm that I drive. It becomes more important the more power you have.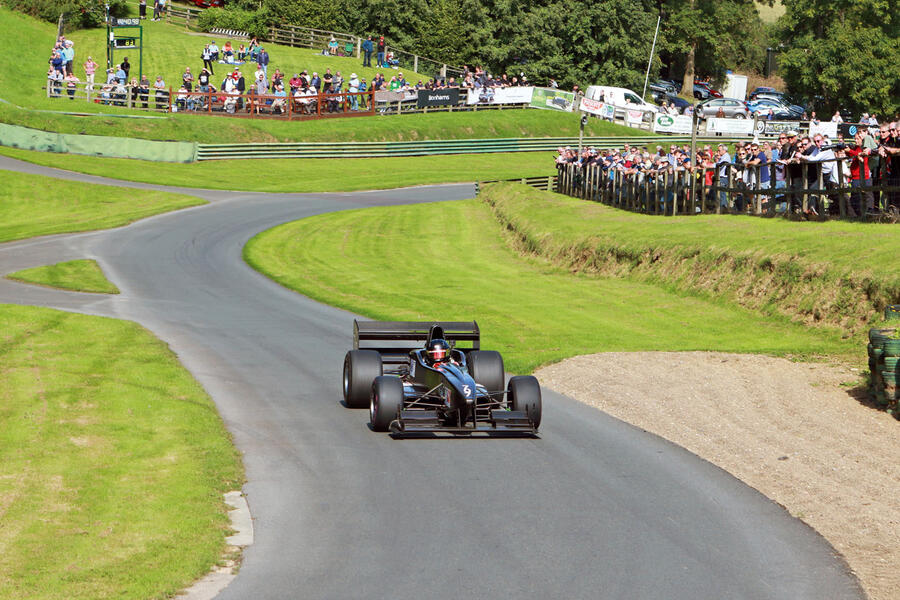 "The launch and traction control systems blend into each other at about 25mph. We can do a standing-start 0-60 in a smidge over two seconds and have something in the region of 400kg of downforce.
"There are only a couple of hills where I don't use all six forward gears. We run an A1 GP Lola gearbox with a Geartronics management system. The Motec engine management system and the Geartronics system work together. What we can do with the electronics is incredible."
The highlights of any British Hillclimb Championship event are the twin top-12 run-offs, where the big guns run for major points. At Shelsley Walsh, the spiritual home of hillclimbing since it opened in 1905, it is a frenetic 23-second, 1000-yard adrenaline rush up the side of the Teme Valley for the front runners.
Joining Shelsley at the pinnacle of the sport is the Prescott hill in Gloucestershire, but the daunting 17-event British Hillclimb Championship schedule extends from Doune in Scotland to Wiscombe Park in Devon, as well as Guernsey, Jersey and Northern Ireland.