The outright lap record at Thruxton race circuit stands at 1min 01.96sec, set by Earl Goddard in a high-powered EuroBoss single-seater back in 2000.
That equates to an average speed around the 2.35-mile Hampshire track of 136.54mph and as anyone who has driven around Thruxton will attest, that is an impressive degree of commitment.
So it stands to reason that anything lapping Thruxton almost 40sec slower, at average speeds of just 85mph, must be considerably less impressive to watch, right?
Not quite. On Sunday I nipped down to the circuit, just 20 miles from my front door, to watch a club race meeting headlined by the BARC British Truck Racing Championship.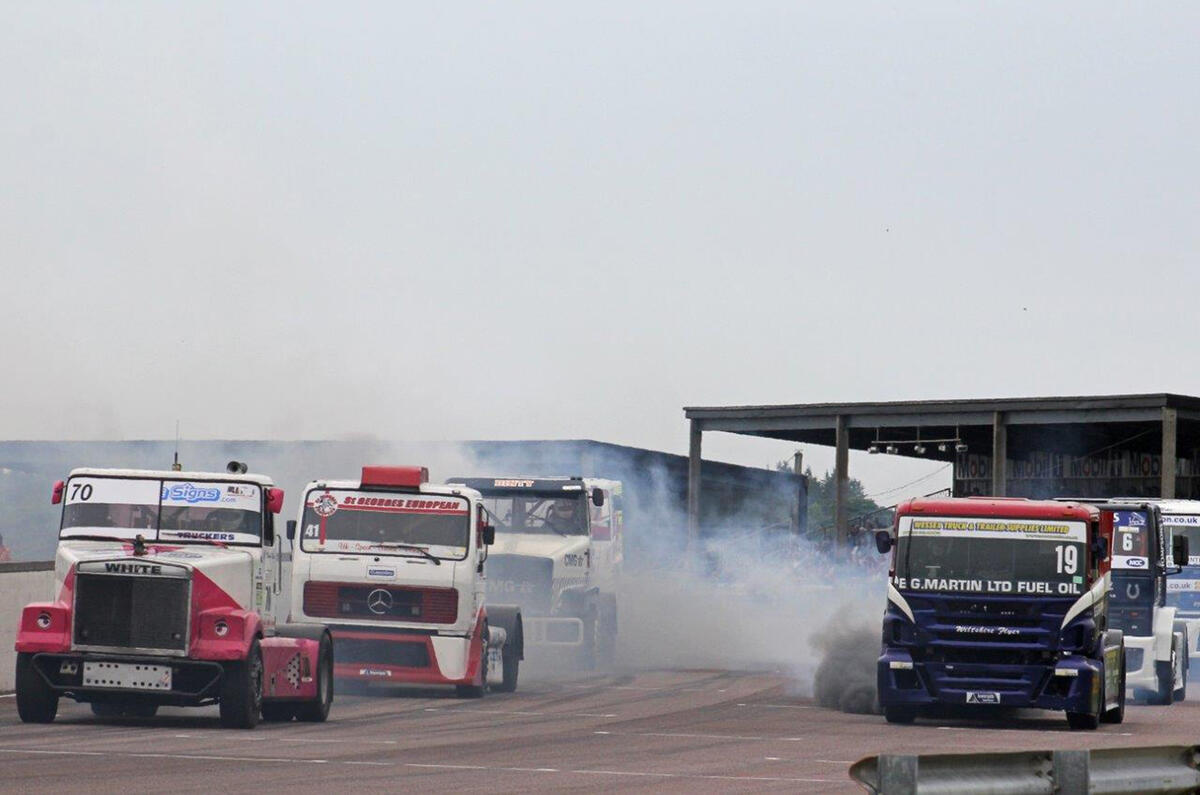 I hadn't witnessed truck racing live since the late 1990s and I'd forgotten what a spectacle it can be. What makes it so captivating? For me, it's the combination of the gut-thumping noise, immense torque, pungent smell and sheer presence of the trucks, spewing smoke and steam from their water-cooled brakes.
At Thruxton, watching a dozen 5500kg trucks stampede towards the Complex on the opening lap is one of those slightly daunting experiences that forces you to involuntarily take a step back from the catch fencing out of sheer amazement.
Indeed, extra safety precautions are put into place when the big rigs take to the track: some spectator areas become no-go zones, and marshals have to move from their posts further back away from the track. That's not a huge issue, because from their high perches, the drivers can still see marshals' flag signals clearly.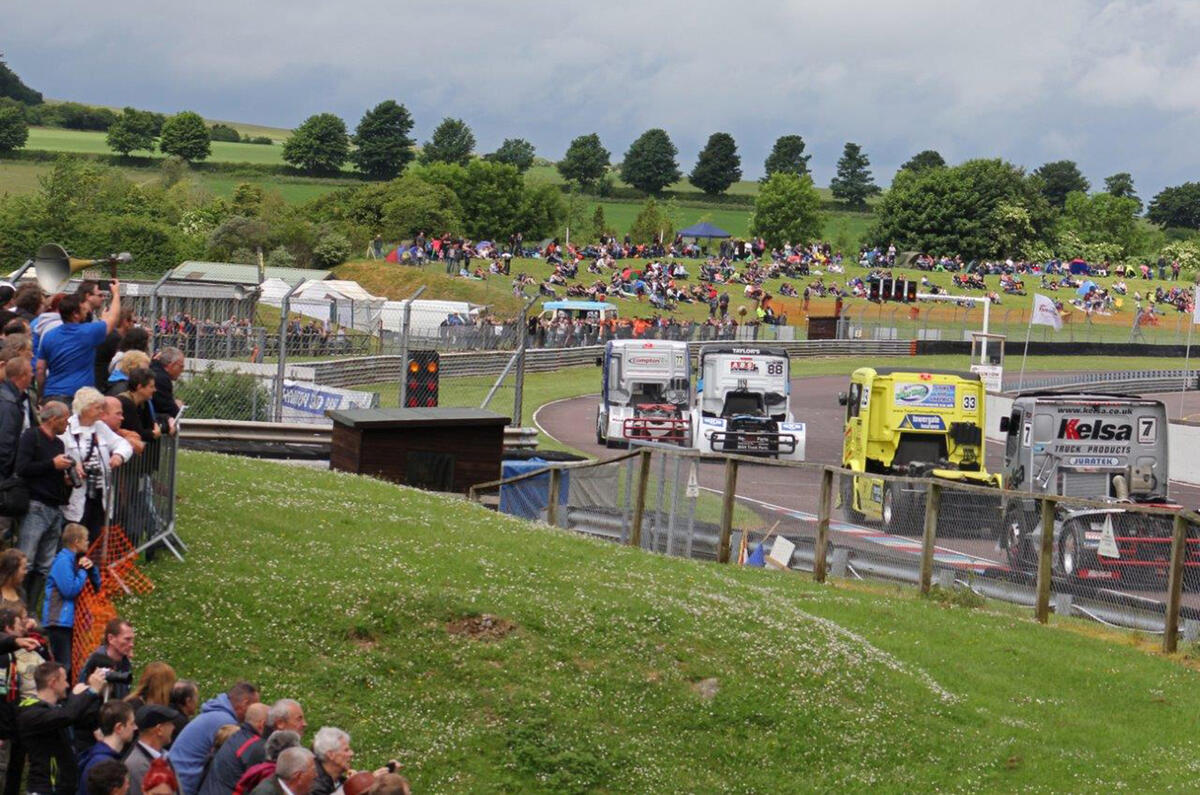 On track, there was overtaking in spite of the track's confines and – believe it or not – a large degree of finesse and strategy involved. The trucks are limited to a top speed of 100mph, and so fast laps are all about corner exit speed and maintaining momentum.
In corners, drivers employ a truck racing equivalent of rallying's Scandinavian flick, counteracting the front-biased weight distribution with liberal applications of throttle and provoking dramatic powerslides from the 1100bhp, 3600lb ft machines.
What also struck me was that this was a family affair, and a popular one at that. Outside of the Dunlop MSA British Touring Car Championship, I'm not sure I've ever seen such a healthy crowd at Thruxton for a club car race meeting.
The British Automobile Racing Club, which organised the meeting, had paired the trucks with myriad other racing formulae; amazingly, the leading trucks lapped the Hampshire speedbowl at the same pace as the frontrunners in the entry-level Caterham Classic series - a bit like Anthony Joshua dead-heating with Mo Farah in the 3000 metres…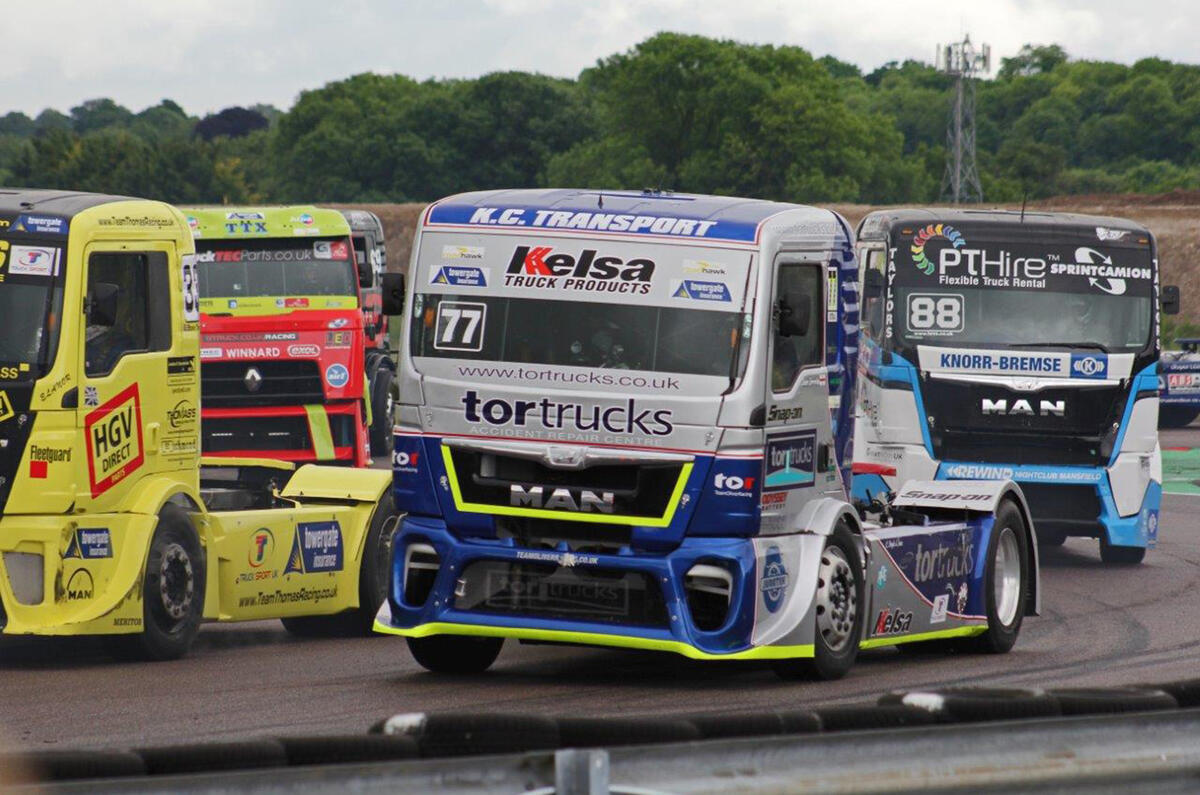 Outright victories in the trucks were shared between Ryan Smith in his 12-litre MAN and Stuart Oliver in his Volvo of a similar capacity. Post race, almost all competitors executed gratuitous celebratory power slides, leaving thick black tyre trails on the track surface.
The drivers, it seemed, were having as much fun as the spectators – a lesson that more prominent racing championships could learn plenty from.