The whole 'Chiantishire' thing was lost on Markku Alén. Tony Blair? Polly Toynbee? Their Tuscany meant nothing to the Finnish rally legend. Same place. Different priorities.
For Alén, Tuscany was all about hustling Lancias through some of the most challenging and picturesque special stages of the season. Northern Italian wins in a Stratos, 037 and a Delta S4 helped bestow God-like status on one of the sport's most charismatic and best-loved drivers.
I had, of course, reported the Sanremo Rally as a journalist many times. But I hadn't covered a proper Sanremo; I hadn't done pre-1997 version which combined the asphalt of the Ligurian Alps with the Tuscan gravel. In the main bit of the Italian boot, I'd been as far south from the north as Bologna and as far north from the south as Rome. The middle bit, I missed out.
Alén couldn't understand that.
I'd like to think a conversation with an motorsport icon influenced my decision to top-to-bottom France and head to Toscana via Monaco and a quick dash over the Col de Turini. Well, if you're going all that way, it seemed a bit silly to miss out the world's finest display of supercars (even if they were in a zoo rather than their natural habitat) and one of planet Earth's most epic stretches of winter tar (which is still pretty tidy in the summer). The car of choice was a Skoda Superb SE L Executive 2.0 TSI 280PS 4x4 DSG.
Actually, that's not strictly accurate. The car of choice was a Superb, it was those lovely folk at Skoda UK who signed off on making my journey somewhat faster than I'd been expecting.
I'd gone for the Superb's combination of space, comfort and cruising ability. I hadn't paid too much attention to the spec or motor. It was much the same when the car arrived. It was a Superb. A red one. Lovely. Big. Comfy.
Pushing the start button, there wasn't a glow-plug in sight as the four-pot petrol fired. And sounded different. I'd heard that noise before. It couldn't be. It was. A Volkswagen Golf R or Seat Leon Cupra had gone without in favour of blessing a Superb with one of the best blown two-litre engines around.
France passed in a jiffy. Or it would have done if I hadn't had to stop every half hour to hand over large quantities of cash for the privilege of driving on the motorway. And every other hour to quench the thing's thirst.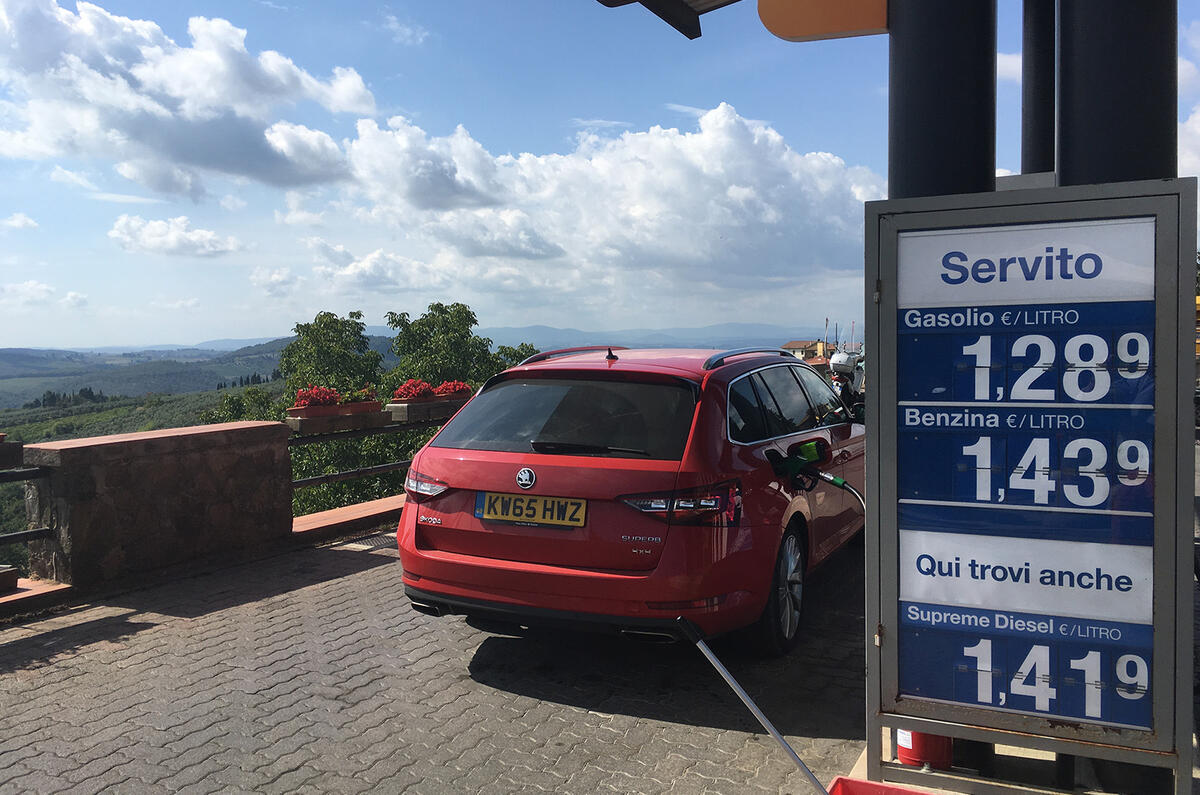 The good news for Skoda is that the new Superb's sharper front end got the thumbs up from Europe's most rigorous automotive fashion police, the Monegasque constabulary. Waved through in a serious style coup, the red wagon was granted Casino Square access. Parking up outside the Hotel de Paris was, however, a step too far. You'll have to imagine that picture. Or I could post the one of the rather irate doorman pointing to a similarly red Ferrari 458 bound for the 4861x2031mm of principality the Skoda inhabited.
So, to the A8-Italian border-E80 motorway which hugs the Mediterranean coast in a series of fast sweepers, diving in and out of tunnels and crossing shockingly high bridges. Savona, keep going. Genoa, bit more. Left to Lucca, south to Pisa. Crack on.
The best roads, Alén assured me were in the middle of a sort of lopsided square between Florence, Arezzo, Siena and the leaning tower.
A good chunk of the gravel that had sacrificed itself to such rallying majesty as the Audi Quattro S1 E2 – which in the hands of Walter Röhrl took its only win on the 1985 Sanremo – had been covered in asphalt. Sacrilege. But there was still enough to go around, with some particularly stunning sections around Montalcino.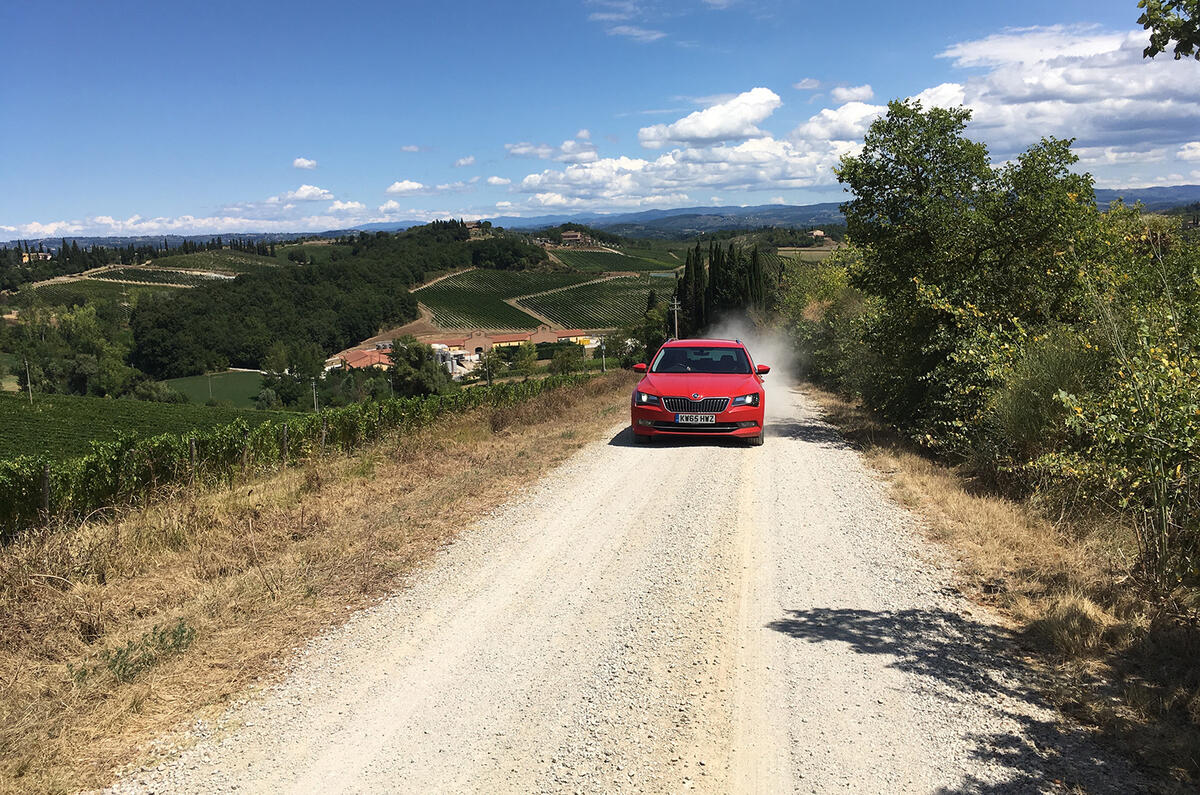 The Superb's Haldex four-wheel drive set-up dealt with the loose without any issues. But even with more power than the first Group A rally cars (and total traction), I still wasn't in the mood for big skids. It's not really the done thing in an estate car. And home was a long way on a space-saver.
Between the gorgeous cypress tree-lined, honey-sunned stages, some dodgy, malnourished, second-rate Italian motorways did expose the Superb's suspension slightly. With all the grunt and the DSG upshift pop, it would be easy to take this for a vRS. Which it absolutely is in a straight line, but the steering lacks a little of the precision and feel of its red-trimmed, shoutier cousin.
No matter: this particular wolf look especially good having raided the sheep's wardrobe.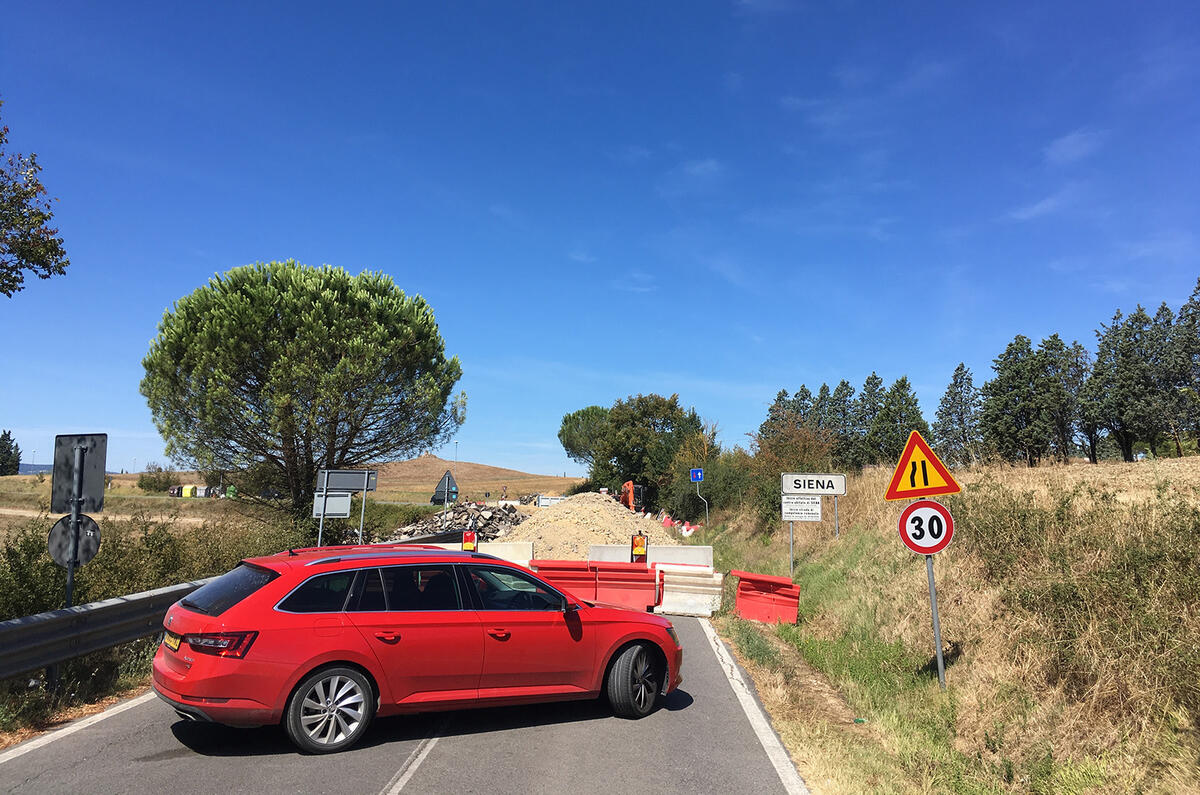 Alén was right: Tuscany was breathtaking. The roads were epic, some of the locals full of stories of Fiats, Sandro Munari and Miki Biasion.
The World Rally Championship is missing a trick. When it comes to essential rallying backdrops, a sundowner stage through San Gimignano is right up there with a Kenyan sunrise.
The red wine was sublime. The red Skoda superb. And what's more, I didn't bump into Sting once. 
David Evans