Motorsport in Japan: it's like the Wild West – or more accurately, the Wild East. And Harrison Newey is one of the latest Europeans to head out prospecting for gold. The son of Formula 1 design genius Adrian Newey is coming to the end of his rookie season this weekend in Super Formula, as Suzuka hosts the final round. He's happy to have made it this far, unlike fellow Brit Dan Ticktum, runner-up to Mick Schumacher in European Formula 3 last year, who lost both his drive and Red Bull's backing after just three races.
"Everything is different in Japan," says Newey, 21. "Even the rules. They're based on gentlemen's agreements rather than a rulebook. For example, I was blocked by someone in qualifying at Motegi, so I went to the stewards. That's when I realised there's not actually a rule that says you're not allowed to block. If I see the same guy behind me next time, am I allowed to block him? The answer was 'it's not honourable'. That's how it works."
Super Formula, aka Formula 2, Formula 3000 and Formula Nippon, became popular back in the 1990s because there was yen to be made. Eddie Irvine, Mika Salo and Ralf Schumacher used it as a springboard to F1, and many more built careers from a foundation in Japan. Newey, a former journeyman in European F3, hopes some of that will rub off.
He's racing with B-Max, a team affiliated to German squad Motopark, and took a breakthrough podium at Okayama last time out. He's loving it, but admits it's far from an easy option.
"It's bloody tough to get the best out of the Dallaras," he says. "We have four-cylinder engines with big turbos and large amounts of lag. It's high downforce with mega-grip Yokohama tyres, on difficult tracks."
The series isn't one-make, as both Honda and Toyota supply engines. Newey describes it as closer to Indycar than F1, with a refreshing technical freedom compared to tightly controlled Euro F3 and F2.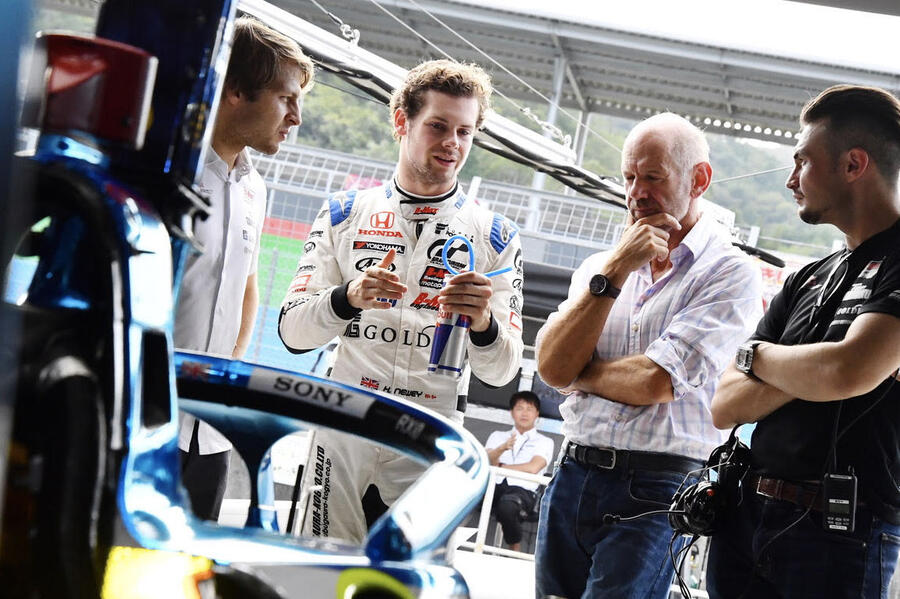 But what's it like racing as the son of Adrian Newey? "There are massive pros and cons," he says. "Doors open that wouldn't for others, but equally doors close due to politics. I get very good advice and I know what to ask from an engineer's viewpoint. I'm very privileged, but over and above everything, I have a dad who wants to support me in what I want to do."