Last week, I spent four days in a 2.0-litre Mazda MX-5. It's very good, but it got me thinking – why are there no fully electric models in this class?
Let me explain. Like a fast-growing percentage of the world's population, the vast majority of my weekly journeys are in city streets and on motorways - scenarios in which the MX-5's engine is rather quiet.
It only becomes aurally engaging when worked hard. In all other circumstances, wind and road noise dominate the sound waves that surround the little Mazda, as they often do in non-premium convertible sports cars.
That's why I think it might as well be electric.
Don't get me wrong, when venturing onto B-roads, the pleasing tone of a sweet combustion engine can't be beaten, but unless it's something very highly strung or endowed with six or more cylinders, I'd argue the loss of sound isn't that great.
And anyway, some people don't buy sports cars to attack country lanes, they buy them to enjoy the sun and trundle through town in. For those people – and I must admit I'd be one of them during the working week – an all-electric sports car would be perfect. Zero-emissions drop-top motoring in a lightweight two-seater would have no impact on local air pollution, and would still be fun.
There are obvious benefits for an EV sports car too. An EV powertrain's range will be boosted due to the inherent lightweight design of a sports car, and the low placement of batteries in the structure can actually give the model a lower centre of gravity than an internal combustion engine can. There are packaging advantages as well.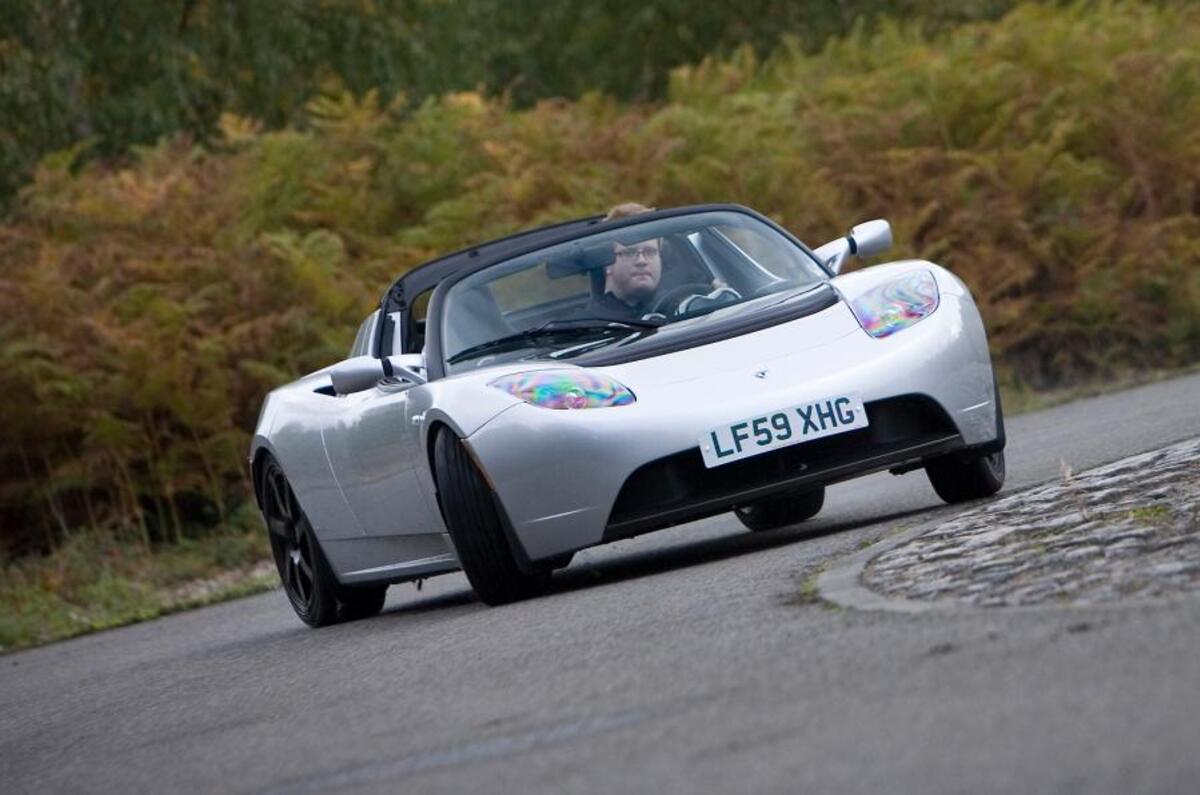 Are EVs killing the performance car?
Admittedly, batteries are heavy, so an EV MX-5, for example, would likely tip the scale needle to the chubby side, but other EVs have already shown that an electric drivetrain's instant torque can more than mask that weight burden.
This might all sound familiar because, of course, it's already been done. Tesla's first model, the Roadster (pictured above), was pretty much exactly this car. Launched in 2008 and loosely based on the chassis of the Lotus Elise, it had an electric powertrain that offered up to 200 miles of open-roof zero-emissions motoring. You could say it was ahead of its time.
Thing is, it cost just shy of £90,000, which is around treble the value of the petrol Elise the car shared some structural parts with. But that was almost a decade ago.
Development and production costs for electric vehicles have been declining since, and the influx of EV models due for launch between now and 2020 – the Jaguar I-Pace, the next Nissan Leaf and the Volkswagen ID are three of several – illustrates that there's plenty of hardware around to choose from.
The Chinese-owned MG made waves with its E-Motion EV sports car concept earlier this year, but while I live in hope that it'll arrive with the sub-£30k price tag executives hinted at, I'm not particularly confident it will. My only hope lies with Tesla, the CEO of which, Elon Musk, has said will produce a new Roadster in 2019. But it'll be built on the Model S's platform and take on proper supercars, which doesn't bode well for its price.
This then is as much a plea to manufacturers as it is an examination of the industry. The market is crying out for a cheap electric sports car, don't you think?
Renault Zoe at Shelsley Walsh