Part 1 - 20/4/18
So, the Cadillac had left and the resulting cash was burning a hole in my pocket. But I'd promised myself that this time I'd be more sensible: keep the car interesting but keep the price to around £500-£600. That way, there'd be more budget to spruce it up, but also less guilt.
The search began, and initially, it wasn't looking good. Of course, nobody expects a perfect motor down at the depths of this price level, but the difference between the choice of cars at around £1000 and £500 is nevertheless surprising. I trawled through various Mercedes CLKs, early Audi A8s and just missed out on a couple of temptingly cheap Honda Legends. As usual, you can't be fussy with this budget, and with that little list you can probably tell I was being anything but. 
Bangers that work - 20 bargain cars that won't let you down
But then it struck: a 1993 E32 BMW 730i in Glacier Blue metallic paint with a price tag of just £775. OK, so the miles were high at 175,000, but ever since owning the E34 5 Series I'd had a hankering for more '90s BMW ownership. The E32, in particular, is a car I've always thought is superb to look at, and to these eyes at least, one that has only improved with age. The trouble is, there are very few about these days and the ones that do go up for sale tend to be low-miles and in great condition. And therefore, way out of my budget.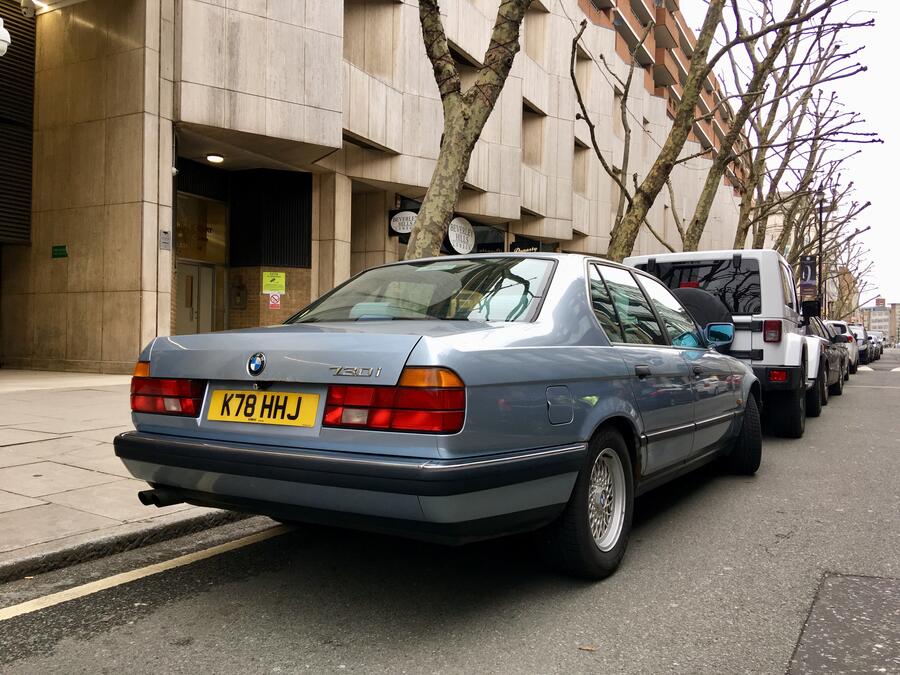 K78 HHJ appeared on a Sunday morning and I made the journey across to east London the very same day. Upon arrival, there was more rust than the advert had let on, but after a quick test drive, I'd decided I wanted it. Despite it being rough-round-the-edges cosmetically, it was brilliantly tight to drive, and a quick look through the mountain of receipts and impressive service history showed it had been well looked after mechanically. The MOT history suggested the rust was surface stuff, too.
So, I chanced my arm with a £700 offer, the seller agreed and by lunchtime I had an E32 sat on my driveway and a large grin on my face. 
What had I actually bought? Well, to give a quick history lesson, the E32 was the second generation of BMW's 7 Series (we're now on the sixth), preceded by the now ultra-rare E23 built until 1986. The E32 ran from then until 1994, making mine one of the later examples. Initially, the E32 was available with one of two straight-six petrol engines (730i or 735i) or a V12 (750i) in short or long wheelbases. Interestingly, the 'M70' V12 in the E32 was BMW's first production twelve-cylinder.
Bargain BMWs from £5000 - used car buying guide
From 1992 the V8s joined the line-up, the 730i V8 replacing the old straight-six and the 740i offering a higher-powered V8 option. Both V8s also got a new five-speed auto 'box from ZF. A quick way of telling the various engines apart is that six-cylinder models have a narrower kidney grille than V8 and V12 cars, y'know, if you've got nothing better to do.
Another great thing about old BMWs is that finding out which equipment is fitted is simple. A VIN check on mine reveals cross spoke light alloy wheels, electric sunroof, fine wood trim, electric front seats, headlight washers, climate control, an onboard trip computer, 6 CD changer and upgraded buffalo leather trim. An enticing list - I'll report back on how much of that works or is still in place soon. 
Luxury on the cheap - used car buying guide
As with Merc's S-Class and Audi's A8 the 7 Series also introduced the latest technology. The E32, specifically, was offered with things like integrated telephones and fax machines, xenon headlights, wipers that would press against the windscreen with different pressures at different speeds and BMW's first (but basic) traction control system. Fancy.   
As with all the cars I've bought, what I initially passed off as 'there's no point getting that sorted' soon turned to 'that's annoying me, I really need to get that sorted'. And perhaps not surprisingly, the E32's list of things to sort is one of the longest I've encountered. The boot lid is rusted through for starters and there's a frustrating amount of lacquer coming off the bonnet, offside front wing and offside rear door, so I'll need to decide what to do there. Inside, the leather needs 25 years of dirt removed and a general spruce up.
There we are then, an introduction to my latest and maybe favourite purchase yet. Even with its various foibles, it feels like a genuinely good buy and I can't wait to get stuck in with the improvements. 
Read more
Bangers that work - 20 bargain cars that won't let you down
Luxury on the cheap - used car buying guide