The recently revived Lamborghini Countach LPI 800-4 has been driven on public roads for the first time ahead of the model's first deliveries, which are expected to start in the coming months.
The Countach, which will return to Lamborghini's line-up after 32 years with a hybridised powertrain, is driven by a Lamborghini 6.5-litre V12 mated to a 48V electric motor, producing a total of 814 hp.
The Italian firm claims a 0-62mph sprint of just 2.8sec, with a top speed limited to 221mph. The model was joined on the road by the first original Countach LP 400 and the final 25th anniversary car to be produced.
Lamborghini says the first deliveries for the Countach LPI 800-4 will start from the first quarter of 2022 to customers around the world.
The ultra-exclusive model resembles the legendary Bertone-designed original and is the second of two V12-powered supercars to leave Sant'Agata in 2021.
It followed the unveiling of the Aventador Ultimae in July and was shown at The Quail, A Motorsport Gathering as part of the annual Monterey Car Week festival in California, as Lamborghini marked 50 years since the original Countach made its debut at the Geneva motor show.
Just 112 examples will be produced, priced from €2 million ($2.3m) before taxes, and the majority are said to be spoken for already.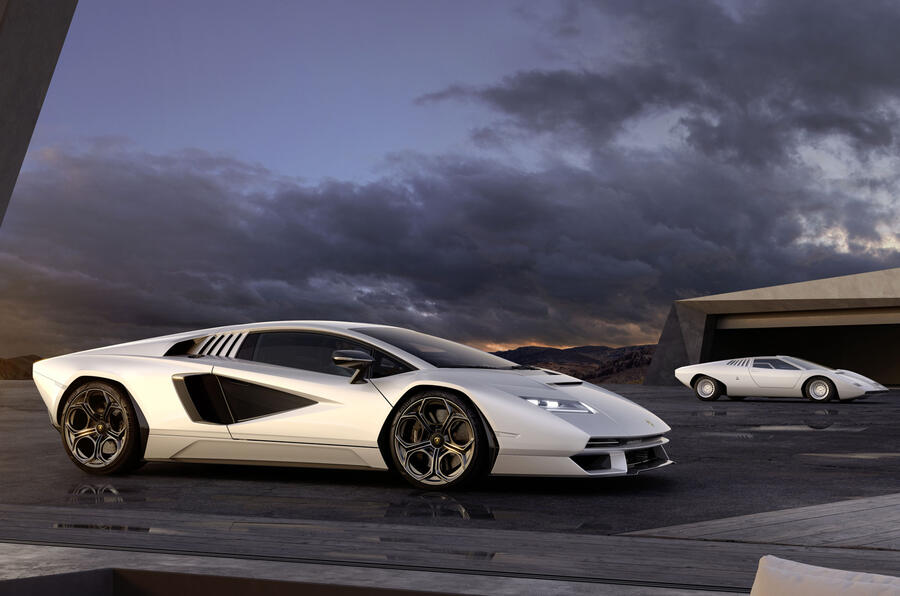 Like its namesake, the new Countach is powered by a naturally aspirated, longitudinally rear-mounted (longitudinale posteriorie, hence LP in the name) V12 engine, in this case producing the same 769bhp as it does in the non-electrified Aventador Ultimae and driving both axles through a seven-speed automatic gearbox.