Our Verdict
The Volvo V90 is less dynamically poised than some rivals, but it's still a deeply compelling machine
First Drive

The Volvo V90 is a big estate ploughing its own furrow. We found out over four months if it is refreshing or misguided

First Drive

The V90 T8 is a highly capable and efficient big estate, but it is not as versatile or as smooth-riding as a Volvo should be
Why we ran it: To discover if Volvo is still the master of the big estate car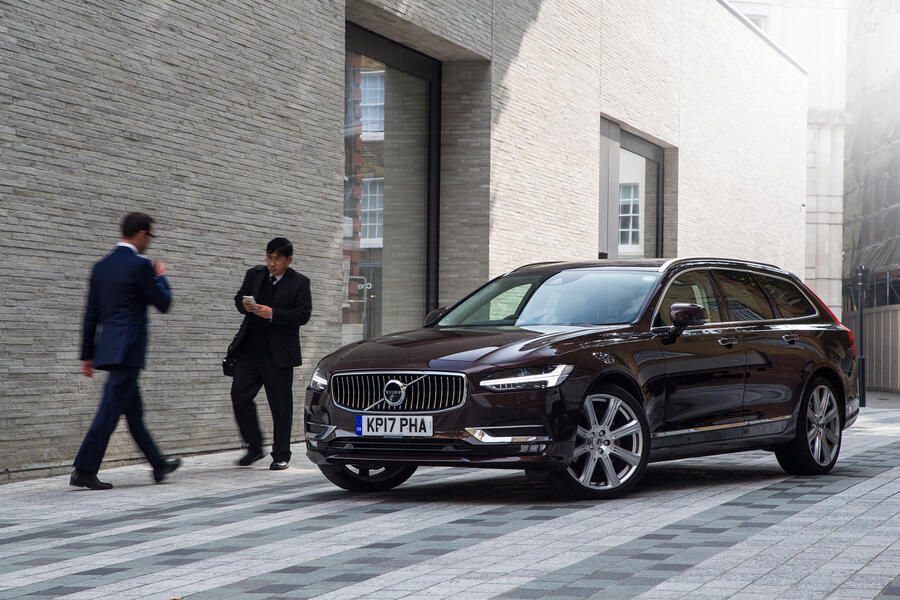 Life with a Volvo V90: Month 4
Saying goodbye to the Volvo V90 – 01 November 2017​
The timing could hardly be worse.
Now that the nights have drawn in, the roads are carpeted with leaves, and features such as a timed parking heater and a steering wheel that warms your palms are starting to seem genuinely useful, Volvo has taken our rather lovely, supremely relaxing, four-wheel-drive V90 away.
Four months and 6000 miles suddenly seem pitifully short to fully digest the tranquil character and numerous strengths of the big Swede.
In that time, the V90 has facilitated a couple of family holidays and been pressed into the practical weekend service that voluminous estate cars typically provide.
From furniture collection agent to recycling centre shuttle-runner, it has played many roles – and you might imagine that it'll be for its more practical facets that I will remember the car.
Actually, it won't be. The greatest strength of the V90 is how relaxing it is to drive and use, how pleasant and agreeable it is to travel in, and how consummately it transformed a dreary trudge of a daily commute into something so laid back that it was almost meditative.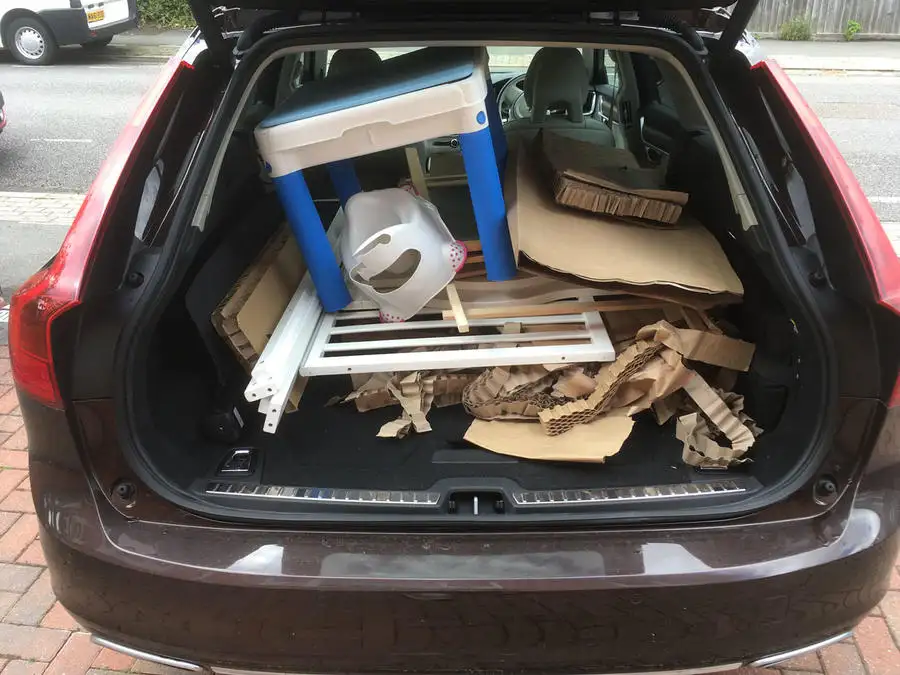 Back in July when we took the V90 on, I had concerns. Would a four-cylinder diesel engine cut the mustard in a £45,000 estate? Would the V90 have the kind of handling character to hold my attention? How silly those worries seem now.
Because, sure, the V90's D5 PowerPulse diesel engine isn't as smooth, as powerful or as willing to rev as a BMW straight six or an Audi V6 diesel.
But it does have a very healthy slug of low-range torque below 2500rpm and you barely need to rev it beyond that point, so this large, fairly heavy car rarely feels its size when accelerating.
Would I have wanted the car to be any quicker? Not on your nelly. I'd have liked a slightly quieter engine at times – but only around town really, because the V90's cabin is very nicely sealed and motorway refinement is very good.
Having a four-cylinder diesel in the V90 also meant I could get better than 45mpg when I wanted to. I did so on several occasions, using the V90's Eco driving mode and coasting as far as possible, making the most of its mass and doing my best to read the road into the distance.
The V90's cabin started off as a superbly comfortable, pleasant and inviting place in which to travel – and despite the best efforts of my kids and my own grubby hands, its 'blond' leathers and open-grain wood veneers stayed that way.
I thought I'd dislike its portrait-oriented touchscreen Sensus Connect infotainment set-up but instead quickly warmed to it for its usability and some of its buried features.
I particularly liked how easy it was to tweak any route programmed into the navigation system to your own liking, and an app by which you can record voicemail-style audio files and automatically email them to yourself. Cars are one of the few refuges today where you have time to think.
When something occurs to you, being able to record it and send it to yourself is a real advantage.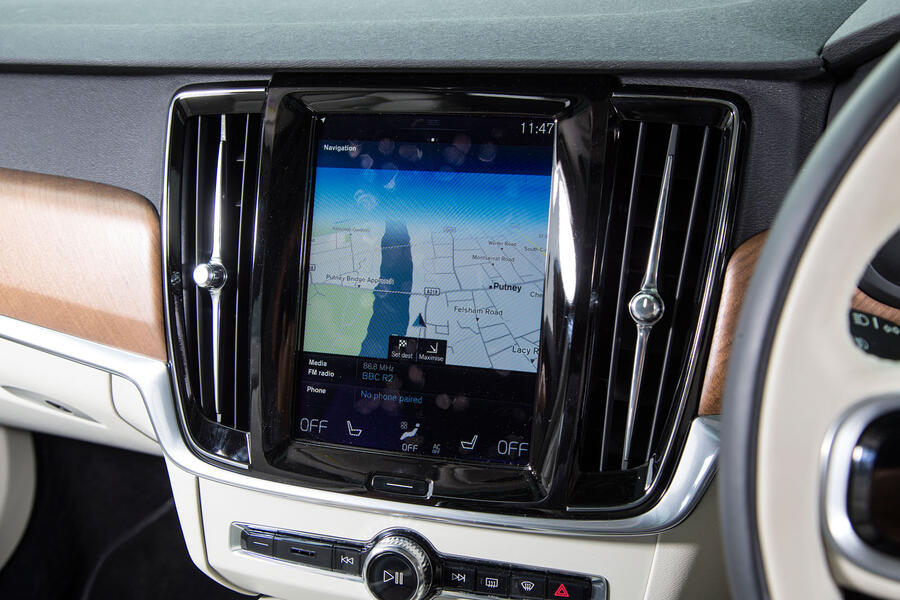 Volvo has a fine reputation for the comfort of its seats and the V90 shows why.
Adjustable for cushion length, beautifully smooth in their leather finish and soft yet supportive in all the right areas, the V90's seats are beyond reproach.
From there outwards, the comfort focus runs throughout the car. On 20in rims, it rides with commendable suppleness and decent isolation, getting slightly brittle only when you're travelling more quickly than you know it's really tuned for.
Even the car's major centre console switchgear is designed in such a way as to be comfortable to use. The starter button, stereo volume knob and drive mode controller are all slightly oversized and all have a distinctive chromed textured finish that makes them superbly easy to recognise by touch, so you needn't take your eyes off the road to find them.
While we're on the topic of comfort and ease of use, a note on the effectiveness of the V90's Pilot Assist semi-autonomous driving feature.
Volvo is at the vanguard of the development of driverless car technology and it shows. I made regular use of Pilot Assist and found it particularly useful in rush-hour traffic, when it automatically maintains your lane position and distance from the car in front very well and allows you to be more aware of what's going on in the lanes around you.
You learn to trust it – and it didn't wobble or drop out on me once in four months – it makes the worst traffic conditions much easier to bear. Safer to be in, too, I reckon.
So 6000 miles done, where have we ended up? Well, I certainly wouldn't criticise this car for its slightly meek sort of handling dynamism or for its engine.
I'd argue, in fact, that both contribute to the V90's distinctiveness in today's executive market and give it a clearer place to occupy now than ever.
Few cars can be easier, more pleasant or more calming to use than this one – at a time when life on Britain's roads would lead few to question the value of those sort of attributes.
I've only one note of complaint: please bring back the old V70's 40/20/40 split folding seat backs, Volvo. That's it. Otherwise, carry on. Don't change a thing.
Big Volvo estate of today a touch fancier than the scruffy 240 GL I grew up in; delighted to report the feeling it'll outlive us all remains pic.twitter.com/JSYweXvPp9

— Richard Lane (@_rlane_) September 20, 2017
Second opinion
A round trip from London to Denbighshire highlighted how long-legged the V90 is.
Its reassuring bulk, ample torque and a high belt line that makes you feel comfortingly entrenched behind the wheel mean it effortlessly absorbs mega mileages. The sumptuous cabin is also a delight.
Richard Lane
Mileage: 7891
Love it
Relaxing character - It's impossible to be in a hurry driving a V90. You arrive feeling calmer than when you departed.
Comfy, pleasant cabin - Great seats, natural materials, light and airy tones — and the abundant space you take for granted.
Intuitive infotainment - V90's Sensus Connect system won me over after initial doubts. Easy to navigate and packed with features.
Semi-autonomous driving - Pilot Assist has its limitations but it's among the best on the market and very welcome in heavy traffic.
Loathe it
Noisy diesel engine - It has enough torque to move a big car along as briskly as you're likely to want, but it ought to be quieter.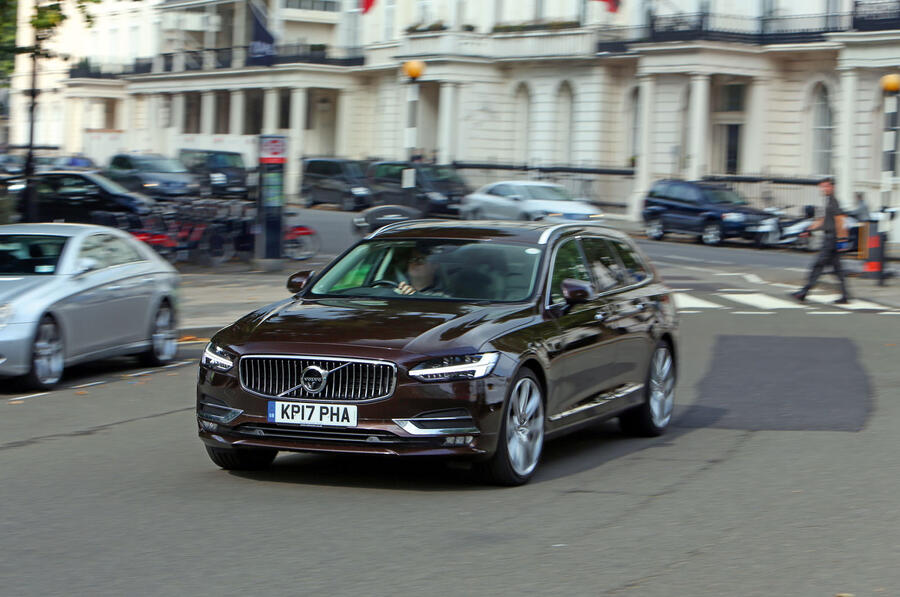 Life with a Volvo V90: Month 3
Is the Volvo V90 a cliché? – 27 September 2017
How many Volvo clichés can you cram into a short update?
Ikea was ticked off, although the coat hangers I bought hardly troubled the boot. A round of golf, with two sets of clubs in the back.
Small dogs enjoyed it en route to a walk, as did I on a weekend away by the coast.
Result? Eight hundred of the most easy-going and relaxing miles I've covered in a long while. Mark Tisshaw
Mileage: 5897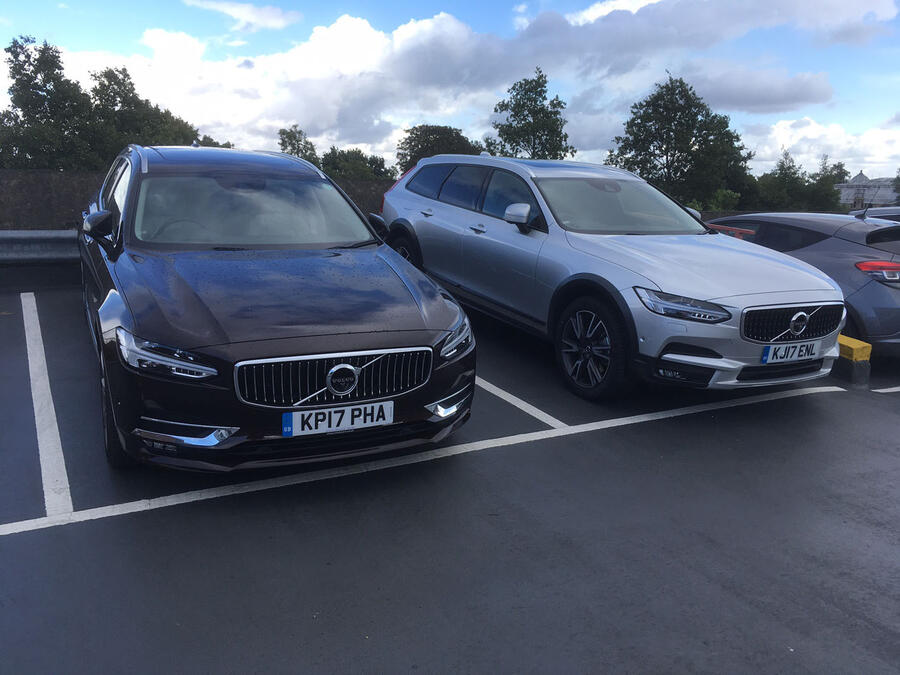 Life with a Volvo V90: Month 2
Navigating the way to family holiday bliss – 01 September 2017
You don't have to spend long commuting in a car as commodious and comfortable as our Volvo V90 before a holiday with the family in rural South Wales starts to seem like a very fine idea.
If you're anything like me, it takes about a fortnight. (The commuting, that is. Two weeks in a Pembrokeshire chalet with my kids would feel like the Hundred Years' War.)
So off we went, the singularly obliging V90's boot having swallowed bags, cases, toys, a pushchair, beach equipment and food for the week.
Only when I unloaded it at the other end did I realise quite how much clobber had gone in.
Still, there wasn't quite enough room for everything in the 560-litre boot. As the pictures show, the kids sat out the 160-mile journey with a couple of items of their parents' holiday entertainment cradled snugly under the armrest between them.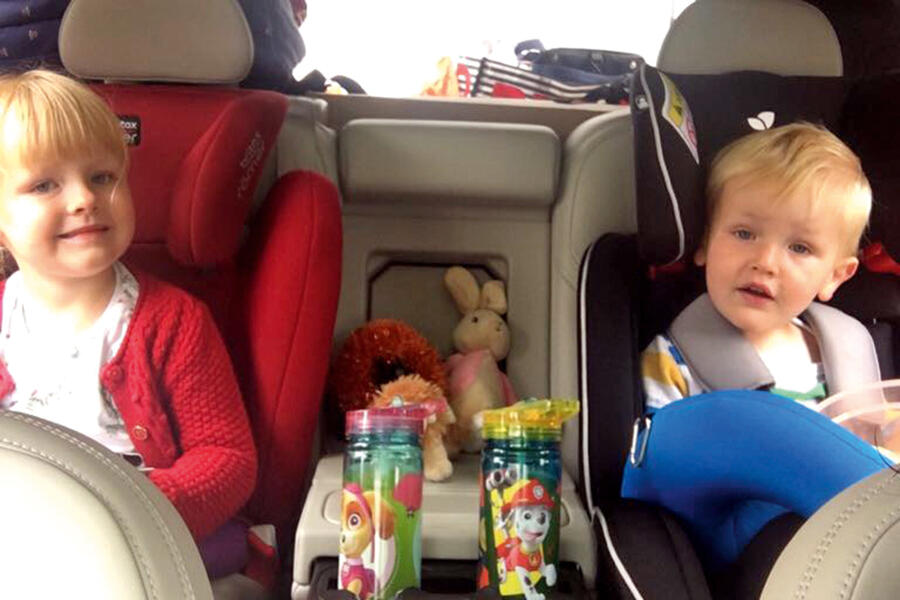 I was also decidedly uncomfortable about having to stack a few things at window level in order to get them in – at which point I instantly regretted failing to order the V90 with some kind of load-bay partition. There's one on the options list and, plainly, it would have been £300 well spent.
But I also wonder if I'd have even needed such a thing in the Mercedes-Benz E-Class Estate (640-litre boot) that we've recently added to our long-term test fleet, or in a Skoda Superb Estate (660 litres). The fact that the V90's boot isn't quite the largest on the market says plenty about where Volvo's at these days: it would rather make a very handsome and desirable product that's within touching distance of the class lead on practicality than obsess about making the very biggest.
It's a philosophy that has created a great car, but not exactly the car that some may have expected to find.
One optional extra I didn't regret having on the way to South Wales was the Volvo's adaptively damped Four-C suspension with its self-levelling air-spring rear axle. It made the car ride and handle almost as if the 200kg of kids and stuff weighing down on its rear wheels wasn't there at all. Heavily loaded, the V90's torquey four-pot diesel engine still felt pretty assured, too, leaving plenty of grunt for easy motorway overtaking; although the automatic gearbox's tendency to hesitate before easing the car into motion was somehow all the more evident.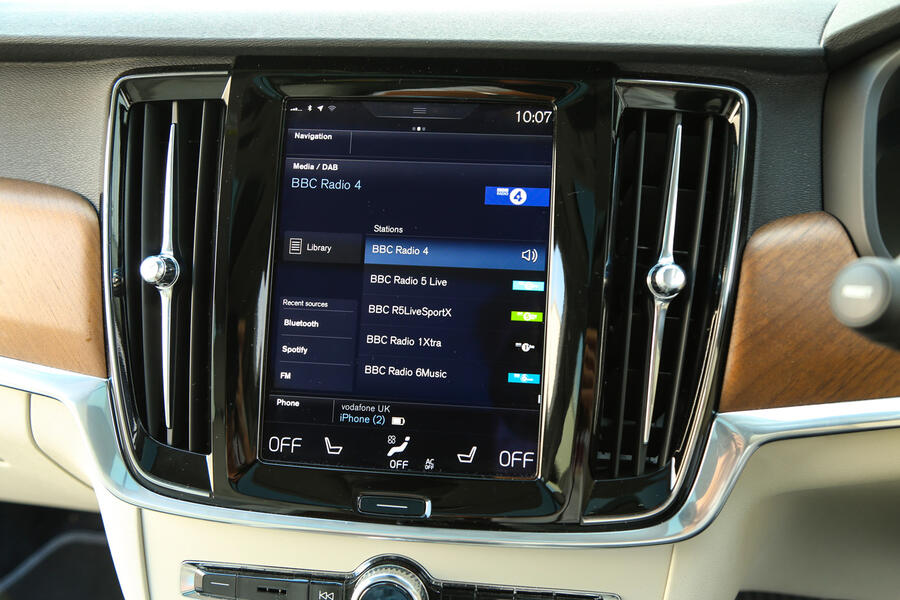 The holiday was one of the first occasions I've had to put a long, multi-legged route into the car's navigation system – and it really impressed me. The screen's mapping definition and detail aren't outstanding, granted, but its usability really is.
Regular destinations pop up instantly for reselection when you fire it up, and once your journey is programmed and the system is hooked up to the data connection on your phone, its performance gets even better.
Moving the map around and zooming the scale are very easy using swipe and pinch inputs. That makes adapting a set route particularly easy – and I reckon that's the mark of a really mature system, because who follows the sat-nav blindly without first checking it isn't about to send you on a truly disastrous route?
You want to buy into the process; approve what's about to happen to you. And the V90's system is designed for that. There's a drop-down graphic to summarise your route inset on the map, via which you can instantly zoom to any given point. If you want to set a waypoint, you just find the point you want on the map and press and hold with your fingertip.
And you get to filter the traffic disruptions you want to avoid from the ones you're better off suffering in very simply on a list, rather than having it plot a new heading with every traffic update.
I suspect I'll be writing about the Sensus Connect infotainment again before we're much older, because every time I delve deeper into its capabilities, I'm more taken with what it can do.
Mileage: 3966
Life with a Volvo V90: Month 1
Welcoming the Volvo V90 to our fleet – 09 August 2017
Apparently, it makes me quite unlike most buyers of modern luxury and premium-branded cars, but I'm not the kind of driver who likes to configure his driving experience too much.
Drive modes are all well and good while the novelty of your latest motor is still present and gleaming, but before too long, I reckon you just pick the one you like best and stick with it.
Beyond that, my preference would always be simply to know that my new car is configured – for steering weight and ride tuning and pedal response and everything else that's deemed fair game for 'configuring' these days – exactly as the experts who developed it think it works best.
The Bentley Bentayga has a 'Bentley' driving mode for this very reason and, predictably, it's the best of the lot.
My rather lovely new Volvo V90 does not, regrettably, have a 'Volvo' driving mode – but, luckily enough, albeit in a broader sense, I know it's a V90 as its maker would have it.
And by 'maker', I mean Volvo senior vice president of design and 2017 Autocar Award winner Thomas Ingenlath.
Maple Brown metallic paint, blond nappa leather, 20in alloy wheels and tinted rear glass: one of Ingenlath's very favourite trim combinations for the big estate car, it turns out.
Ingenlath, who has now taken up a new role as head of Volvo's Polestar performance arm, wasn't exactly a delivery driver. The man who led the design team responsible for the V90 happened to be in town to collect his Autocar Award and he was good enough to tell me what he liked about the car in this particular guise.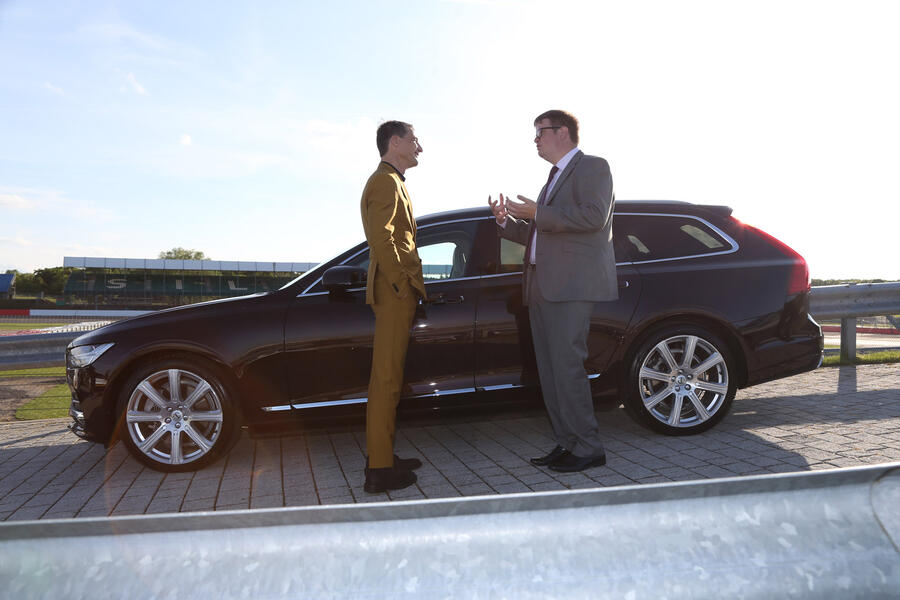 "There aren't many car brands who would even attempt a colour like this in the modern market," he told me.
"We are lucky that our customers don't expect us to conform in quite the same ways as the German brands. I think the brown looks really great. It brings out the surface detail quite clearly but discreetly and the blond leather lightens the cabin and complements the walnut inlay well."
I certainly like the end result myself. The V90 may be the best-looking estate car on the road at the moment. I love its chiselled, angular surfaces; I love the 'Thor's hammer' headlights and the L-shaped rear clusters; I love its full-sized proportions; and I particularly love the fact that it's not another modern, curvy 'shooting brake' or 'sport turismo'.
Volvo's designers were bold enough to keep the roof line long and straight, so you know exactly what you're looking at the instant you lay eyes on the car – like it or lump it.
Suffice it to say, I like it; whatever that may suggest about my age, my character, my politics or my stage of life.
I have a two kids, a 106-mile commute & a preference for comfy, functional family cars. Do I now have the perfect long term test car? pic.twitter.com/GuE9zISjj1

— Matt Saunders (@TheDarkStormy1) June 28, 2017
The Volvo brand's image has changed a lot over the past decade or so, but old perceptions still linger and I've lost count of the number of friends (most of them well under 40, I should add) who've raised an eyebrow when told I'd be driving a V90 for a few months – and then checked if I was wearing suspiciously comfortable footwear.
But that's both a blessing and a curse for Volvo, because I think people are very pleasantly surprised when they see the car. Not enough to be excited by it, perhaps, but certainly intrigued.
It intrigues me to find out just how much better this functional, pragmatic, comfortable and convenient modern Volvo can make my daily life, which could have been made for it.
I am a father of two kids young enough to both still be in fairly bulky child seats and in need of a roomy second row. Those children often come with enough paraphernalia to fill a 560-litre boot without trying too hard. And I have a 106-mile each-way commute from home to the office, most of which is on busy motorway and so stands to be made much more tolerable by the kind of semi-autonomous lane keeping and adaptive cruise control functions that our test car has as standard.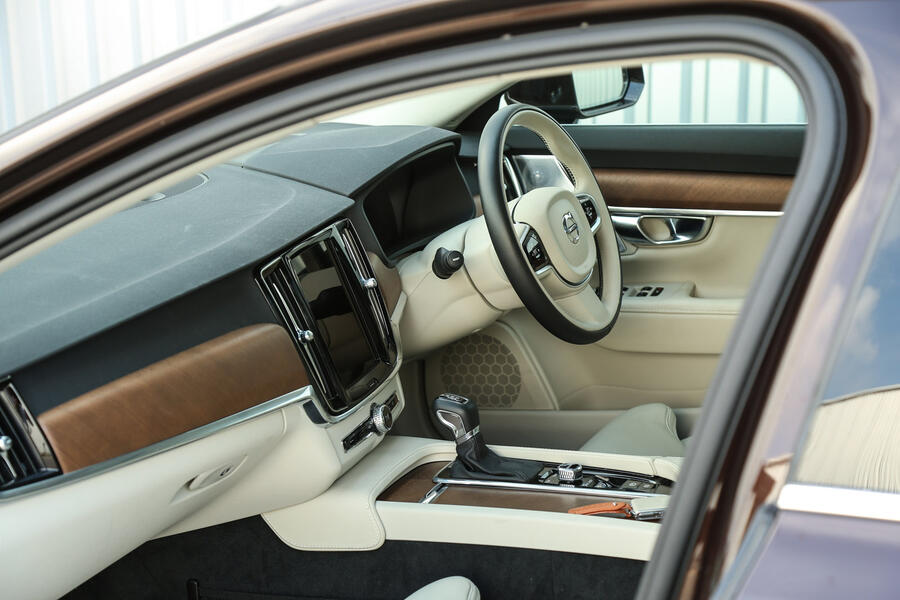 Volvo's Drive Pilot Assist system will be getting a thorough workout over the coming months. Expect to read about it a fair bit.
The opportunity to get to know Volvo's Sensus Connect portrait-style 9.0in touchscreen infotainment system will also be welcome. I'm a critic of touchscreens because I don't always find them easy to get on with at arm's length in a moving vehicle. But I hope I'll feel differently in three months' time.
I also hope the V90's four-pot diesel engine will still seem satisfying enough for its £45k asking price – for which plenty of rivals would be available with a six-cylinder – when this exercise is over.
As for driver appeal, I have realistic hopes. Having group tested the S90 last year and road tested the V90 earlier this year, I know there are more engaging rivals – and I can't imagine too many V90 buyers will much care.
As I see it, the Volvo should earn its place with competent handling but moreover with distinguishing refinement, comfort, high-speed stability and ease of use. That's what I'll be looking for from it – and if I don't get any of it, expect to read a fair bit about that as well.
Second opinion
The big, glitzy wheels feel rather like diamond earrings on a tree surgeon.
I say that because the V90's size and sheer Volvo-ness make it a terrific flytrap for neglected household chores. Consequently, my weekend was spent showing it off to no-one save for staff at the local tip.
Nic Cackett 
Volvo V90 D5 PowerPulse Inscription AWD specification
Pricing: List price new £45,915; List price now £45,915; Price as tested £58,865; Dealer value now £46,000; Private value now £43,000; Trade value now £40,000; Options Xenium Pack – includes sunroof, 360-degree cameras, Park Assist Pilot (£1750), Intellisafe Surround Pack (£600), Winter Pack – includes heated steering wheel and washer nozzles, headlight cleaning system (£525), smartphone integration (£300), Sensus Connect infotainment with Bowers & Wilkins audio (£3000), Volvo OnCall (£550), CD player (£100), four-zone climate control with cooled glovebox (£550), head-up display (£1000), dark tinted windows (£400), keyless drive with hands-free tailgate (£575), Active Four-C adaptive suspension (£1500), 20in alloy wheels (£1700), metallic paint (£700)
Specs: Engine 4 cyls, 1969cc, turbocharged diesel; Power 232bhp at 4000rpm; Torque 354lb ft at 1750-2250rpm; Kerb weight 1783kg; Gearbox 8-spd automatic; Boot space 560-1526 litres; Wheels 9.0Jx20in, alloy; Tyres 255/35ZR20; Top speed 145mph; 0-62mph 7.2sec; Claimed fuel economy 57.6mpg; CO2 129g/km
Costs: Mileage at start 1874; Mileage at end 7891; Fuel tank 60 litres; Test average 41.1mpg; Test best/worst 46.9mpg/35.4mpg; Real-world range 542 miles; Contract hire rate £540.14; Expenses None; Fuel costs £805.19; Running costs including fuel £805.19; Cost per mile 13 pence; Depreciation £15,865; Cost per mile including depreciation £2.77; Faults None