Why we ran it: To see if a cut-price luxury offering can be as urbane to live with as it is to look at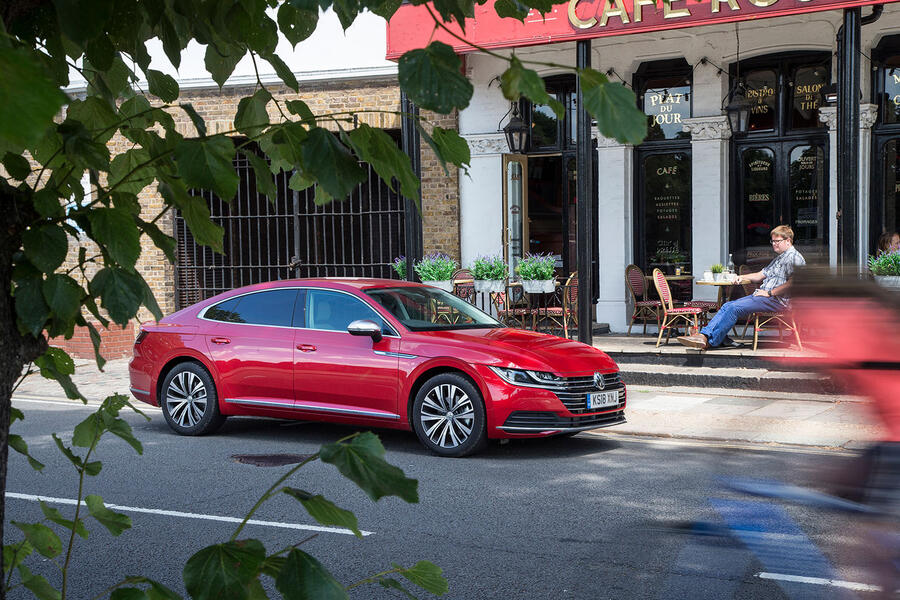 Life with a Volkswagen Arteon: Month 6
We wondered if this car has what it takes to stand out. After a 10,000-mile test, we now know the answer - 27th March 2019
Futterneid. The Germans have a word to describe the specific kind of envious desire you feel for good-looking food on someone else's plate – and 'futterneid' is it.
I learned as much recently, courtesy of the BBC's Nicky Campbell, via the radio on our long-term Volkswagen Arteon. Like much of the rest of the car, the radio is entirely good, adequately powerful and very usable – although not what you'd call special.
Regrettably, I've no idea if the Germans have a similar term to describe how you might jealously regard the car in someone else's parking space – but, sufficiently encouraged that they may, we've been doing our best to find out, over the past eight months, whether one of Germany's less fanciable family-sized fastbacks could inspire such an inkling after getting to know it better.
The kicker was that we'd be engaging with this VW at its most ordinary: with the cheapest available petrol engine and trim. Desirability has, over the years, proved a difficult concept for a brand as progressive as VW to master. So has its latest fashion four-door got enough of it?
Now that our long-term test is at an end, after nearly 10,000 miles, the verdict's in – and the feeling of the Autocar road test jury is much as it was when we road tested the Arteon in the spring of 2018. It's not a desperately positive note on which to start this farewell to what has been a near-ideal means of transport for a small group of colleagues who tend to get plenty of driving jollies from other sources.
But sadly, even after extended acquaintance has made us regard this car's comfort, practicality, usability and perceived quality very highly, it hasn't proved that the Arteon has the dynamism to make it feel any more special to drive than the next mid-sized saloon. Not, at any rate, at rung number one on the model derivative scale.
Neither has simply looking at the car at length, and on a daily basis, really given us any greater appreciation of an exterior design that fails to create much in the way of instant visual attraction. We all agree that there are bits of the styling we like but none of us would say those bits come together to amount to a car that really stands out – unlike the previous long-term test car we ran, the directly comparable Kia Stinger.
The Arteon deserves some credit, nonetheless, for maintaining a convincing aura of calming cut-price luxury and refinement over its time with us. We went out of our way to test the car in as close to basic specification as possible and yet still got a car with heated seats, digital instruments, adaptive cruise control and plenty of useful convenience features chucked in as standard.