Why we're running it: To see how easily a hot-shoe rally replica fits into daily life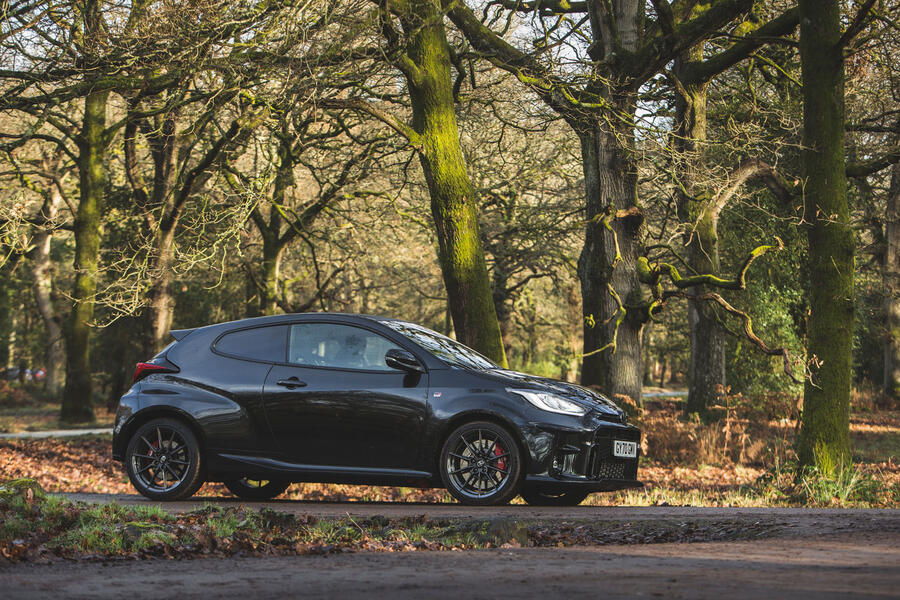 Life with a GR Yaris: Month 2
An impromptu twin test against mighty opposition proves our hot hatch's worth - 24 February 2020
How big a giant can the Toyota GR Yaris slay, I wondered? You can see my long-termer alongside a Nissan GT-R Nismo and an Alpine A110 this week in a story about cars we can't believe manufacturers had the nerve to make. So while we had the Toyota and the Nissan together, it seemed prudent to make a video of the two and rude not to ask how capable the hot hatch really is.
Normal testing rules applied. When we test cars or take lap times, the idea is to find a repeatable level of performance: an indication of consistent pace, not flat out, one-off laps that vastly increase the risk of falling off or burning through consumables. It's road car testing, so there's always something in reserve.
It was a cold, wet, foggy day on the short and bumpy Llandow Circuit. The advantage, then, was skewed in favour rather of the Toyota, rather than the GT-R Nismo – a car made for conditions (and circuits) rather grander than this.
The Toyota had superb composure. It has dampers that give great body control but also can thump over kerbs without unsettling it. And while you can flip a dial on the centre console to change the power distribution between the axles, whatever I did provided terrific traction. The GT-R has more power to worry about, obviously, so gave its rear wheels a harder time, but the Toyota was just less edgy less often. It was slower down the straight, ultimately, but tractable enough and grippy enough to be very slightly faster over this short distance, with a lap time of 48.9sec to the GT-R's 49.3sec.
The Toyota weighs some 400kg less than the GT-R, which partly offset the power deficit but, more importantly, meant it could brake a bit better, and its tyres found more lateral grip in higher-speed corners. Perhaps partly it's the tyres, too: industry engineers do say how good Michelin rubber can be, albeit generally a more expensive decision, and this Yaris runs Pilot Sport 4s (the GT-R was on Dunlop Sport Maxxes). Change any of the variables, – weather, track length and more – and I suspect it would be a different story.
But speed isn't everything; what excites me is how much fun a car is to drive, not how quick it is. Still, it's an interesting exercise, and on the day, in those conditions, the Toyota showed just how impressive it is.
Love it:
Reversing camera A car this size doesn't strictly need a reversing camera but, given how quickly the rear window grimes over, I'm glad that it has one.
Loathe it:
Fuel gauge confusion I read that the tank holds 50 litres, but the gauge shows near-empty before I get near to that. More bravery (and a jerry can) needed.
Mileage: 4220