Our Verdict
Skoda jumps into the SUV market with both feet — and seven seats, but can the Kodiaq win the people's hearts in an already congested SUV market?
First Drive

High-spec seven-seater Kodiaq begins its family life with a lot to prove — for Skoda and SUVs

First Drive

The Kodiaq's versatile interior continues to impress, but this punchiest petrol engine will be a rare sight on our roads while diesel rules the roost
Why we're running it: Rational brand makes its most rational car to date: a seven-seat family SUV. Can it score what's surely an open goal?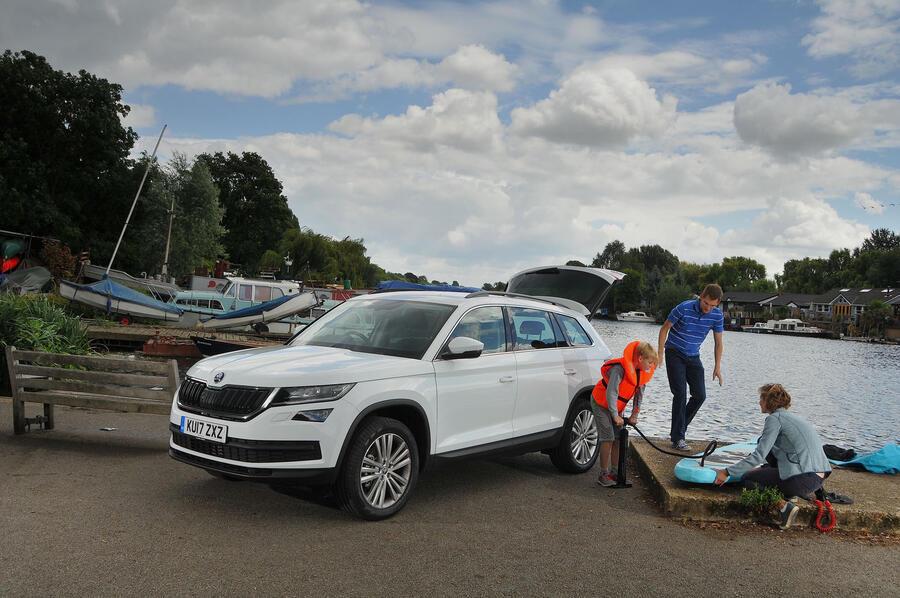 Life with a Skoda Kodiaq: Month 5
Who needs a Rolls-Royce? - 7th February 2018
You can't recommend a car because it has a brolly hidden in the door, but... I love the fact the Kodiaq has a brolly hidden in the door.
This is partly because I'm the sort of person who strolls halfway up the road in a T-shirt before realising it's sub-zero and snowing, and partly because it sums up that Skoda goal of doing simple things to make life better. 
Mileage: 6021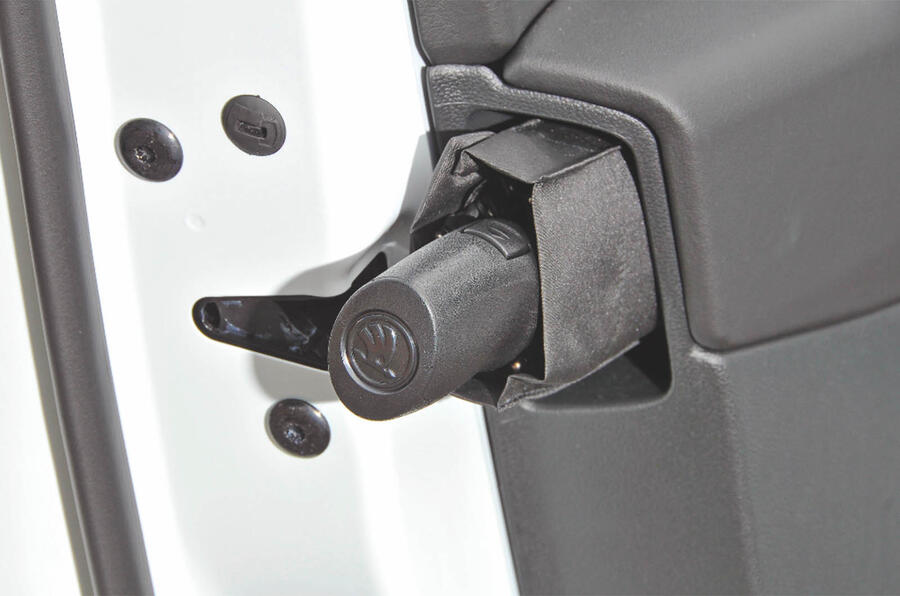 Life with a Skoda Kodiaq: Month 4
Growing fonder of the Kodiaq in its absence – 24 January 2018​
A spot of vandalism left the front of the Kodiaq battered and bruised.
While the car was fixed, I sampled a raft of alternatives, some with premium badges, but nothing quite matched the Kodiaq's blend of space, practicality and ease of use.
I've a growing suspicion that it is the best under-the-radar do-anything car on the market.
Mileage: 5671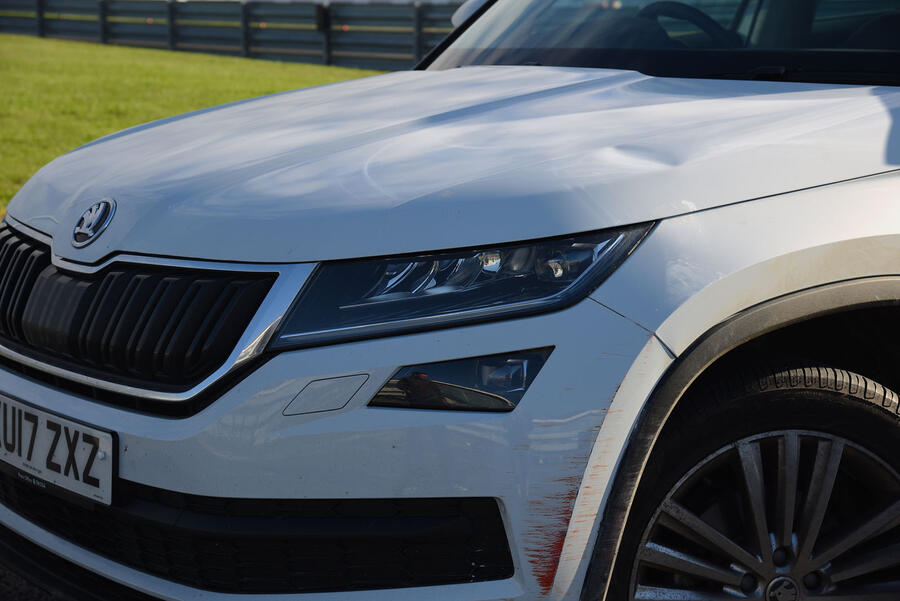 Defending the Kodiaq's diesel honour – 03 January 2018​
Gah! Hang a bell round my neck and burn me at the stake, for I live in the city and I drive a large, diesel-supping SUV.
I'd get less grief for wearing a T-shirt proclaiming loyalty to one side or the other of the Brexit debate, if only because just over 50 percent, or not quite 50 percent, of voters feel affinity for one side or the other of that particular argument.
On the topic of diesel, there's increasingly little sympathy.
I'll be honest: I feel guilty. Just six months ago, ordering a diesel engine seemed a perfectly logical thing to do. Indeed, we were encouraged to do it, by lower fuel prices and company car tax incentives.
For a child of the 1970s who went to school in the 1980s and 1990s, that made perfect sense. The spectre of CO2-induced acid rain stripping the life out of forests was up there with erasing the ozone layer by using deodorant and trying to balance the possibilities of nuclear war as the Eastern Bloc collapsed.
Now I'm not so sure. Normally, I'd trust the scientists, but there seems to have been something of a flip-flop of opinion, although most arguments seem to boil down to CO2 – where diesel offers an average advantage of around 20 percent compared with a petrol engine – being bad for the planet and NOx (and particulates) – where newer petrol engines are significantly advantageous – being bad for human health.
I'd like to think the government listens to the scientists and reacts to the best, latest opinion, but these days I'm not so sure.
Certainly, sections of the wider press have leapt on the anti-diesel bandwagon with some ferocity, and it seems ever more apparent that a government with a slim majority is susceptible to being influenced by both public opinion and the possibility of PR gains from changing policies set by their opposition at some point previously.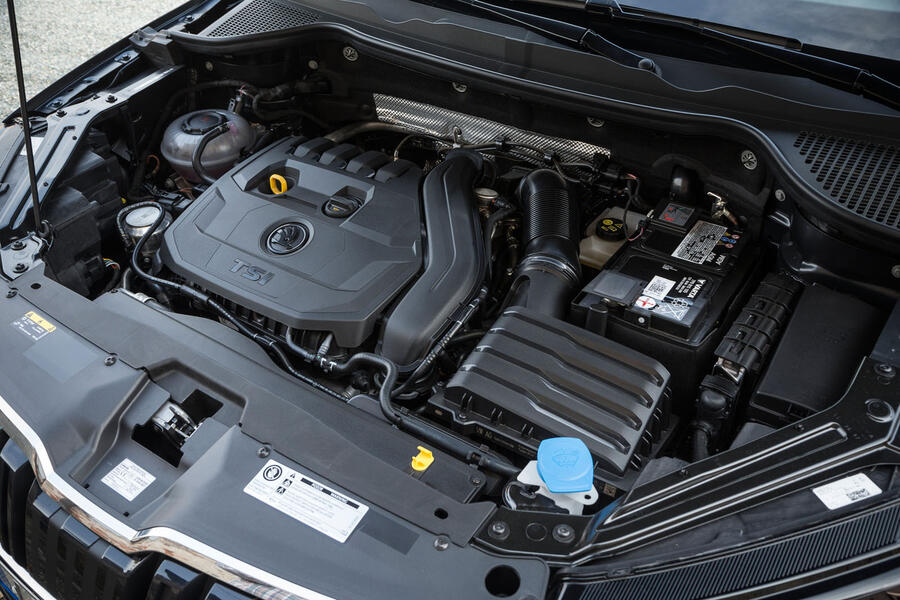 The manufacturers? I get the angst of having invested millions, perhaps cumulatively billions, in cleaner diesel technology to meet legislatively driven standards, only to stand in the face of opinion – some reasoned, some rabid – decrying your efforts.
Some of it I can even work out for myself – you don't need a PhD to google the fact that a EU6 diesel should emit no more NOx than an EU4 petrol. But I say 'should' because the industry record of taking official emissions tests isn't exactly without blemish…
So here's my conclusion: for now, I reckon owning a modern diesel is fine, but appropriate only if you do long distances out of towns regularly.
In my case, with a town commute, I'd probably be smarter owning a petrol, hybrid or electric car for daily driving, and using the diesel for long trips.
Or, if I had only one car, likely buying a petrol, because my annual mileage barely tips 15,000. What's clear in my mind, though, is that owning a diesel and using it appropriately should not be demonised.
I've driven the Kodiaq in 1.4-litre and 2.0-litre petrol forms. Both are good engines, albeit the 1.4 so long as you don't intend to travel fully laden frequently.
But I dare say neither would approach the near 45mpg I'm currently enjoying, and I'd hazard I could get another 10 percent from it if I spent more time travelling sensibly on the motorway. Nor, obviously, do they provide my diesel's torque.
The answer, then, to my mind at least, sits somewhere in between the two extremes. Much like the idea of buying an on-road biased SUV in the first place.
Mileage: 5403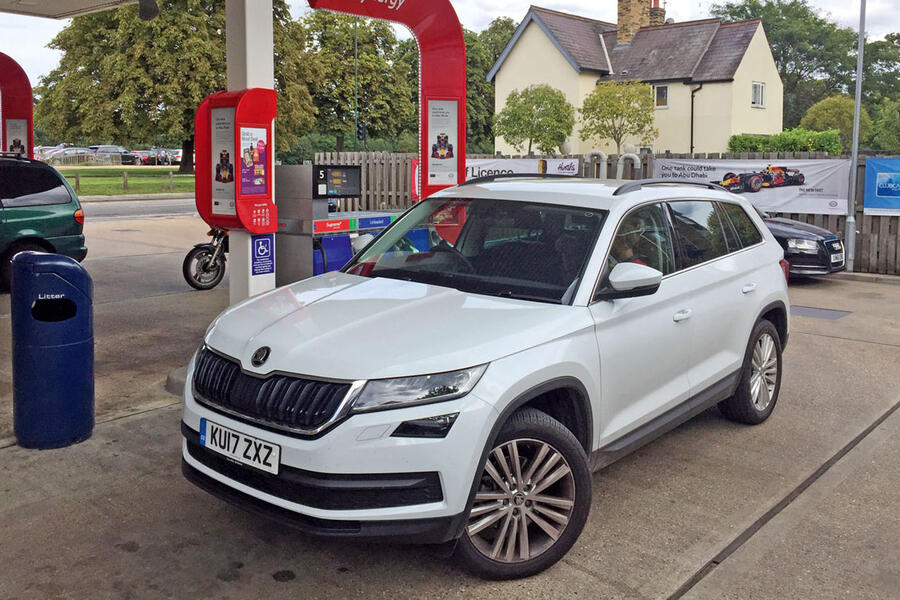 Life with a Skoda Kodiaq: Month 3
The differing looks of the Kodiaq​ – 29 November 2017
I'm a big fan of the Kodiaq's crisp lines, but the onset of winter has put a layer of grime on the white paintwork.
Over the summer, when the car was clean, it was the long shoulder line that really stood out. Now it's covered in mud, the lower sculpting above the sill, rear-wheel arch shape and rising contour from the bumper on the flanks give the Kodiaq a very different character.
Mileage: 5124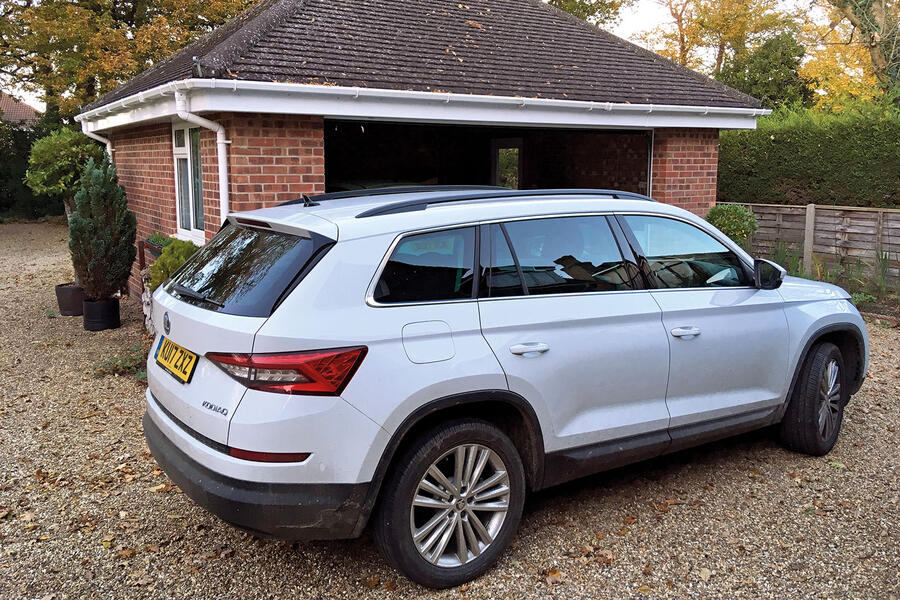 Life with a Skoda Kodiaq: Month 2
Kodiaq prefers to sip than guzzle – 08 November 2017
Colleague Jimi Beckwith recently borrowed the Kodiaq to move house from London to Southampton.
Being a conscientious fellow, he filled the laden Skoda with as much diesel as he thought he'd need and, job done, returned the car.
Turns out I owe him at least a tenner, as the 48.5mpg average he achieved was well in excess of what he was expecting.
Mileage: 4326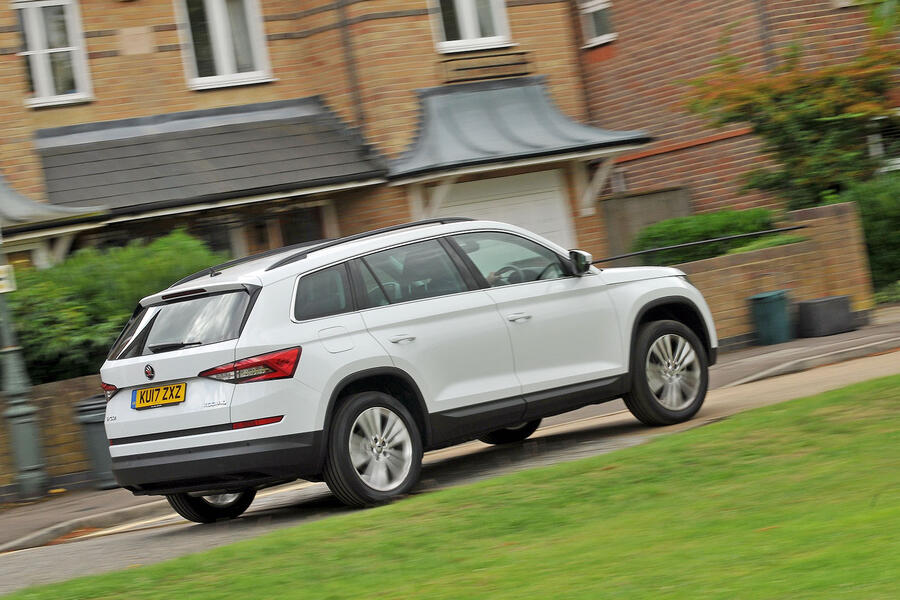 Proving the Kodiaq's versatility – 18 October 2017
Leaving the hospital with a newborn marks a pivotal moment in life, I reckon.
Off you drive, happy, content, a touch nervous but sure that you will, like every generation before, find a way through what lies ahead.
And then, as sure as night follows day, there's a gurgle, a cry or full-blown yell that snaps you out of your reverie, locks your eyes onto the rear-view mirror and lets the reality of what's unfolding come crashing in.
I've experienced it twice, lucky fellow that I am, and yet, when I look in the mirror now, almost 10 years after the first, there always seems to be three, four or even five sets of eyes staring back. Friends, family, cricket team, Cubs, Brownies – you name it, they need a lift.
Hurrah, then, for the option of buying your Kodiaq in either five-seat or seven-seat form. While I doubt there's any hesitation over which way to go if you have kids, it's also worth knowing that higher-trim cars like ours get the seven seats as standard.
Making use of those seats is a pretty simple affair. There's a lever on the seats to pull to haul them up or down again (or a more convenient lever in the boot, if you pay more), headrests that need extending or tucking away and, well, that's it.
If you need more leg room for the rear row, then the middle row slides fore and aft to make more space and, even with seven bums on seats, there's room for a couple of suitcases or a week's worth of shopping bags, so long as you're prepared to stack them on top of each other (remember to put the eggs on top… or is it the bottom?).
The rearmost seats are best reserved for pre-teens over anything longer than a brief trip, although it's worth noting that they don't have Isofix fittings for child seats.
While it's true that the impressive Kia Sorento is probably more commodious in the back than anything else packing seating for seven, the Kodiaq is right up there among the best for space and ease of access.
It's certainly more than good enough to meet our needs – and that in itself is a point worth bearing in mind if, like me, you can sometimes get caught up in a spreadsheet battle trying to work out which car is better. Enough is enough, and more than enough is more than you need. So far, the Kodiaq has proven just fine.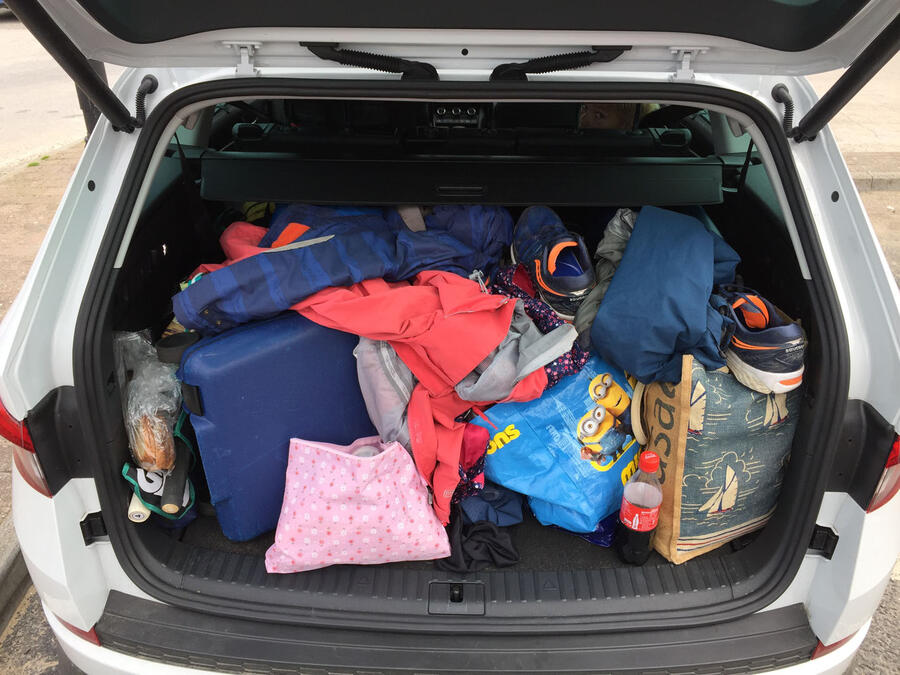 With the rearmost seats lowered, there's also enough room for a spare friend and a couple of (small) bikes or whatever other gadget or game they want to bring.
It's a big boot – again, a little down on the Sorento in terms of stats, but, actually, its equal in reality thanks to its nicely squared-off shape.
With the stepped floor fitted – standard on our SE L trim and above – the boot space is also nicely flat, with the stowed seats flush to the surface. There's also a handy sliding tonneau cover (which itself resides under the false floor of the boot when not in use) to hide what lies within, although – public service announcement warning – I'm a great believer in leaving anything of no value uncovered, so the would-be burglar can move on without smashing a window.
Finally, if like me you are prone to prioritising a quick kip over idle chat while cheering from the sidelines after dropping the kids off, then it's worth knowing that the middle-row seatbacks can be angled back for added comfort.
In fact, just about the only convenience setback I can level at the Kodiaq is that the middle seats split 60/40 when lowered, rather than the 40/20/40 of some rivals.
For some, that could be a major issue but, for us, it has never been anything more than a minor inconvenience.
And there you have it – a whole update dedicated to the rear seat and boot packaging of a Skoda SUV. Time was I wrote about an Aston Martin Vantage and Lotus Evora. The sacrifices you make for kids, hey?
Mileage: 2456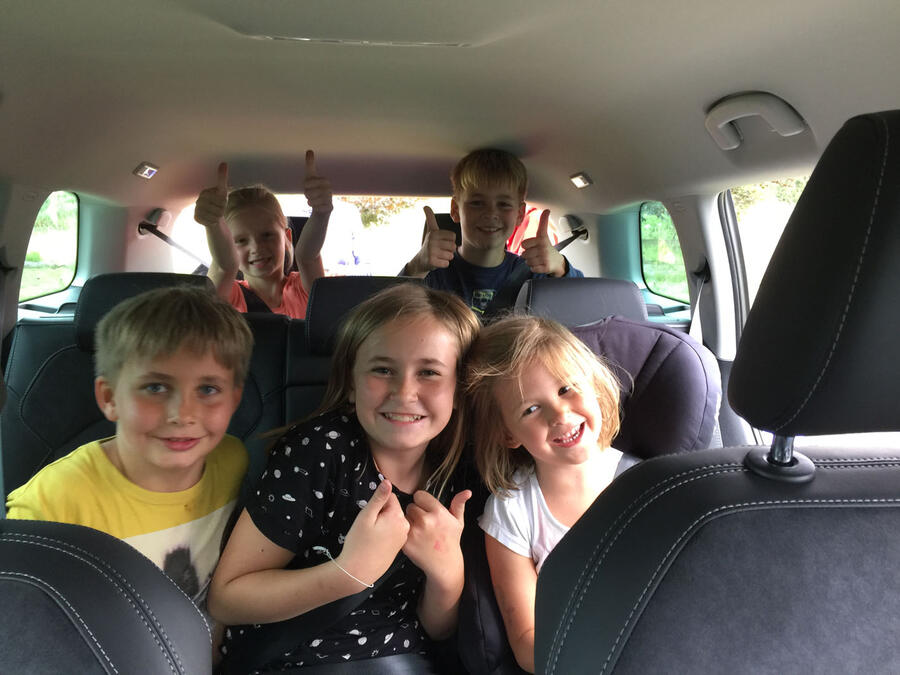 Life with a Skoda Kodiaq: Month 1
Holiday bliss with the Skoda Kodiaq – 27 September 2017
Holiday season has provided a great opportunity to get to know the Kodiaq's qualities quickly.
Five hundred miles in a week teach you a lot about a car, from the obvious – it's spacious enough to hold four people and their luggage with ease – to the pleasing, from the mid-40mpg economy to the refined motorway cruising ability. Downsides are nothing beyond niggles.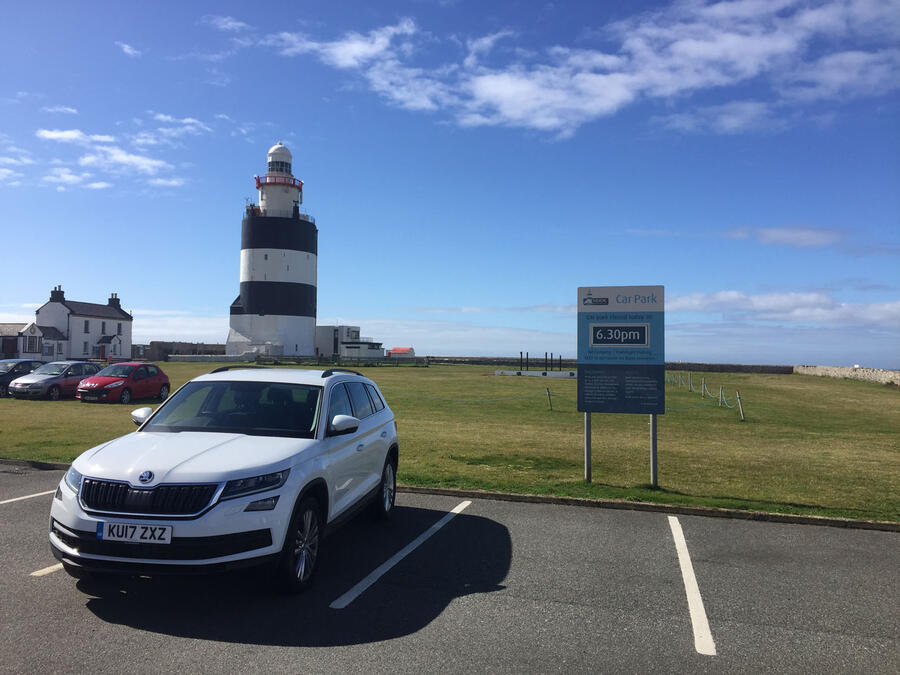 Mileage: 1823
Welcoming the Kodiaq to our fleet – 30 August 2017
Sport utility vehicle. SUV. Both sporty, yet full of utility. The best of both worlds. Or perhaps master of none, or so I suspected, but then I drove the Porsche Macan and the Jaguar F-Pace and I wavered.
And then, duh-der, perhaps after watching one too many TV ads featuring unfeasibly lithe kite surfers doing their stuff before hopping in their high-riding car, I started to believe the hype.
It turned out I'd been looking for the wrong thing: sport doesn't have to relate to the car's dynamics, but rather the lifestyle a big boot and a bit of ride height can unlock, or just hint at.
It's why what I'd call estate cars became the marketing team's sports tourer, and why BMW decided to call its high-riding range of X cars 'sports activity vehicles'.
Stick 'sport' in the name and buyers will follow. They might not be as lithe or as keen on dramatic sports as the ads might portray, but they are willing to part with money for a slice of the reflected glories and associated assumptions from envious onlookers, all the while enjoying the benefits of a raised ride height, which has little to do with sport and a lot to do with the imperious feeling of sitting higher than a lot of other traffic.
Imagine my surprise, then, when I found myself loading a paddleboard into the back of the Skoda Kodiaq that will serve as my family's transport for the next year.
Here we were, kids in the back, all excited and heading down the road in our sport utility vehicle, making minor use of its utility, to indulge in some sport.
Could we have done the same in pretty much any other car? Undoubtedly, yes.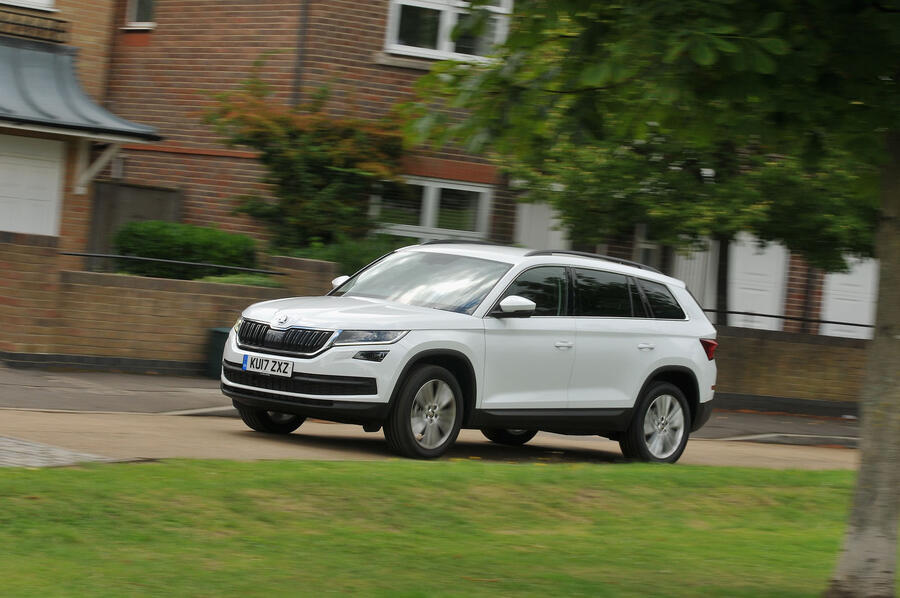 Did it feel somehow sportier to be loading our kit into a big SUV before stepping up into our seats, driving along and then parking alongside other sporty types to do our thing? Illogically… yes.
And there's the point: cars don't need to be logical if they are desirable. While there are hefty slabs of both sides of the equation in an SUV, the fundamental point remains.
Live with one and you will find it making you feel better about life for reasons you may not have considered possible. I've no doubt the central, but probably often unacknowledged, justifications for buying one are the selfish and possibly braggish benefits of raised ride height, but there is a part of this psyche that pervades beyond simply sitting a few centimetres higher than everyone else.
The Kodiaq is an intriguing car in which to test this hypothesis, too, because it comes with little of the baggage carried by the class. There's no Chelsea tractor connotations through history or badge snobbery, and I've yet to meet anyone who can find a reason to look at a Skoda without a significant percentage of goodwill kicking in at what is automatically regarded as a shrewd buy.
It helps, too, that our car's Moon White paint and 19in wheels strike a fine balance of crisp good looks without straying into ostentation, and that the styling is sensible rather than wilfully challenging.
It is desirable for many more reasons, too, being supremely practical in this seven-seat form and laden with standard equipment. It hits mostly the right high notes for interior quality.
Highlights include the 9.2in touchscreen and sat-nav, selectable driving modes, heated front seats, Alcantara upholstery and a list of bits that I suspect I'll come to wonder how I lived without them – be it the de rigueur umbrella in the front door, which is useless until the day it saves you, or the electrically operated boot that just makes life simpler.
The 2.0-litre diesel, linked to a DSG transmission, is also bang on for this type of car – if completely bang off (if such a thing is possible) where the public mood sits regarding fuel choice.
Yes, at more than £30,000, it is not the bargain you might once have expected from Skoda. Doubters might point out that you could buy a Land Rover Discovery Sport for less, but you would be comparing an entry-level model from a premium brand with a top-spec one from Skoda. Perhaps a comparison is due during the next year.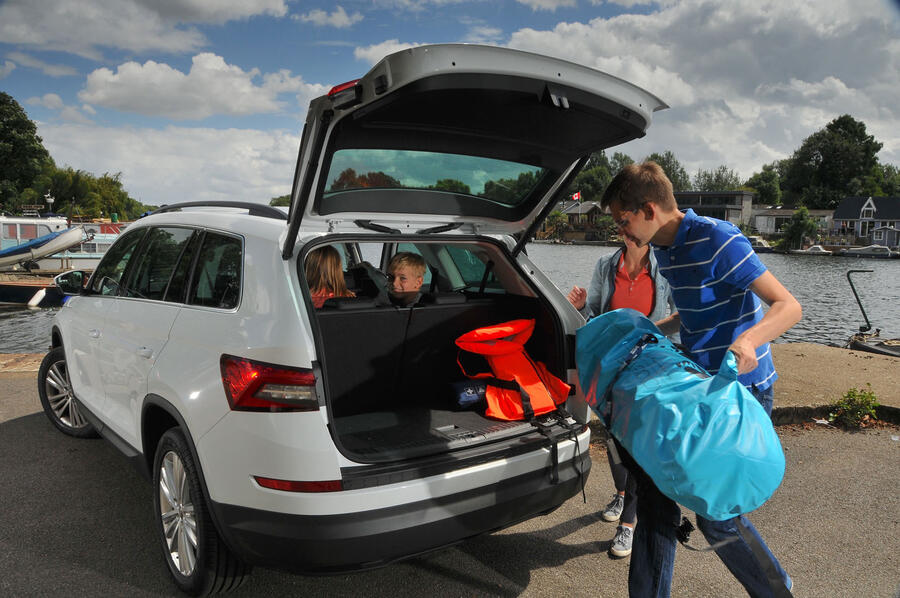 Even so, I will not, of course, be off paddleboarding very often. My balance isn't good enough, for starters, and I don't like the taste of river water. Mostly, I will be expecting people to infer my sportiness by my choice of car, while I judge the utility that such a vehicle can offer by filling it with my children, their friends and a host of (sometimes sport-related) paraphernalia.
Here, there's both the Skoda and the whole, booming SUV genre to assess – both from my point of view and, I suspect, those of other road users.
Second opinion
The Kodiaq is too big for my daily needs, but it sets a precedent for the smaller Skoda SUVs that will follow.
Positives: a good, roomy interior and direct steering.
Negatives: a harder ride than I'd expected and that sense of heaviness which, to be fair, you get in most seven-seaters.
Rachel Burgess 
Skoda Kodiaq SE L 7-seat 2.0 TDI 150 2WD DSG specification
Specs: Price New £30,615; Price as tested £31,615; Options Children's Pack - includes manual roller blinds, door panel bin, electric child locks (£175), metallic paint (£555), rear seat backrest release (£90), spacesaver (£100), textile floor mat set (£80)
Test Data: Engine 1968cc, turbocharged diesel; Power 148bhp 3500-4000rpm; Torque 251lb ft 1750-3000rpm; Top speed 123mph; 0-62mph 10.0sec; Claimed fuel economy 56.5mpg; Test fuel economy 39.7mpg; CO2 131g/km; Faults None; Expenses None