What is it?
If we were to play a little word association and say 'Mazda Mazda MX-5', what would be your response? Perhaps words like 'sunshine', 'sports car' and 'soft-top'? Yet did you know that last one is a misnomer? You see, of the previous-generation MX-5, only 20% were soft-tops, while the other 80% were bought as the folding hard-top.
Still, they did look all but indistinguishable with their roofs down, so as oversights go, it's a forgiveable one. But not any more. The new MX-5 RF (for Retractable Fastback) looks completely different from the standard car, not least with its flying buttresses reminiscent of a Ferrari 599. Does it look good? Hmm, opinion seems fairly evenly split, but it is certainly distinctive.
It's a mite pricey, too. Mazda will charge you a hefty £2000 premium for the RF, so what is it you are getting, exactly?
A three-part roof, with sections consisting of steel, aluminium and plastic, folds away at the touch of a button in a mere 13 seconds, taking the glass rear window with it but leaving the fastback-style rear section in place for a Porsche 911 Targa-like look. But it adds more weight, higher up in the body. A 2.0-litre RF weighs 45kg more than the soft-top, so Mazda's engineers have beefed up the front anti-roll bar and tweaked the damper settings. The idea wasn't to alter the dynamics over the regular roadster, but simply to counter the extra mass and make the RF drive as similarly to its sibling as possible.
The suspension tweaks weren't only because of the extra weight, either; Mazda also noticed that chassis stiffness had increased after adding the roof. Normally that would be welcome, but it changed the handling balance dramatically, so they ended up doing the incongruous: weakening an underbody cross member to reduce its stiffness, thus restoring the balance.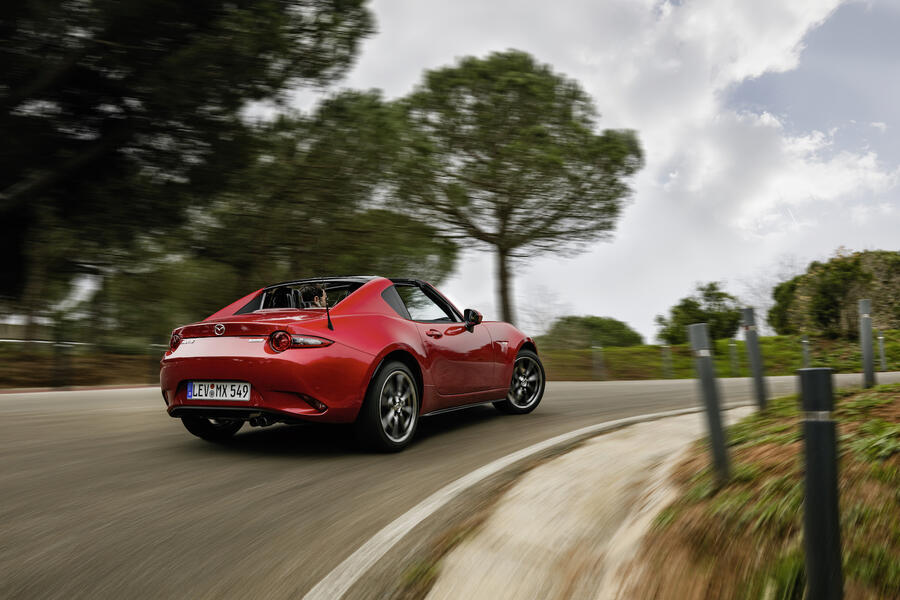 One design directive for the RF was greater refinement, without sacrificing practicality. To achieve this, there's a three-layer headlining, thicker floor mats and extra sound deadening stuffed anywhere that was found to be leeching noise, vibration and harshness into the cabin: notably the gearlever surround, rear wheel arches, doors and engine compartment.
Yet with its fancy roof installation up or down, it'll swallow two travel suitcases just like the soft-top.