Why we're running it: To see if the E has the everyday usability to match its desirability, despite its relatively short range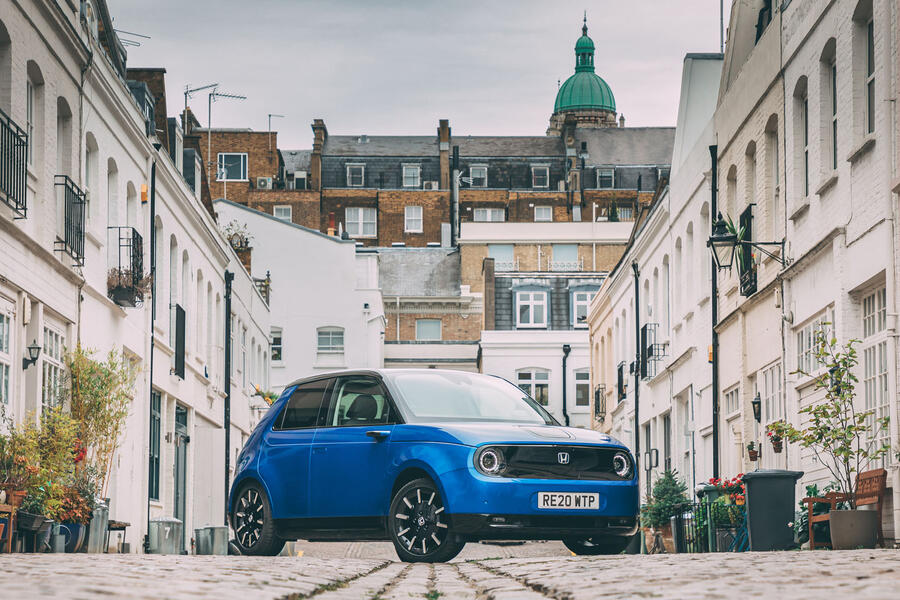 Life with a Honda E: Month 4
If you thought its range was too short in the summer, well... - 17 February 2021
We're very much still in the education phase of electric cars among the public. Many Autocar readers will know their appeal and drawbacks, likewise the early adopters and evangelists – although less of the drawbacks there…
That education must include an explanation of what a headline range figure really means. In the Honda E's case, 125 miles is very much a best-case scenario, and one valid only for the warmest months of the year. Or warmest days, in the UK's case.
In the summer heatwave when the E was first delivered, a range approaching 125 miles was indeed possible when I drove carefully and turned the regenerative braking to its maximum, always-on setting using the button on the centre tunnel (rather than the lighter touch given by the steering-mounted paddles).
In the winter, I've seen it drop below 70 miles when getting in on a 99% charge (for some reason, it never shows 100%) on the coldest days.
That's with the heater on full blast; the heated seats, the heated steering wheel and both window demisters turned on; the lights and wipers in use; and the radio turned up to drown out all the noise.
So EVs shouldn't be considered solely in the context of their best-case range in the summer; you need to factor in their winter performance, too. Given how long and cold British winters can be, that winter figure is just as important as the summer one, if not more so.
EVs are seasonal, their efficiency and range affected much more by cold weather than internal combustion engine cars are. The E isn't alone in this, of course, and nor are plug-in hybrids immune; the BMW 330e saloon that I ran previously had its electric-only range of around 30 miles in summer knocked to fewer than 20 miles in the colder months.
The range of the Vauxhall Corsa-e dropping from 200 miles in summer to around 100 miles in winter is one thing (as our recent long-termer showed), but when another EV can barely top that figure at the best of times, the question of whether the car is right for you becomes more acute.