What is it?
The term 'electrified' has been tenuously stretched by car makers' marketing folk in recent years, increasingly applied to any form of hybrid car with even the merest hint of electric assistance in an attempt to make them sound greener and cleaner.
So you might be wondering what sort of hybrid powertrain Genesis's new Electrified G80 features. But here's the thing: it's a pure battery electric car. In fact, Genesis doesn't even do hybrids: if you fancy yourself a big Korean luxury saloon, your choices are a turbocharged petrol engine or this dual-motor EV. Genesis uses 'electrified' to differentiate EV versions of multi-powertrain models (which is why the EV-only Genesis GV60 crossover doesn't have the descriptor).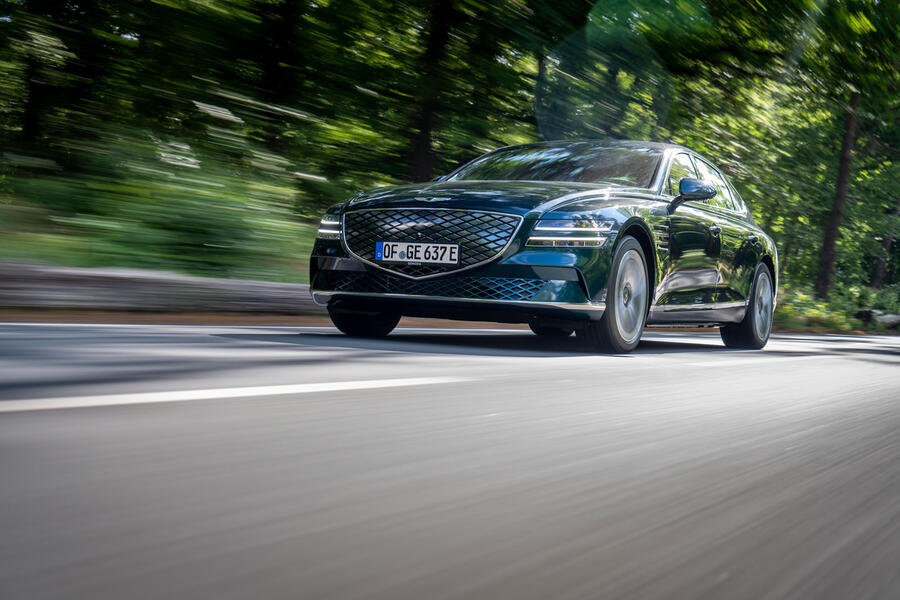 It's a temporary measure, given that by 2025, all new Genesis models will be EV-only, but it's one example of how the 'Genesis Difference' might actually be more than marketing speak for the firm's sales, customer service and aftermarket care plan (and, in the case of EVs, a charging package). And 'different' is a term that definitely fits the Electrified G80.
In combustion-engined form, the Genesis G80 offers a pleasingly alternative take on the Mercedes-Benz E-Class and BMW 5 Series. But with a dual-motor, 364bhp electric powertrain and a £65,802 starting price, the Electrified G80 lands in a gap in the market, priced well above the Tesla Model S but usefully undercutting the entry-level £76,450 Mercedes-Benz EQE – which it's notably longer than, at 5005mm.