Why we ran it: To find out if plug-in hybrid power and eight seats give Ford's iconic van greater lifestyle appeal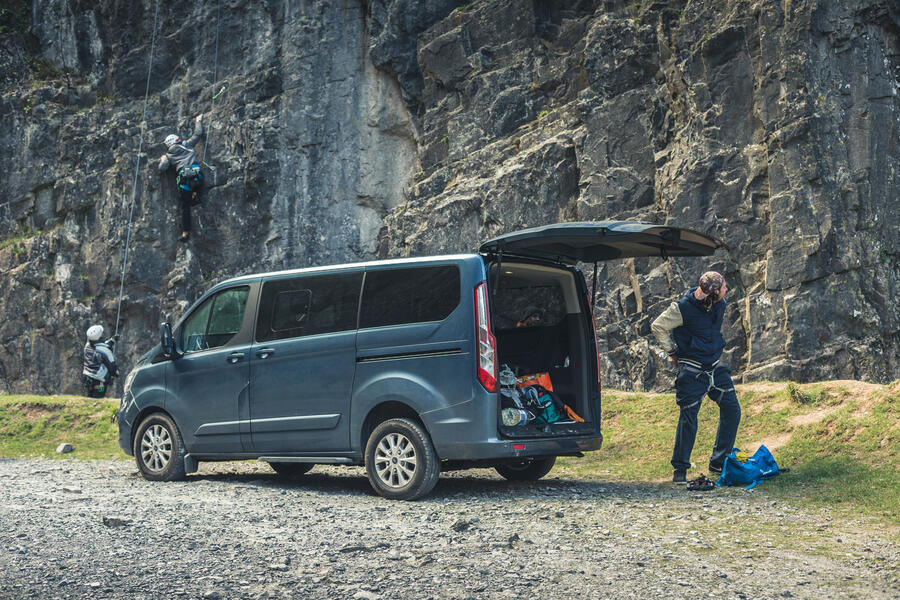 Life with a Ford Tourneo: Month 6
An eight-seat plug-in range extender looks handy on paper. What was the cold reality of using it for work, rest and play? - 17 November 2021
Take a quick flick through the Ford Tourneo's marketing spiel and you'll see almost as many outdoorsy types as you will tradespeople. Surfing. Camping. Rock climbing. Mountain biking. This van-based people carrier can do it all, apparently. Or at the very least get you to the beach/campsite/cliff/trail. After several months of doing exactly that, I'm inclined to agree.
As a test of 'can we cope with life on four wheels?', living with the Tourneo has been a lot of fun. My partner and I have driven it all over the country, from the south coast of England all the way to Scotland to tackle the North Coast 500. Had there not been a pandemic, it would almost certainly have taken us onto the Continent over the summer. It carried wetsuits, tents, bikes and all manner of other gear, while the eight seats meant we could bring mates along, too, without having to bury them in luggage.
During the summer, the way the passenger seats fold flat meant being able to turn the rear cabin into an impromptu camp bed and sleep on board (something we also tried in a much colder February and regretted). While the seats are mighty heavy, the tool-free removal process made it easy enough to pull out the rear middle seat and create room to slide in two bike frames. The expansive rear door even became a shelter in wet weather and a changing area between activities. Best of all, trips like these don't require lots of planning and packing: Ford has found so many clever storage spaces and cubbies that you can crack on without needing to think where every little thing must go.
It was great to be able to run on electricity alone for shorter journeys, where the Ford was quiet, smooth and responsive, if not to the level of even an entry-level EV. (It's still essentially a minibus, after all.) The contrast of silent running with the van's sizeable dimensions usually guaranteed attention, too – particularly from VW campervan owners, whom I seemed to bump into with alarming frequency over the summer holidays.
While I was always conscious of the Tourneo's weight and made an effort to stay smooth through corners and around roundabouts to avoid putting the tyres under extra load, it was refreshingly easy to drive. The steering felt typically Ford-like, not too heavy and largely accurate, and it rode well over most surfaces. It was never going to rival a Focus for driver appeal, but it never felt like a chore to drive, either.