Our Verdict
First Drive

Is the third gen Citroën C3 'fresh and different' enough to take on its supermini rivals? We spent seven months with one to find out

First Drive

Third-generation supermini doesn't quite match style with equal substance – although its 1.2 turbo petrol engine is a good one
Why we ran it: To find out how the C3 plays its trump cards – charm, usability and simplicity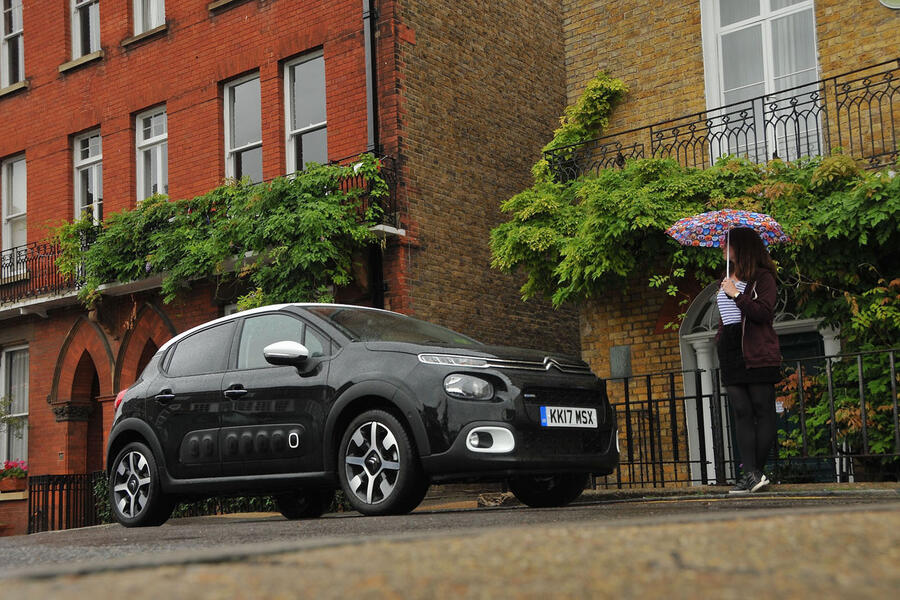 Life with a Citroen C3: Month 5
Final report - 14th March 2018
We had high hopes for our Citroën C3. Following the arrival of the first- generation C4 Cactus in 2014, the third-generation C3 was the next car to shape a new Citroën era, one focused on comfort and unconventional design.
The supermini segment is a tricky one to compete in, with the latest Seat Ibiza setting the standard, the Ford Fiesta the clear leader in terms of sales and other safe bets such as the VW Polo to consider. We've spent the past seven months seeing if the C3 deserves a place at the table.
It's been a bumpy ride. My first impressions weren't great: the gear changes between first and second seemed awkward, especially in a car meant to suit urban landscapes, and the rear axle wasn't a fan of the sizeable speed bumps on my road, no matter how carefully I drove.
Some colleagues weren't big fans either. The most damning comments: "It's great until you start to drive it" and "It's just okay, isn't it?". But since this shaky start, my impressions have only improved over time. Although the C3 isn't the best in its class, there are two stand-out features that make it worthy of note.
The first one is comfort. Citroën goes to great lengths to highlight the comfort of its cars, and it's true. Despite the C3 being mostly used for short journeys, I did plenty of long ones in it and it was superbly comfortable. I never became fidgety and it was unexpectedly adept at cruising. That was helped by decent enough power for motorway speeds from the 1.2-litre turbo engine.
The second stand-out aspect is the way this car looks. I've seen more new C3s on the road in the past year than I can recall seeing old C3s in its entire lifetime. Some of the colour combinations look great – ours is fairly conservative compared with others – so you can understand that many car buyers could be attracted to this car based on its appearance.
I'm also a fan of the Airbumps that adorn the C3's flanks. They were created for both practicality and design, and I felt happier leaving the C3 in a narrow car parking space knowing its paintwork was less likely to be damaged by an errant shopping trolley or clumsy driver.
The more time I spent behind the wheel, the less I noticed the clunky gearchanges and poor ride that had stood out at the beginning. Having adjusted to the car, they don't seem so bad now. That said, I drove the new Fiesta and the C3 isn't a patch on it in terms of being engaging to drive. But, as a daily runaround, it is an easy car to live with.
My biggest gripes inside the car relate to some elements of the infotainment system. Changing the temperature on the touchscreen rather than via switches or dials is a faff. Apple CarPlay plays up when switching between radio and using the hands-free phone, but to be fair that's a glitch I've found in a number of cars. The touchscreen itself is far improved over previous generations but is still a fraction too slow to react.
I'm not convinced by the optional ConnectedCam, a dashcam that can be hooked up to social media to share photos or videos. I imagine few people would care to post a picture from a journey on social media, especially given that most of the C3 drivers I've spotted are at least middle-aged. The dashcam footage could be useful in the case of an accident, although whether an insurance company accepts its recordings as proof is not Citroën's responsibility, it states.
The C3 is an enjoyable, usable everyday car that wins in the style and comfort stakes. Given that those aspects are high priorities for many car buyers, that's no bad thing at all.
Like it:
ALLURING DESIGN My favourite-looking car in this segment by far. Refreshingly different but not in-yer-face.
Loathe it:
CLUNKY GEARCHANGES First and second gear could be more refined given the car should be at home in stop-start traffic.
Final report mileage: 8125
Life with a Citroën C3: Month 4
Understanding the C3 trim range – 10 January 2018​
The difference between a mid-trim Feel C3 and our top-trim Flair C3 is £1750.
That gets you rear parking sensors, automatic lights/wipers, ConnectedCam and those love/hate Airbumps.
Inside, the key changes I noticed were a stop-start button and a simpler digital display cluster. Is it worth it? Most people think so: 60 percent of C3 sales are Flair trim.
Mileage: 6200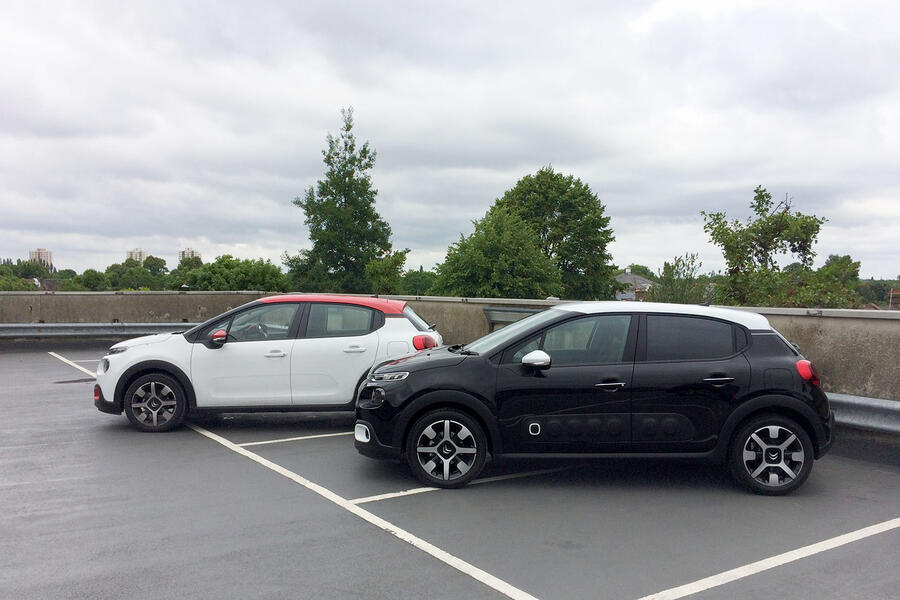 Life with a Citroën C3: Month 3
ConnectCam – useful or a gimmick? – 28 December 2017​
It has taken me a while to test the C3's in-built dashcam, largely because I'd written it off as a gimmick.
But alongside the fun aspect of Citroën's ConnectedCam, which is marketed as a way of sharing your journey with friends via social media, there's another purpose: safety.
The RAC reckons three million UK drivers now own a dashcam and 69% of people surveyed thought that having one would be useful if an accident occurred.
The ConnectedCam records a 90sec video either side of an impact that the C3 is involved with. In theory, the footage could help with an insurance claim.
So how does it work? The camera is positioned in front of the rear-view mirror and has two buttons on it: one to turn it on and one to take pictures and videos.
The other element is a free app for your phone. Committed to my cause of testing it thoroughly, I decided I would try to post a picture to Twitter of my glamorous journey along the M4 to Cardiff. In theory, the app allows you to decide which social media site you want to post an image or video to while you are stationary, and then it will automatically post once the image is taken with the default words: 'Enjoying my drive'.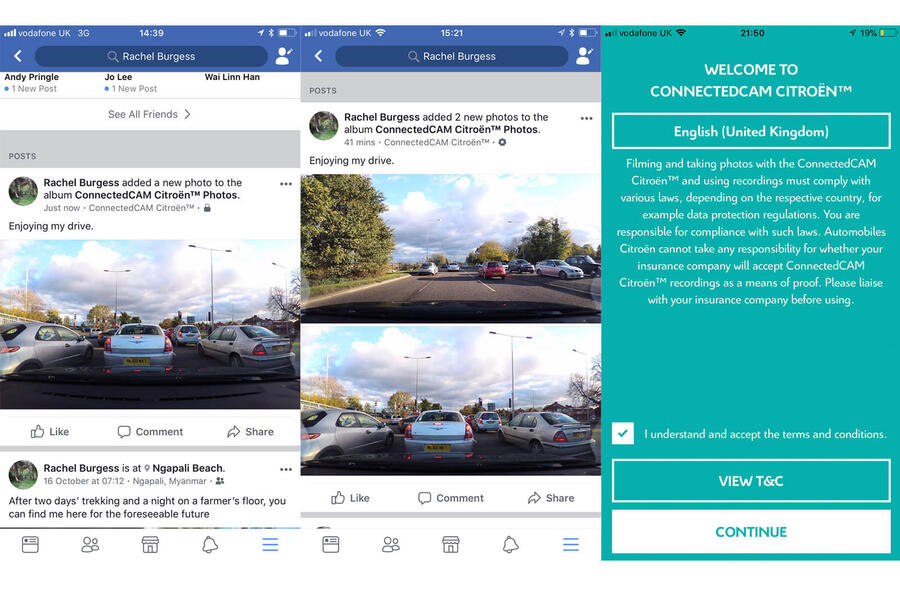 Despite my best efforts, Twitter wouldn't work. The app asked me to go to my phone settings to sign in to Twitter, which wasn't an option, so I was at a loss. Another choice was to send it to my email. When I tried that, I got an error message and some gobbledegook tech speak.
My final option, Facebook, actually worked. Sadly, the 120deg image of the M4 was deeply unexciting for anyone to look at, but I can see that there might be appeal in a pretty, winding road in the Lake District, for example.
So ConnectedCam remains mostly a gimmick for me. It's included on our top-trim Flair model, but it's a £380 option on lesser trims in the C3 range. It can help you feel assured in the event of an incident, but as a social media-friendly add-on, it feels largely superfluous.
And another observation: ConnectedCam seems to target a younger generation, and although this Citroën is good-looking enough not to alienate that market, the many C3s I've seen on the roads have had older people behind the wheel.
Mileage: 5050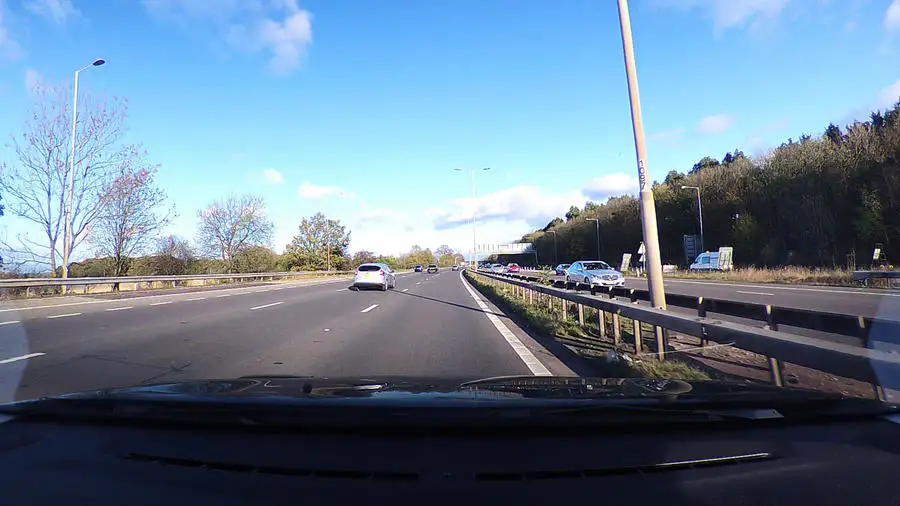 The Citroën C3's air of safety – 29 November 2017
The C3's airbumps – a £290 option on everything other than our top-trim Flair – are, in my mind, a good-looking addition to the car and a key differentiator versus rivals.
There's the practical side too. I feel much happier leaving the C3 in tight car parks than previous cars, knowing that other motorists are less likelyto leave lasting damage on it.
Mileage: 4211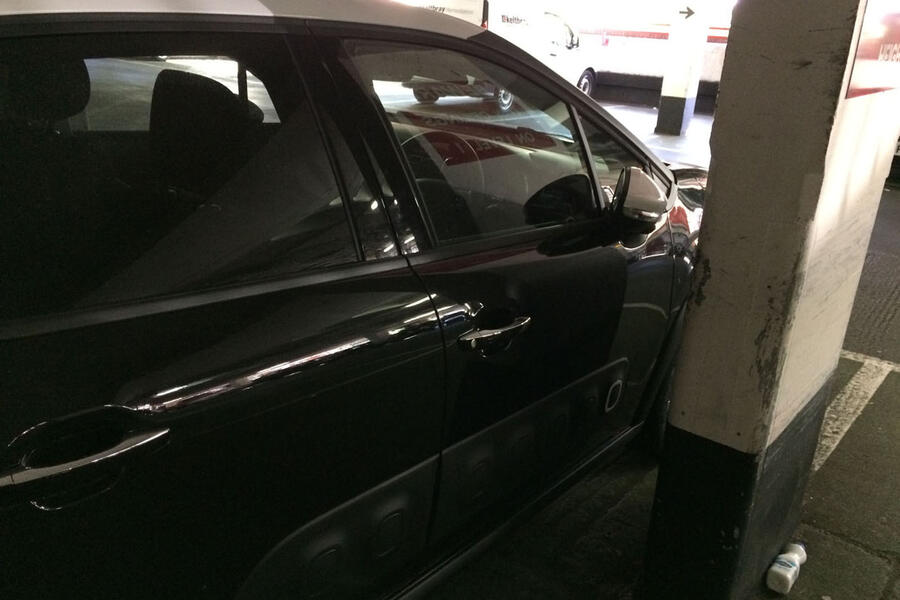 Life with a Citroën C3: Month 2
The C3 earning its crust out of town – 01 November 2017​
A trip to Crewe to see the new Bentley Continental GT loomed and I toyed with the idea of swapping the C3 for one of the more suitable long-distance cars on our test fleet.
But in the end, I didn't, deciding that this was an excellent opportunity to see how the C3 fared outside of its urban remit.
It's fair to say it didn't have the comfort or refinement of a Bentley grand tourer, but then what do you expect at a fraction of the price?
Nonetheless, Citroën has a sharp focus on offering comfortable cars and the C3 absolutely bears that out. There are very few cars in which I don't get fidgety or suffer from the common affliction of 'numb bum' on a 100-mile-plus journey.
But with the C3, it never happened. I was happy all the way to Crewe and back to London again, via the Cotswolds. Even better, the C3's bench-like seats, inspired by those in the C4 Cactus, look different from almost every other car makers' out there. So they're not only incredibly comfortable but also original in design.
A few weeks later, I headed to the depths of Suffolk for a yoga retreat. From my house, there is not the luxury of a direct motorway route. Instead, I traversed motorways, A-roads and B-roads before a final stretch on the never-ending A143.
The journey had the same result: I was comfortable throughout.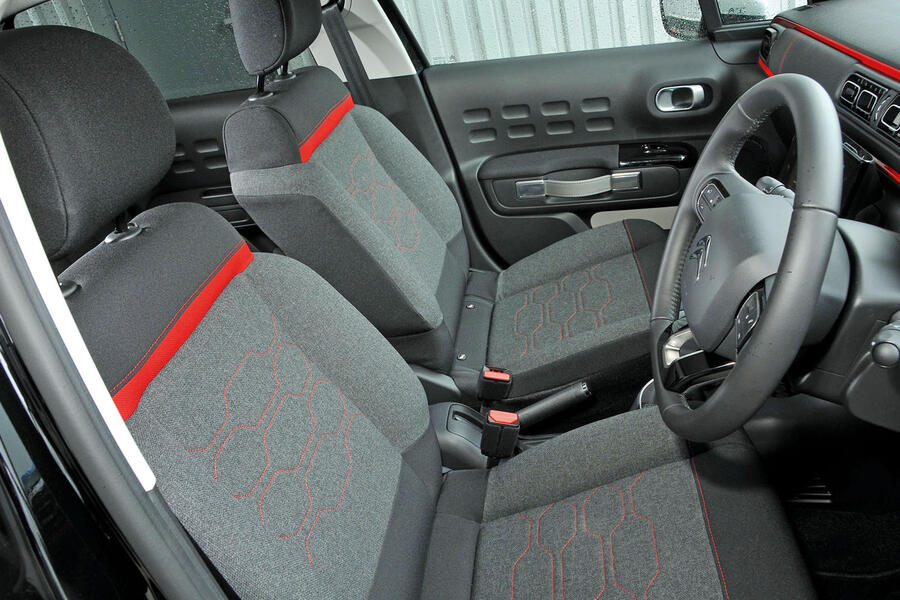 The C3 can also hold its own on higher-speed long journeys. Our car's 1.2-litre PureTech 110 engine is the most powerful in the range. That equates to a 0-62mph of 9.3sec – not enough to do more than moderately paced motorway cruising, but sufficient.
To get up to speed requires some persistent foot-down driving, but it's never to the point where you feel that you're desperately willing the C3 to accelerate more quickly.
The other upside of long-distance journeys in the C3 is also the biggest downside for its natural environment of towns and cities.
The gearbox feels notchy and rough when changing through its lower cogs. This makes stop-start urban journeys less fluid than you'd hope. So, of course, with no low-end gearchanging necessary out of town, this isn't a factor.
The Citroën also has firm rear suspension, which causes it to crash hard over speed bumps.
That's unavoidable to an extent on roads like the one on which I live, which have the worst kind of speed bumps, but rival hatchbacks such as the Ford Fiesta feel better damped. Again, this is much less of a factor on longer journeys outside towns.
So I've touched on its long-distance capabilities and my main woes on short journeys.
But as my daily driver, covering 20 miles a day in the suburbs of London, this is a car I've become fond of. I'm now used to that less-than-brilliant ride and those not-as-smooth-as-I'd-like gearchanges and I'm enjoying the C3.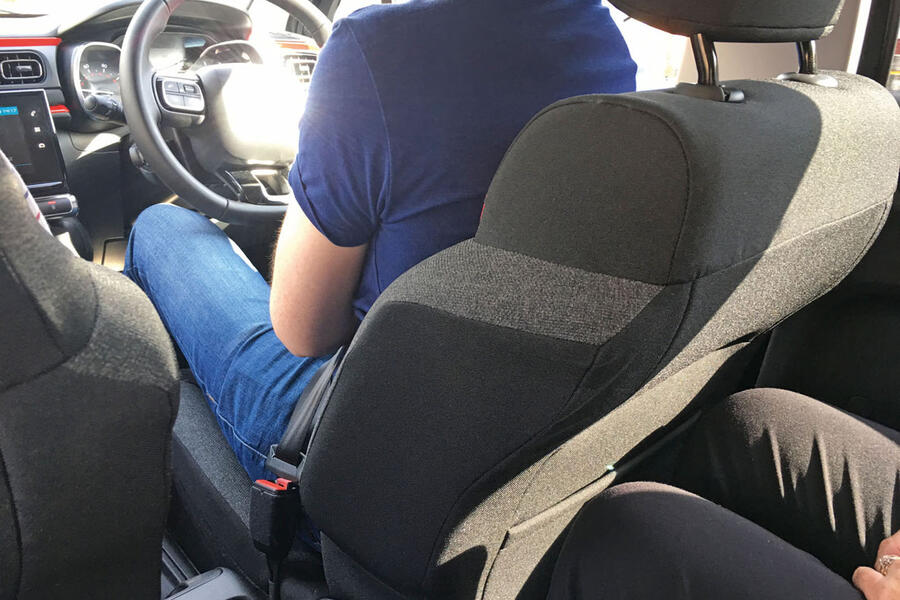 It's also very practical. The boot's capacity is 300 litres, which is more than the Fiesta's, and it is cleanly shaped for optimum space.
My Volkswagen Golf-owning mum, on seeing the C3's boot after a trip to a garden centre, remarked on how spacious it is.
On that same visit, my mum, dad, partner and I piled into the C3 for a short drive for a Sunday roast.
My 6ft 2in partner drove us back home, with my 5ft 4in mum sitting comfortably behind him, demonstrating a respectable amount of space for all occupants.
It has also been very usable for transporting my two-year-old niece in her car seat. And if anyone's seal of approval counts, it's hers. She said, on first seeing the C3: "I like your car. Nice wheels."
Mileage: 3378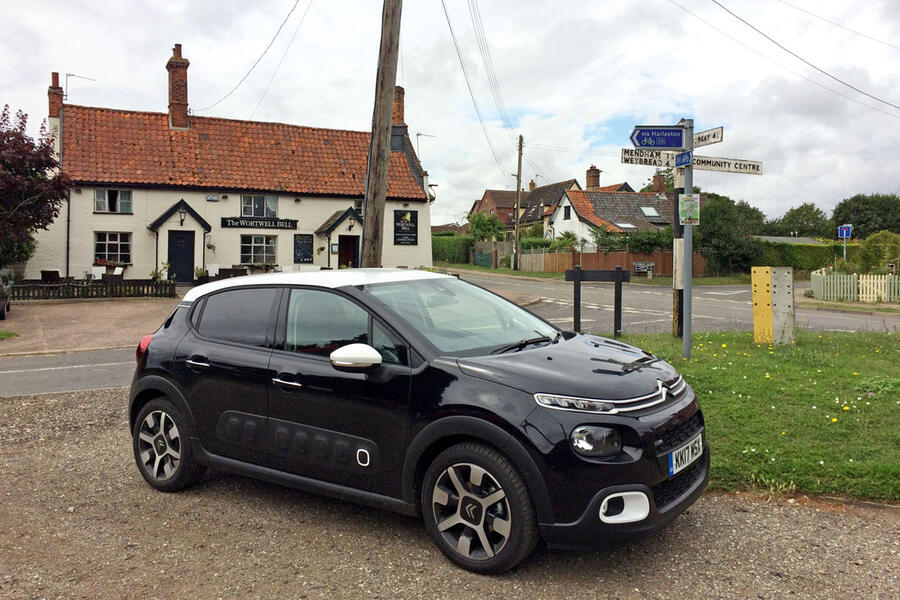 Life with a Citroën C3: Month 1
Suffering some audio woes – 11 October 2017
I assure you, I am not mad.
Yet when I listen to the radio in the C3, I find it sporadically repeating itself for 2-3sec. It happens often.
A more tech-savvy person than I suggested that the radio is switching between FM and DAB, which makes sense.
Even so, I've not experienced it in any other car and it's quite unnerving until you get used to it.
Mileage: 2689
Welcoming the Citroën C3 to our fleet – 20 September 2017
Citroën's C3 has never been a wildly popular car, easily eclipsed by better looking and better engineered rivals such as the Ford Fiesta and Renault Clio.
But this reincarnation, its third generation, hails a step change, as the French car maker looks to reinvent itself following its split with DS. That is now deemed the premium brand in the PSA Group, while Citroën focuses on being 'fresh and different'.
Indeed, in place of its bubble-esque predecessor, this new C3 is infinitely better looking, with funky colour themes and the option of those unusual airbumps, first seen on the C4 Cactus.
We've opted for the top of three trims, Flair. It's a well-specified car that comes with a reversing camera, dark tinted windows and a 7.0in touchscreen.
It is also the only trim that gets those airbumps as standard. Otherwise, they cost £290.
We've chosen the most powerful petrol engine to put through its paces, the PureTech 110 S&S (stop start) in five-speed manual guise. The three-cylinder 1.2-litre achieves 0-62mph in 9.3sec and promises fuel economy of 61.4mpg and CO2 emissions of 103g/km.
For comparison's sake, the equivalent Ford Fiesta is the 1.0-litre 123bhp Ecoboost engine in Titanium trim, which costs £17,295. That hits 0-62mph in 9.9sec, delivers 67.5mpg and has CO2 emissions of 98g/km. In short, slower but more economical.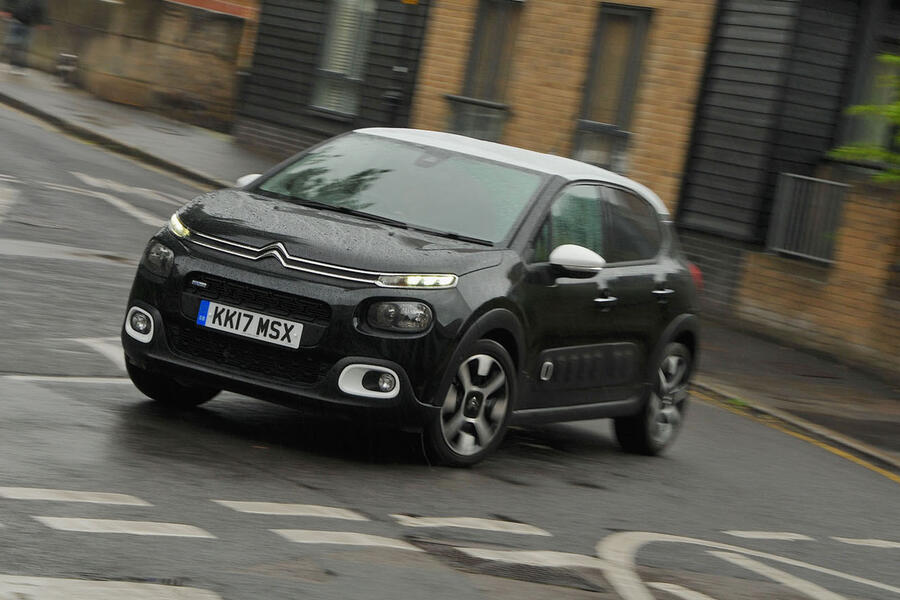 So what are my hopes for the C3? Well, I'd genuinely like there to be a new contender for one of the top spots in the supermini sector.
The Fiesta, for all its outright goodness, is pretty dull in my book. I'd like the C3 to not only look attractive but perform attractively too so it can compete.
Citroën loves to harp on about its focus on comfort, so I'm intrigued to see how well the car absorbs the endless speed bumps on my road, plus plenty of uneven road surfaces.
Comfort also plays an important part in the interior – will I become fidgety when I'm stuck on the North Circular in a torturous Sunday afternoon traffic jam?
It's the first time I've lived in London with a supermini, which I've always thought the perfect type of car for such a setting. But I'm interested to see if it's useable in its compactness too.
My beau and I are still busy fitting out our house, so the odd trip to Ikea is inevitable. We also have a lively two-year-old niece to regularly accommodate in the back of the car.
My relationship with PSA Group infotainment systems isn't the best. A previous Peugeot 308 GTi long-termer had a painful-to-use system. Already, I can see a vast improvement with the revamped version in this C3, so I hope it's really up to the job.
Other early impressions: it has a great, original interior design; there's enough power for most types of driving; and there's work to be done on the over-firm rear suspension.
Alongside lots of inevitable town running, I have a few high-mileage trips coming up, so I'll be putting the C3 to the test in every sense. I want it to be worthy, but my first instincts are that it won't quite match up to its key rivals. Will it prove me wrong?
Second opinion
Citroën has always seemed at its best building cars with 'character' – and the confident design of the C3 certainly stands out in a crowded small-car market.
Of course, 'fun' cars with character can become tiresome to live with long term. Here's hoping the C3 stays charming over time.
James Attwood
Citroën C3 Flair 1.2 PureTech 110 specification
Prices: List price new £16,685; List price now £16,945; Price as tested £18,380; Dealer value now £11,820; Private value now £11,075; Trade value now £10,495 (part exchange) Options: Metallic paint £495, Citroën nav and Connect £600, keyless entry and start £250, 17in diamond-cut 'Cross' alloy wheels £200, Urban Red ambience £150
Fuel consumption and range: Claimed economy 61.4mpg; Fuel tank 45 litres; Test average 36.4mpg; Test best 44.8mpg; Test worst 33.1mpg; Real-world range 396 miles
Tech highlights: 0-62mph 9.3sec; Top speed 117mph; Engine 3 cyls, 1199cc, turbocharged; Max power 109bhp; Max torque 151lb ft; Transmission 5-spd manual; Boot capacity 300 litres; Wheels 17in alloy; Tyres 205/45 17; Kerb weight 1050kg
Service and running costs: Contract hire rate £155.99; CO2 103g/km; Service costs None; Other costs None; Fuel costs £1037.13; Running costs inc fuel £1037.13; Cost per mile 13.3 pence; Depreciation £6190; Cost per mile inc dep'n 93.2 pence; Faults None