The new Bentley Continental GT currently under development is a vast improvement over the outgoing version – which, let's not forget, has been in service since 2003 – and existing owners should upgrade to the new model at the earliest opportunity. Well, they should if they're planning to do track days in it.
That, I suspect, is not a great deal of use to anybody who is mulling the purchase of a new Continental GT. We shall have to wait until we've driven a production-spec car on public roads, as opposed to a super-smooth race circuit, before we can deliver a full and proper verdict on the new Continental GT. For now, though, we can report only that the pair of engineering mules sampled for a few laps apiece around Anglesey Circuit are better suited to high-speed track driving than the venerable outgoing version.
Have a look at the fully revealed Continental here
No final verdict quite yet, then, but that doesn't mean we can't speculate a little. For what it's worth, we quietly suspect the new model's sharper chops will make for a more entertaining and engaging road car. It should also feel much faster in a straight line than the model it replaces. But about all the things that a make a good luxury car – ride quality, long-distance comfort, noise isolation and so on – we can tell you absolutely nothing at all.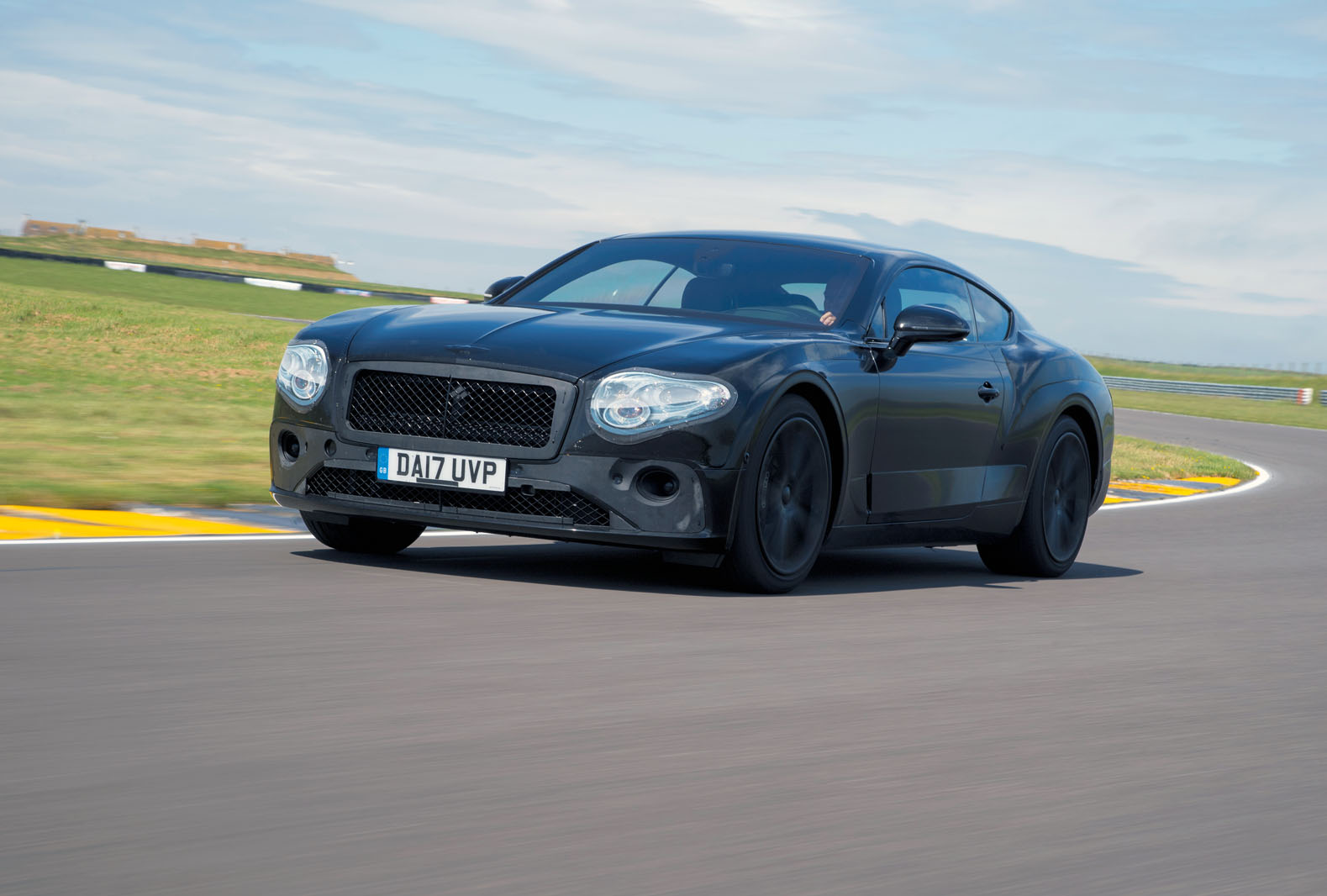 Rolf Frech and Cameron Paterson, two of the new GT's lead engineers, on the other hand, can tell you a great deal. "The task I gave to my team of engineers," says Frech, member of the board for engineering, "was to make the new car both sportier and more luxurious than the current car."
The forthcoming GT is all new, from the platform it shares with the Porsche Panamera (here in shorter-wheelbase form), to the redesigned bodywork. "The car itself is a fouryear development process," says Paterson, director of whole vehicle engineering, "but we started the platform work with Porsche a good year and a half before that."
Being involved in those early discussions and having the opportunity to push for certain qualities and characteristics was critical. It has made the car's underpinnings far better suited to meeting the divergent requirements of a sporting car and a luxury cruiser than the outgoing model's platform ever was. "Bentley was part of the definition of the platform from day one," says Frech. "In our case, it was clear that whatever the platform looked like, it had to give us the capability to build a comfortable car."
Paterson adds: "To give one example: we went in wanting higher local stiffnesses in the body-in-white to get better refinement. We had much higher requirements than Porsche. We were able to get those, but if we'd come in a year later, we wouldn't have."
The collaborative process also meant Bentley was able to discard the outgoing car's fixed-torque-split four-wheel drive system in favour of a more sophisticated variable system, which, says Frech, "gives really good benefits in the driving behaviour".