What is it?
As a versatile hot hatch, the Audi RS3 has always been close to top of the podium. If you want a quick, luxurious and secure all-weather machine that offers decent levels of practicality and reasonable running costs, it's hard to ignore Ingolstadt's junior performance car. And yet, we've always struggled to gel with the five-cylinder 'pocket rocket'. Partly because of its prodigious price tag, and partly because it places unflappable performance ahead of flamboyant fun.
However, as demonstrated by the surprisingly playful TT RS, it would appear that Audi Sport division – formerly Audi Quattro GmbH – is not completely averse to producing cars with a sense of humour. Therefore, for 2017, special attention has been paid to the RS3's historically straight-laced dynamics. Firmer RS Sport suspension featuring adaptive damper control promises flatter cornering, widened front and rear tracks (20mm - 14mm respectively) should help to limit joy-sapping understeer, and new ESC software even allows for some "controlled drifting" - or so they tell us.
That said, despite the rather extensive chassis alternations, the star of the show still resides somewhere up front. Billed as the world's most powerful series production five-cylinder engine, the 2.5-litre turbocharged five-cylinder is a lighter, more efficient version of the TT RS's spectacular motor. Exchanging a steel crankcase for a lighter but stiffer aluminium unit accounts for most of the weight saving, while a new dual injection process, patented valve lift system and a freer flowing exhaust help unleash a few more horses.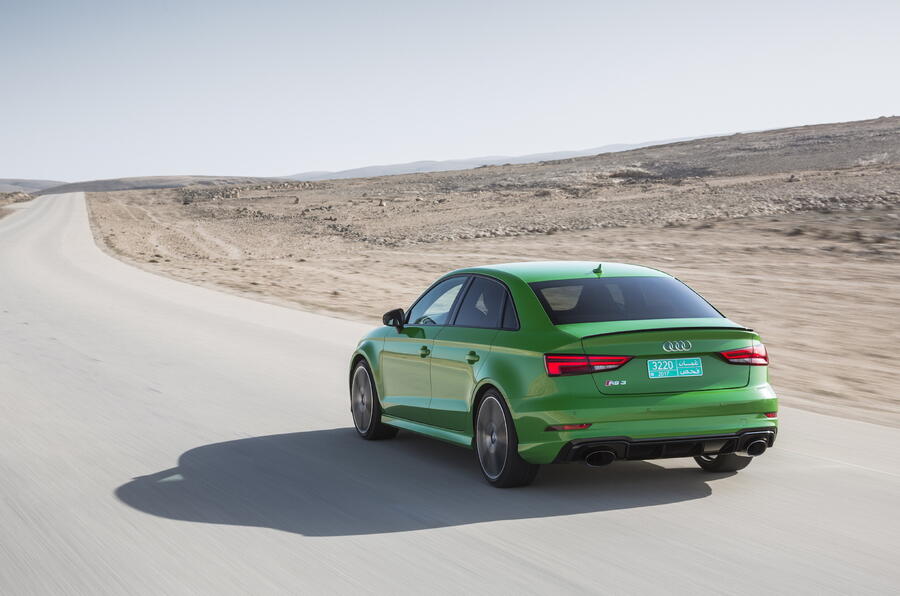 With peak power now rated at a truly barmy 394bhp, this 'mid-level' RS is now more than half a second quicker to 62mph than the original Audi R8. And unlike that car, you'll be able to produce the same results time and again, thanks to Audi's seven-speed double clutch S-Tronic gearbox; although we did find the same 'box a tad 'stodgy' in the TT RS.
However, more obvious than these mechanical changes is the RS3's new appendage; aka its tacked on rear boot. That's right, for the first time ever, Audi is offering its hyper hatch in saloon form in an effort to generate extra sales in the increasingly important but hatchback-phobic US and Chinese markets. In fact, Audi reckons it will sell more of these saloons in the States and in Asia than in Europe, though we'll still be able to buy it in the UK.