The first notable change from BMW's new ownership of formerly independent Alpina comes from the title: this isn't the Alpina B4 Gran Coupé; it's the BMW Alpina B4 Gran Coupé. That aside, it is business as usual for this new model, if not the company (more on which another time), which has been remaking BMWs with its own name attached for nearly six decades.
This, then, is Alpina's take on the BMW 4 Series Gran Coupé, and its take on a fast M variant that BMW doesn't make. Not yet, at least. It's "a discreet car for connoisseurs", according to Alpina product manager Thomas Hackspiel-Cornu, which is very much the Alpina way: it's a maker of understated, subtle, fast road cars that can be used on a circuit but are built for roads. Fast roads. But roads.So it's an £80,000 four-door coupé with a 3.0-litre straight-six engine making 488bhp and 538lb ft and driving all four wheels, albeit through BMW's rear-biased xDrive system, with an eight-speed automatic gearbox. It goes on sale next month.
I know four-door coupés are still considered a bit of a misnomer but they're rather bigger business than two-door ones these days. The BMW 440i Gran Coupé outsells the two-door variant by three to one, and Audi's RS5 Sportback does similar to its two-door sibling. And with the absence of an official M4 Gran Coupé (we thought one was coming, but still no sign as yet), this is the closest you'll get, but with Alpina's more subtle twist on road-going performance. Alpina owners include the kind of people who like to drive from Frankfurt to Munich rather than fly or take the train. Hence the 187mph top speed and huge maximum torque from 2500rpm.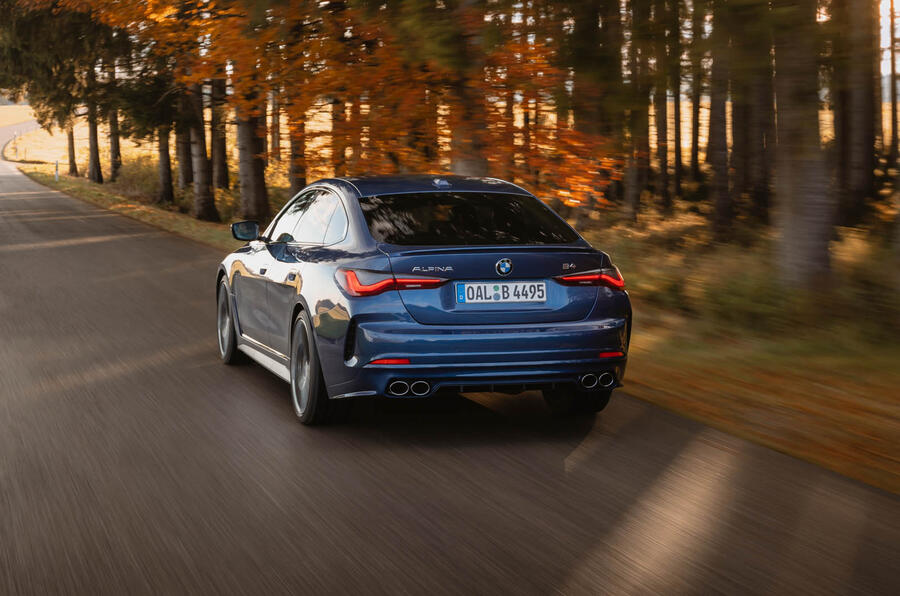 It's slightly curious, then, that Alpina let us try it on a test track only, at Bilster Berg, a very hilly facility (and once a British army depot site) in North Rhine-Westphalia, which is very smooth, albeit also very long and with a terrific mix of corners. It's as good a limit-handling circuit as you'll find, I think. What that did mean is that we could get through a lot of drives in a short time – so more Alpina drives to follow – and it means that if the B4 impresses here, we won't have to worry about its sporting credentials on the road but only its comfort. Although Alpina doesn't tend to get either of them wrong, to be honest.