It was intended as a development mule for the Mk4 Golf R32, but the Beetle RSI was such a hit that it went into production, albeit limited to 250 copies. That was in 2001. Today, used ones start at around £40,000. It's an intriguing mix of curvy styling underpinned by Mk4 mechanicals and Haldex four-wheel drive running gear and powered by a 3.2-litre V6 producing 221bhp. There's no vase.
That's right: the much-mocked receptacle on the dashboard is absent from the RSI. No such luck with its more run-of-the-mill stablemates, although browsing the classifieds, it's interesting to see how few sellers risk trying to seduce buyers with a cheap plastic flower. The thing is, it does pigeonhole the model, which is a shame, because the Beetle is a smile-inducing, reliable and beautifully built motor powered by a choice of appealing engines.
Click here to buy your next used car from Autocar
To distinguish it from the air-cooled original, Volkswagen called it the New Beetle. It was produced from 1998 to 2011, when it was replaced by the, er, New Beetle. It was always a two-door but practicality is boosted by folding rear seats. There's bags of head room, too, at least in the front.
Such was demand that many of the first Beetles to be registered here were left-hand drive. It was only in 1999 that the first right-hand-drive cars began to arrive. They were powered by a 114bhp 2.0-litre petrol engine. Later on, a 101bhp 1.6 joined the range, followed by sportier offerings in the forms of the 168bhp 2.3 V5 and 148bhp 1.8T. There was a 100bhp 1.9 TDI diesel, too.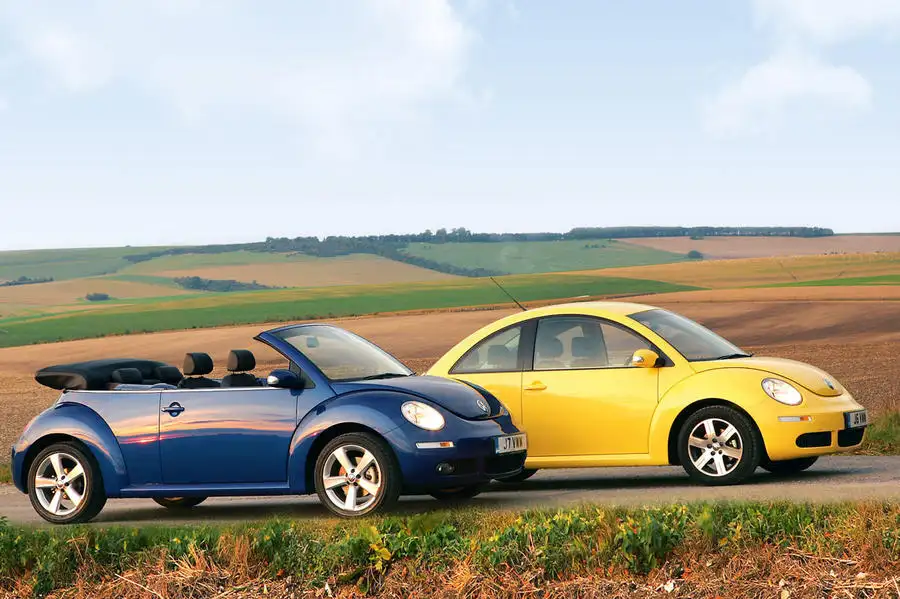 Then, just as the model appeared to be blending into the background, out popped the more stylish cabriolet. That was in 2003. Engines included the 1.6 and 2.0 petrols, the diesel and a new 74bhp 1.4 petrol, also available with the tin-top version. A facelift (sharper wheel-arch edges and restyled headlights) came in 2005.