Vauxhall has a habit of pulling a rabbit out of the hat from time to time. Remember the original Zafira with its Flex7 seating system and the Signum with its FlexSpace rear-seat arrangement? You can add another in the shape of the Tigra of 2004-09 – a pretty Corsa-based car with a clever electric folding roof.
Forward 15 years and the classifieds, if not exactly wilting under the weight of used Tigras, are at least straining slightly. Prices start at just £500 for runners of all ages and top out at a shade over £3000. Around £1500 is all you need for a clean, well-serviced example from a good home.
Click here to buy your next used car from Autocar
The model arrived with a choice of two petrol engines: a 1.4 16-valve producing 89bhp and a 1.8 producing 123bhp. A 69bhp 1.3 CDTi diesel followed in 2005. The 1.4 was the best. What it lacks in outright oomph it makes up for by being sweeter, more flexible and considerably more economical than the 1.8. However, it suffers timing chain issues (you can spot a 1.4 a mile off by its tinkling engine) whereas the 1.8 is a straightforward new-belt-at-40,000- miles affair.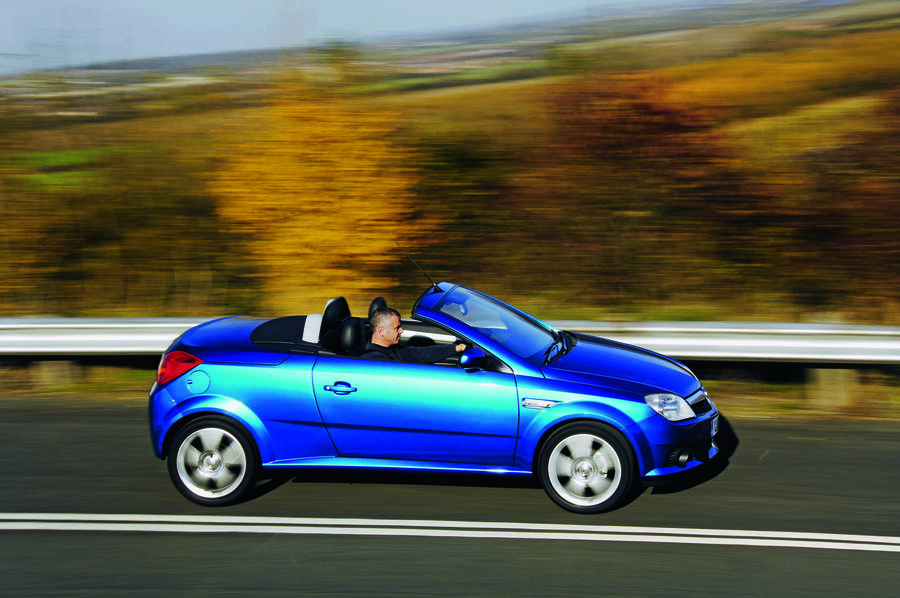 Those are the engines but the folding roof is why people bought the Tigra – and what a roof. To operate it, you undo a couple of latches, press a button and watch as the motors take over. It should be stowed within 20 seconds. To ensure it folds away neatly, the rear window and pillar drop almost vertically, allowing the roof panel itself to stow unobtrusively above, so preserving boot space.
On that point, with the roof folded away, there's 250 litres of luggage space, while in the closed position, there's no less than 440 litres. In addition, there's a shelf behind the front seats (there are no rear seats) that will happily accept 70 litres of luggage or something the size of a sports bag.
Allowing for the fact that the roof seals may now be tired, the cabin should be relatively quiet and certainly watertight with the roof up. Over time, body shimmer may have loosened some of the cabin's fixtures and fittings but otherwise it's a well-built car that should still feel reasonably tight.