Have you heard of the Citroën BX GTI 16v? I've no doubt that you, as an esteemed reader of this august publication, have.
Time was, nevertheless, that you could ask that question even of a proud car enthusiast and be met with a blank stare, such was the obscurity to which the BX GTI 16v plunged at the nadir of its exile to the bargain bin.
Climbing aboard today, it's easy to be disparaging at first. The interior is a sea of brittle plastics, and the door handles feel as though they'll snap in your hands, while the driving position perches you high up in the car and places the large, heavily canted steering wheel low over your knees. But look deeper: that wheel has a direct effect on the front wheels, shifting the nose around deftly; the suspension, while comfortable, is stiffer than in many hydropneumatic Citroëns; and the engine thrums encouragingly. This bodes well.
Let's talk about that engine, the part of this car for which so many of them gave their lives. It's quite a thing. Shared with Peugeot's 405 Mi16, it kicks out 158bhp, right up at 6500rpm – 500rpm short of the red line. If that sounds reminiscent of a Honda VTEC engine, so it goes in the flesh; in fact, there's a similar sense of a switch as the car comes on cam around the 4500rpm mark. The engine note gains a flintier edge, singing its way up to the red line, charging ever harder and urging you to wring its neck. The sound and the speed are little short of electrifying.
But how can a car with Citroën's roly-poly suspension system cope with such a rorty powerplant? Better than you'd think – miles better.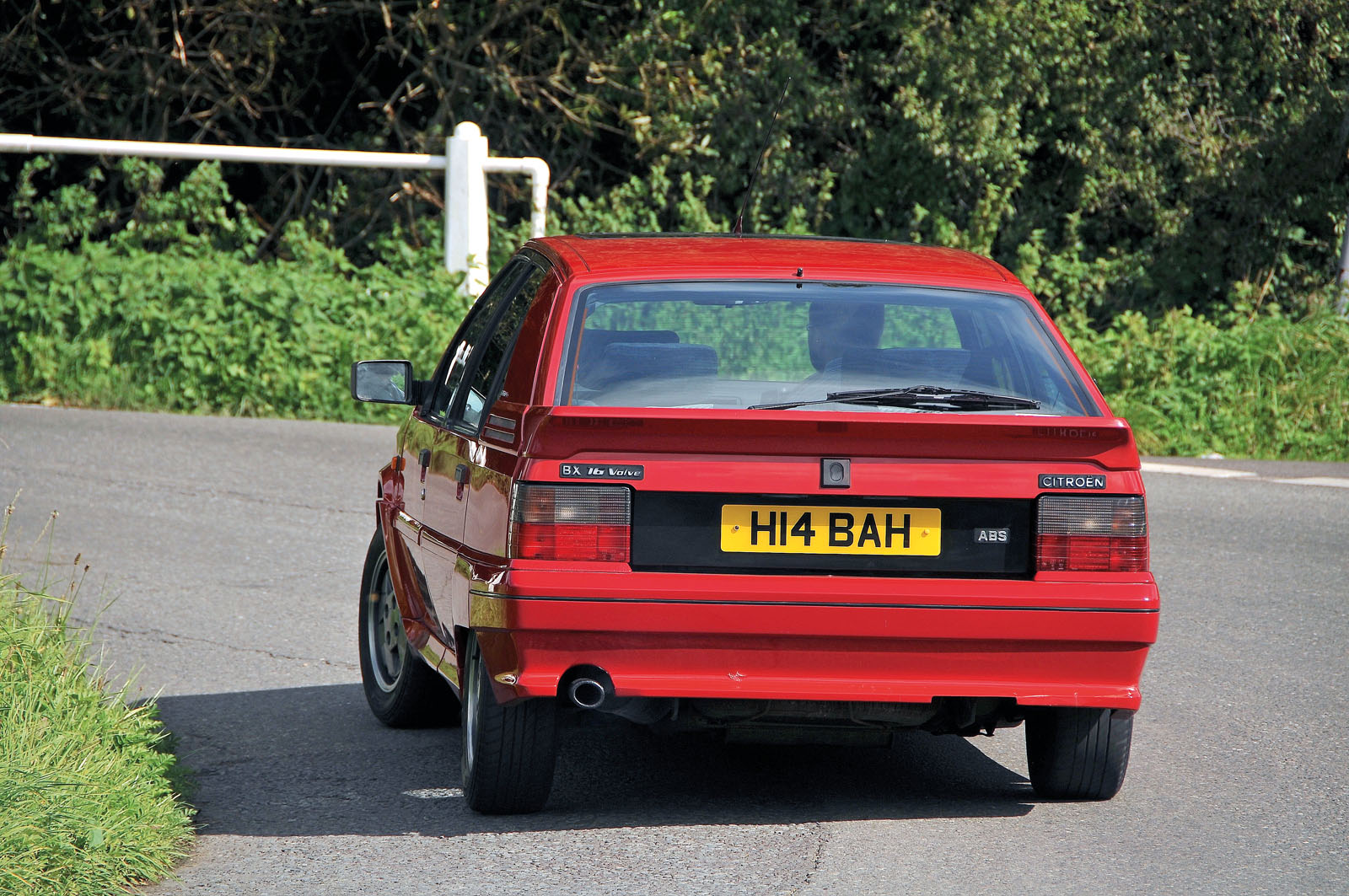 In fact, the suspension's give and softness make the BX GTI 16v quite unlike any other hot hatch to drive. Sure, there is a bit of lean in corners, and under heavy braking the tail rises despite the front end's anti-dive properties, but the extra squidge absorbs mid-corner bumps, making the BX GTI 16v resistant to deflection.