We're all used to seeing cars powered by petrol, diesel, and even electricity in today's world, but hydrogen cars are emerging and they could become a viable option in the future.
In this guide, we'll give you all you need to know about hydrogen cars, their pros and cons, plus what the future outlook looks like.
What is a hydrogen car?
Hydrogen cars, or hydrogen fuel cell electric vehicles (often shortened to FCEV), are vehicles powered by hydrogen fuel. Hydrogen is stored in a tank at 700 bar, which generates high-voltage electricity to a small buffer battery which provides transient power for acceleration.
Cars draw their power from a fuel cell stack, where oxygen and hydrogen react to generate electricity, sending energy to an electric motor.
Hydrogen cars produce zero tailpipe emissions, making them a much cleaner proposition, at least from the driver's point of view.
Hydrogen cars currently available
There are just two hydrogen cars on sale in the UK today, but some car makers have hydrogen very much in their plans for production in the future. In 1998, Mercedes-Benz produced the first road-legal FCEV with the A-Class-based Necar.
Toyota Mirai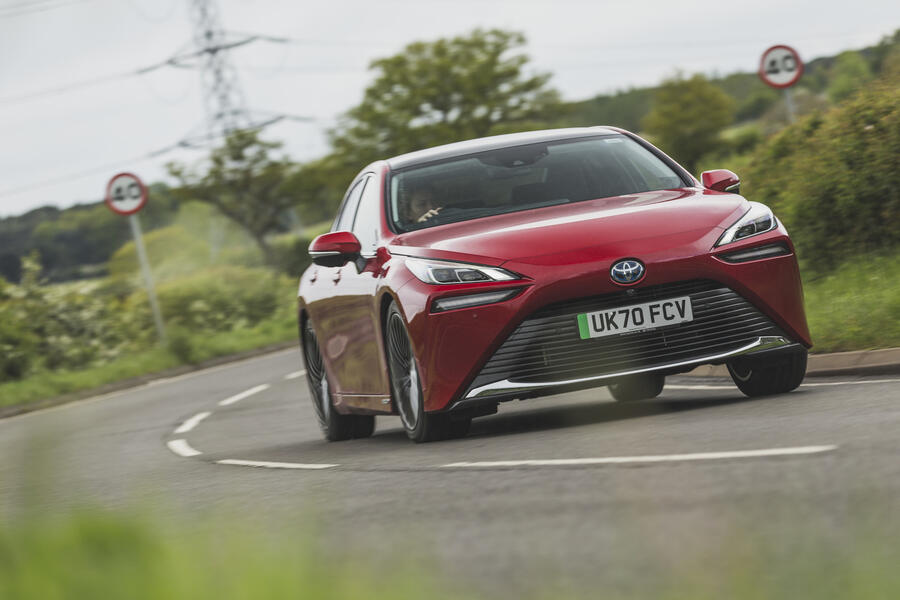 The Toyota Mirai first went on sale in 2015 selling 10,000 units, before the smart saloon entered its second generation in 2021. The latest Mirai is equipped with a fuel stack capable of storing 5.6kg of hydrogen, with a WLTP range of up to 400 miles.
Despite being heavier and larger than the first generation car, it takes just 8.7sec to travel from 0-62mph, and 25.5sec to hit 100mph. That's thanks to a powertrain that produces 180bhp and 221lb ft of torque.
However, the Mirai wasn't cheap when it launched in 2021. It commanded a price tag of £64,995, and you can't currently order one directly from Toyota.
Hyundai Nexo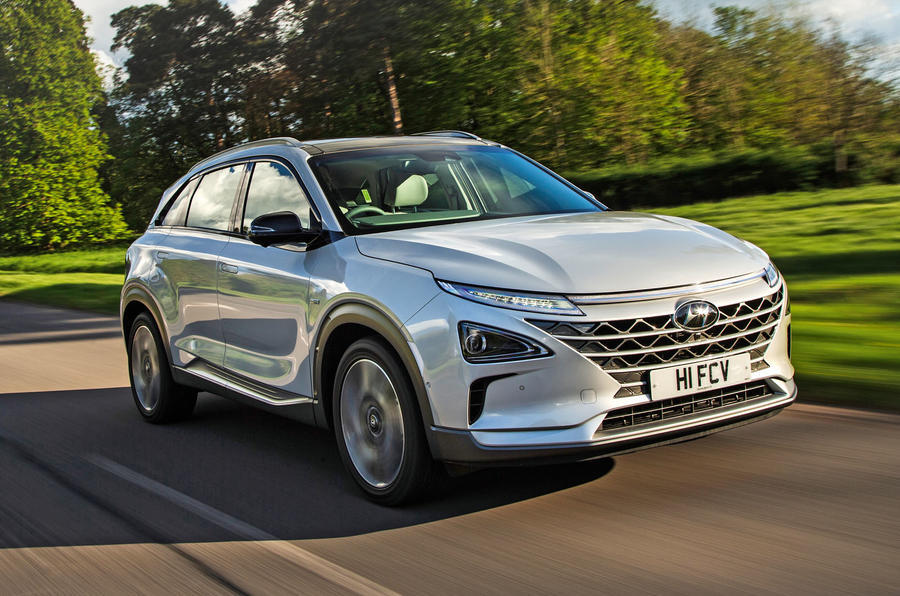 Hyundai has been developing fuel cell technology since the 1990s, and the Nexo is the firm's first production hydrogen car.
Priced similarly to the Mirai at £65,995, the Hyundai Nexo's powertrain produces 161bhp and 291lb ft. Meanwhile, 0-62mph is completed in 9.6sec.
The Nexo can store up to 6.33kg of hydrogen, which supplies power to a 1.56kWh battery. It offers a range of around 380 miles, and we were impressed by its solid driving dynamics and rolling refinement.
There are less than 30 Nexos on UK roads today, and, like the Mirai, it's not currently available to order.