The new Volkswagen ID 2all concept previews a new sub-£22,000 electric car set to go on sale in 2026 – and showcases the brand's new design language, which draws from classic models such as the Volkswagen Beetle, Volkswagen Golf and Volkswagen Polo.
The new Peugeot e-208 and Vauxhall Corsa-e rival will be the first model to use the long-anticipated MEB Entry platform that has been developed by the Volkswagen Group. This will also be used for the production version of the Cupra Urban Rebel concept, a future Skoda crossover and a second Volkswagen model: a compact crossover that will feature more rugged styling inspired by models such as the T-Cross and T-Roc.
The ID 2all will sit under the Volkswagen ID 3 in the firm's EV line-up, with VW describing it as being "as spacious as a Golf and as inexpensive as a Polo". The firm said the goal is for the machine to be sold with a starting price of less than €25,000 (£22,000).
Significantly, the ID 2all showcases an entirely new design language that will feature on all of the firm's future EVs. This is part of a major brand revamp that's intended to, in the words of boss Thomas Schäfer, "make Volkswagen a genuine love brand".
That philosophy involves the firm embracing its heritage as a key point of difference from new EV rivals, and the ID 2all shows clear influences from the Polo and Golf, with more traditional styling than the ID 3.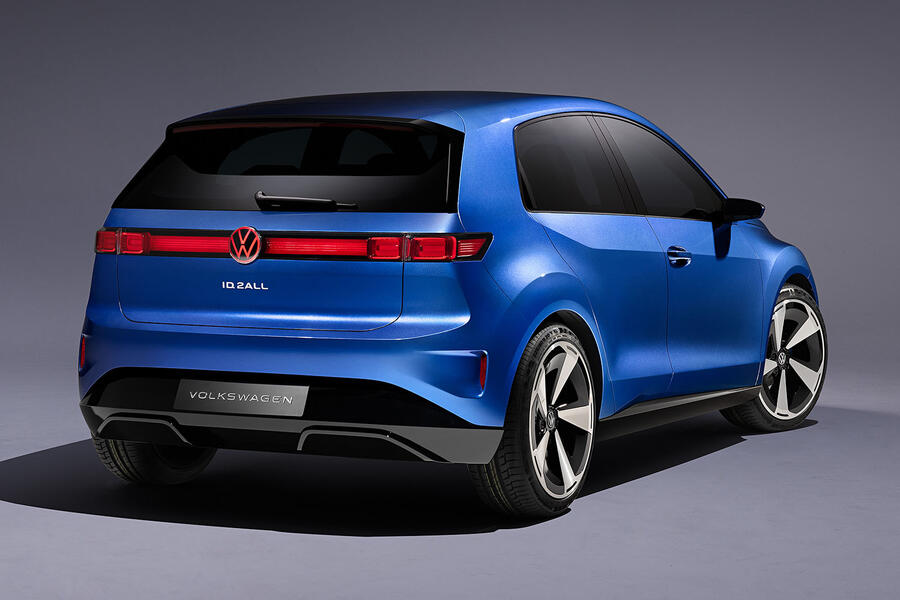 Volkswagen previously revealed an ID Life crossover concept that was intended to preview the first MEB Entry model, but that has now been shelved after it received a poor reception.
New design boss Andreas Mindt, who moved across from Bentley in February, has used the ID 2all concept to establish a new design language. Remarkably, Mindt and his team designed the new concept model in just six weeks, and had to work around the already established fixed points of the MEB Entry platform.
The ID 2all is 4050mm long, making it slightly shorter than the current Polo, but its 2600mm wheelbase is significantly longer, allowing for far greater interior space.