Photographs revealing a new electric Volkswagen research vehicle have emerged.
The contemporarily styled hatchback, called the Gen.E, was photographed as part of a display showcasing the robotic charging station technology that Volkswagen is touting for future use as part of a broad-based mobility concept for electric vehicles.
Although Volkswagen is yet to officially comment on the Gen.E, insiders suggest its contemporary styling provides the first clues to the look of the upcoming eighth-generation Golf, which is due in 2020.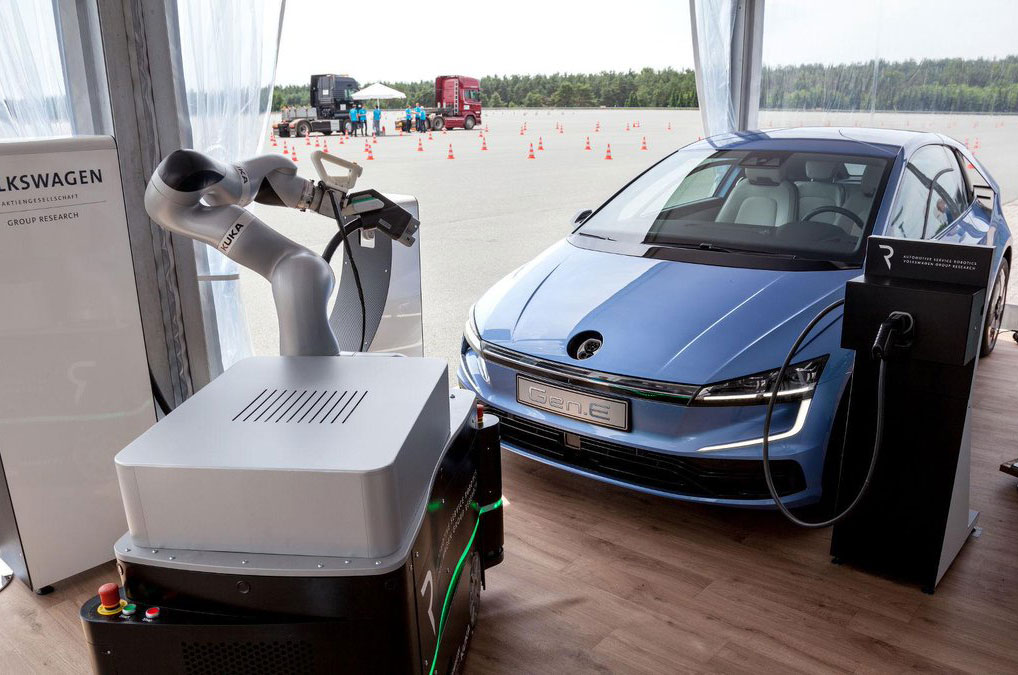 With an aerodynamically optimised body, the Gen.E is claimed to have an overall range of up 249 miles – bettering the range of the recently facelifted e-Golf by 63 miles.
Key styling cues include a simple full-width grille, angular headlights with distinctive day time running lights, a steeply rising bonnet line, a heavily raked windscreen, long doors with flush handles, small exterior mirror housings that appear to use video cameras, and complex C-pillars with vertical vanes to smooth airflow around the rear.
Reports suggest the Gen.E is based on a new lightweight platform structure optimised for maximum crash safety.
used Volkswagen Golf 2012-2017 cars for sale
Volkswagen Golf 2.0 TDI BlueMotion Tech Match DSG Euro 5 (s/s) 5dr
Volkswagen Golf 1.6 TDI BlueMotion Tech SE Euro 5 (s/s) 5dr
Volkswagen Golf 2.0 TDI BlueMotion Tech GTD DSG Euro 6 (s/s) 5dr
Volkswagen Golf 2.0 TDI BlueMotion Tech GTD Euro 6 (s/s) 3dr
Volkswagen Golf 1.0 TSI Match Edition BlueMotion Euro 6 (s/s) 5dr
Volkswagen Golf 2.0 TDI BlueMotion Tech GTD DSG Euro 6 (s/s) 5dr
Volkswagen Golf 2.0 TDI BlueMotion Tech SE Euro 5 (s/s) 5dr
Volkswagen Golf 1.4 TSI BlueMotion Tech SE DSG Euro 5 (s/s) 5dr
Volkswagen Golf 2.0 TDI BlueMotion Tech GTD DSG Euro 6 (s/s) 5dr
Powered By