Welcome to the domain of the accidental hot hatchback, the somewhat limelight-shy, affordable driver's car.
It may not be a place you've been seeking out, but it could become so once you've read this group test. So prepare to be surprised by exactly how much verve and vigour the best examples of this breed now offer – and for the kind of money you might otherwise spend on a mid-range diesel motorway hack.
This is the niche of the ordinary family fivedoor made just a little bit extraordinary. Specially engineered performance front-drivers exist somewhere else, in an altogether less accessible place. The cars we're lining up here run with suspension settings, wheels, tyres and brakes shared with many of their sister models, as well as the most temptingly potent petrol engine in the line-up (leaving aside top-of-the-line GTIs and their ilk). These are, for the most part, just good-handling hatches fitted with the engines that begin to make that handling tell. And this is where we find out which is the quickest and best to drive.
The Ford Focus Red Edition takes the petrolpowered Zetec S as its basis, adding painted alloy wheels and brake calipers, a two-tone exterior paint job, some extra standard equipment and an upgrade for the 1.5-litre Ecoboost petrol turbo engine that increases peak power to 180bhp. It ought to be our favourite, but current-generation Focuses haven't always done justice to their maker's reputation for market-leading ride and handling. We'll see if more of a sporting remit makes the car a safer bet.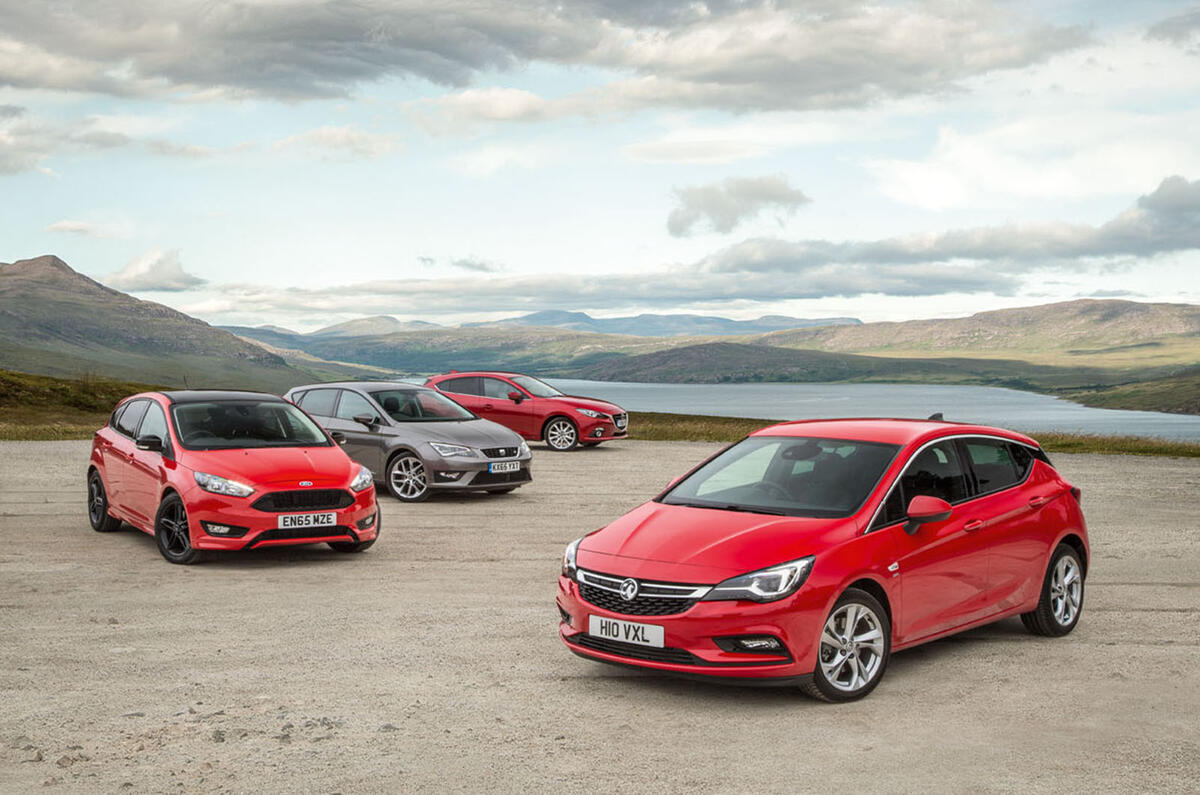 The Seat Leon EcoTSI plays its part in the Spanish maker's range of warmed-up FR models, so it ought to be among the shorter-odds options, too. Drawing power from a downsized, 148bhp 1.4-litre turbo engine fitted with fuel-saving cylinder deactivation, it has the look and feel of a junior performance special. But will it have enough poke to really put on a show?
The Mazda 3 2.0 Skyactiv-G Sport Nav is flying the flag for atmospheric aspiration, with its high compression ratio promising a zingy 163bhp. It's relatively pricey but has curvy, alternative styling and a rich and well-equipped interior. It has also impressed on previous acquaintance with other versions with its game and responsive handling. It's here on merit.