The M600 arrived at the Autocar test track in 2009 with an unashamedly old-school approach to the supercar formula. Here's how it performed:
Noble Automotive will charge a tidy premium, even relative to a McLaren MP4-12C or Ferrari 458 Italia, when it introduces the new M600 next year: a cool £200,000 in all.
But that may begin to sound less expensive when we tell you that during this road test, the M600 went faster than a McLaren F1 in almost every in-gear increment from 20mph to 160mph.
The car uses a mid-engine spaceframe steel chassis with double wishbones at each corner and coilover dampers. It may appear similar to the stillborn M15, but beneath its heavily restyled skin, it's significantly more exotic. Using carbonfibre for all the key body parts, the production version will weigh just 1250kg, says Noble, although on our scales the test car – whose body was made from GFRP – was a still impressive 1305kg.
At the heart of it is a twin-turbo 4.4-litre V8 originally developed by Yamaha for Ford's Premier Automotive Group brands. After development by US engine specialist Motorkraft, it produces up to 650bhp at 6800rpm and 604lb ft.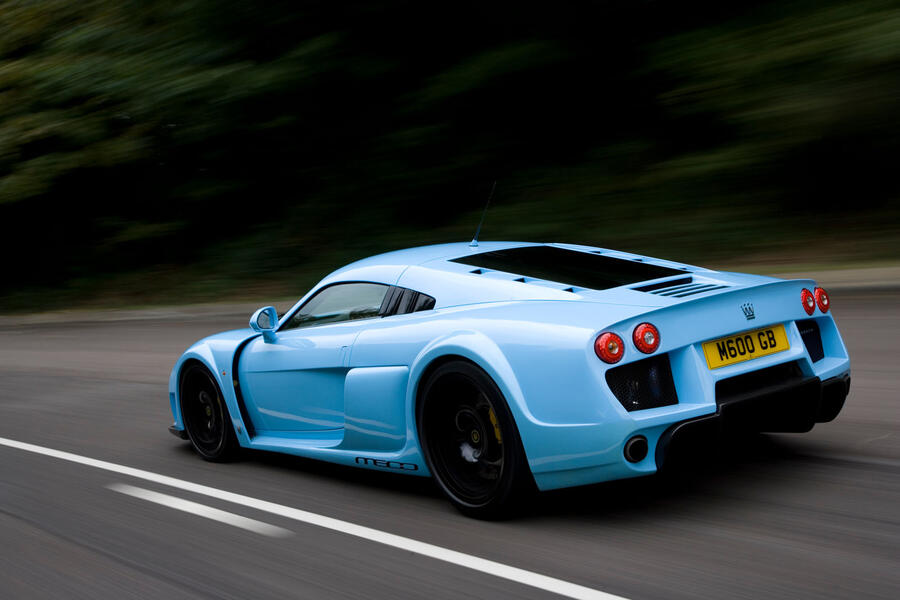 The interior is, by and large, an impressive achievement. The dashboard layout is clean, clear and concise, and even the minor controls feel polished in their operation and are sited logically ahead of the gearlever, along with the M600's cheekiest feature: the cover for its traction control button, pinched from a Tornado jet fighter.
Performance is astounding. In fourth gear, the afterburners are ablaze from as little as 2000rpm. Drop to third and it'll cover 40-60mph 0.4sec quicker than an F1. But if you really want to feel the full effects of 604lb ft on 1300kg, hook second – when the car needs just 1.1sec for the same increment. Even in the dry, with every full-throttle gearchange until fourth, you need a lift of throttle to avoid lighting up the rear tyres.
For ride and handling, the M600 takes Noble's already high dynamic standards to a new level. The car handles beautifully and rides as if it were gliding across the ground.
Steering is well weighted and extremely accurate, with plenty of available lock when correcting a slide. And despite the monstrous thrust it has to deal with, the chassis is amazingly well mannered. It can't be driven with the commitment of a Porsche Boxster, but learn its intricacies and the M600 becomes far less scary.
The M600's price becomes less eyebrow-raising considering what it does and how it does it. That it'll live with a McLaren F1 all the way from zero to 200mph makes it unique among the 600 or so cars we've tested since 1994. It also rides as well as it handles. All of which, and more, makes the M600 Mega with great big capital 'M'.