There is an awful lot of navel-gazing being done about the new Porsche 911.
Few sections of the car enthusiast community are more prone to such things than Porsche devotees. It's Weissach's punishment for making the world's greatest sport car – on and off, but mostly on – for more than half a century now that any significant change to it will also be regarded as a contentious one.
With the 996 generation of the 911, the cue was water cooling; with the 997, direct fuel injection; with the 991, a lengthened wheelbase and electromechanical power steering. And now, 
with the facelifted 991, it's those contemptible, new-fangled turbos. How dare they?
The fact remains, though, that whether or not you like the idea of what Porsche has just done under the engine cover of its perennially blooming rear-engined sports car, it has just gone and done it.
The question 
we're left with is a pretty simple one: is this still 
one of the world's greatest sports cars? Enter a 
rival that has called such a notion into question a few times on these pages since its launch in 2013 and remains as tempting an alternative to the Porsche in 2016 as you are likely to find: the Jaguar F-Type R Coupé.
Less than £2000 separates the list price of the Jaguar and the Porsche, the 911 in high-output PDK transmission-equipped Carrera S form, which allows these cars to compete fairly and squarely. But on paper, the F-Type has a conspicuously large advantage on not just outright power but also power-to-weight and torque-to-weight ratios, even after the Porsche's forced-induction makeover. It's 542bhp facing off against 414bhp here.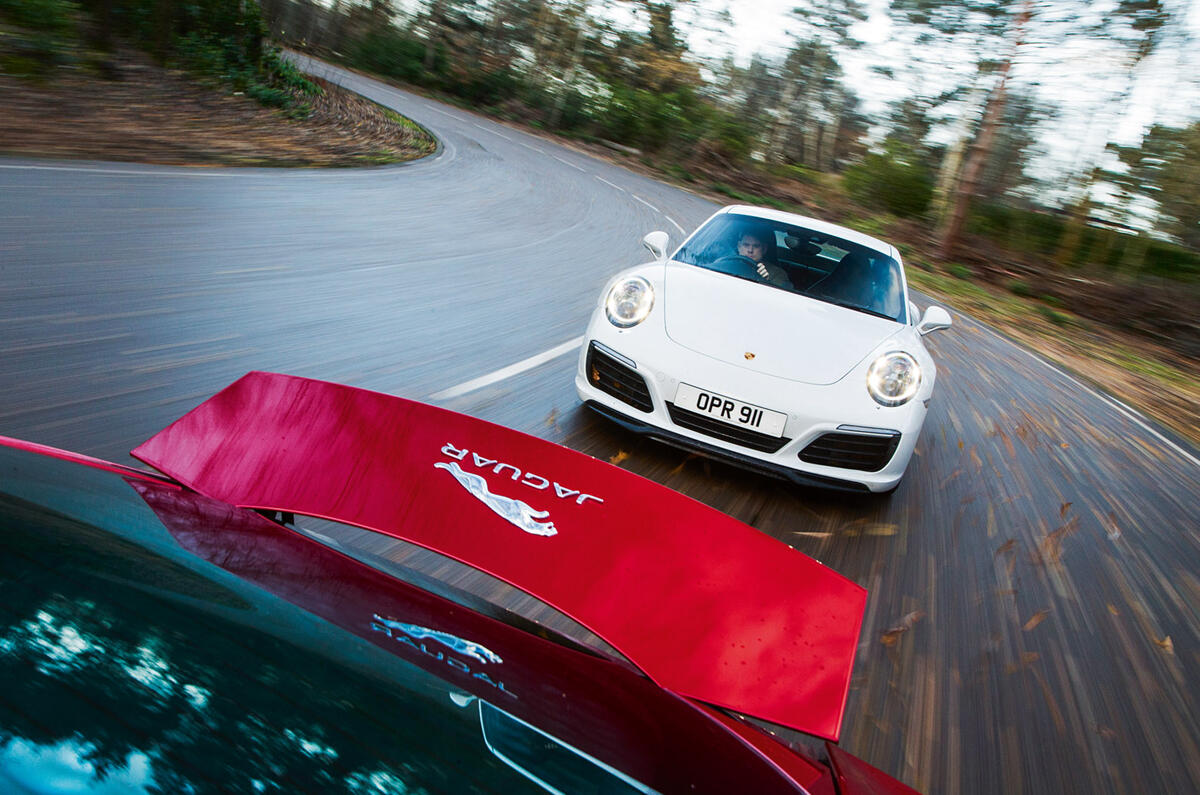 There again, 911s have become famous for overhauling such disparities. In fact, the bigger test for the Porsche's new flat six may be provided by the effusiveness of Jaguar's supercharged 5.0-litre V8, a telling examination of combustive character that, even the most committed moderniser would admit, has been eaten away in the Porsche's case by the addition of turbochargers.