The Opel Ampera-e has made its debut at the Paris motor show with claims it has a 310-mile range.
Opel Ampera-e breaks cover at Paris motor show
Although the Ampera-e is a rebadged Chevrolet Bolt, the car won't be sold under Opel's UK sister brand Vauxhall, as a right-hand drive version of the car has already been ruled out.
The Ampera-e uses a 60kWh battery, co-developed with LG Chem, that comprises 288 lithium ion cells (pictured bottom). The car's electric powertrain produces 201bhp and 266lb ft of torque, enabling it to sprint from 0-30mph in just 3.2sec, placing it in league with GM Europe's OPC (Opel) and VXR (Vauxhall) performance models.
Unlike those performance models, however, the Ampera-e has a top speed of 93.2mph; 50mph down on the Corsa OPC.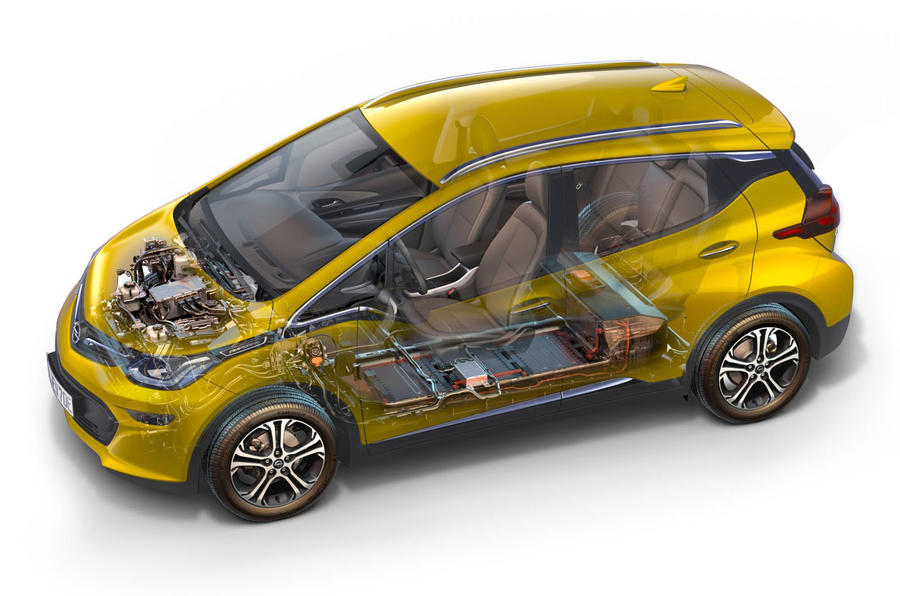 Particularly impressive is the car's 50-75mph time, which Opel says is just 4.5sec, making the Ampera-e a significant 5.2sec quicker than a Ford Focus ST TDCi.
Opel claims that the electric model can regain 150km of range in 30mins at any highway charging point. "It is a real electric car ready for everyday use," said Opel CEO Karl-Thomas Neumann. "Our model offensive at Opel is underway with 20 new models due before 2020, and Opel is back defining the future."
Executive chief engineer at GM, Pam Fletcher, added "The Ampera-e has been built from the battery up. The battery is a critical piece and it allows the Ampera-e to travel without any compromise. This is a nickel-rich battery."
Feltcher said that the new electric car comes with an eight-year and 160,000km (99,419 miles) warranty for the car and the battery.
Regenerative technology
The Ampera-e can regenerate energy while running. When coasting, the car's electric motor acts like a generator and recharges the batteries. A Low mode enhances recuperation, and a Regen on Demand adjusts the powertrain for maximum energy recuperation.