The Hyundai Ioniq PHEV (plug-in hybrid) model will be the third and final variant of the electrified hatchback range to go on sale when order books open on the 13 July.
Priced from £24,995, the Ioniq PHEV slots between the hybrid and fully electric model that are already on sale, priced from £20,585 and £29,495 respectively.
The Ioniq is Hyundai's first dedicated alternatively fuelled model and also the first car from any manufacturer to be offered with three electric powertrain options within a single body type.
Futuristic Hyundai FE Fuel Cell concept revealed previews 2018 model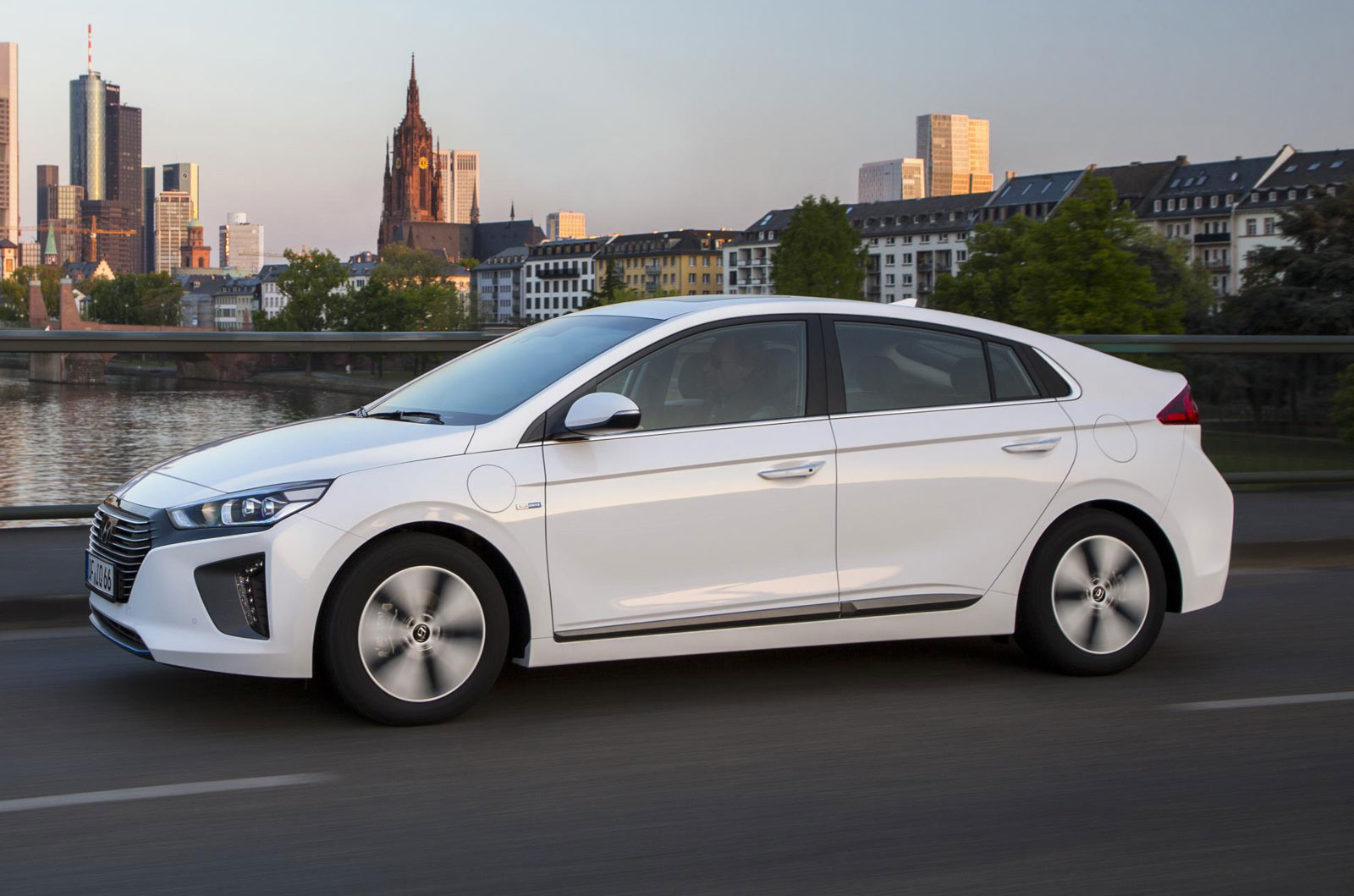 Engines and gearbox
The Ioniq PHEV combines a 104bhp 1.6 GDI direct-injection petrol engine and a 55bhp electric motor. The motor is powered by a 8.9kWh lithium ion polymer battery to enable a range of 39 miles in electric-only mode. The car produces CO2 emissions of 26g/km and can achieve up to 257mpg, according to the New European Driving Cycle (NEDC).
It joins the hybrid comprised of a 1.6-litre Kappa GDi engine that produces a peak of 103bhp and 109lb ft of torque, and a lithium ion battery-powered, permanent magnetic electric motor that contributes a maximum of 43bhp and 125lb ft of torque. The Ioniq hybrid is claimed to have a thermal efficiency of 40%, which conveniently matches its arch-rival, the Toyota Prius.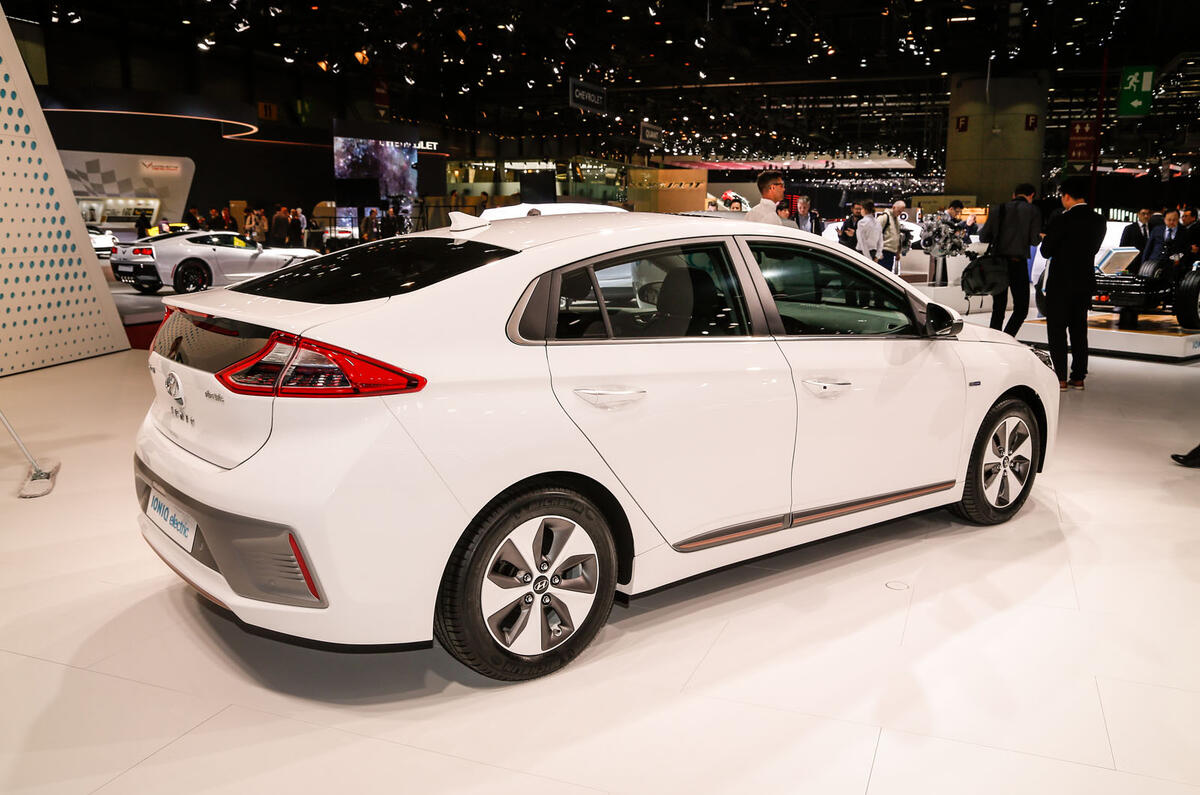 This efficiency is possible thanks to the combustion engine's use of optimised cooling and a 200bar six-point direct fuel injection system, while the electric motor benefits from declination coils that allow it to work with a claimed 95% efficiency.
Drive is sent to the front wheels via a six-speed DCT dual-clutch automatic gearbox that's been optimised to offer as much as 97.5% efficiency - another class-leading feature, according to Hyundai.
The Ioniq Electric features an uprated lithium-ion battery pack, and is good for an estimated 155 miles of range. Its electric motor produces 118bhp and 218lb ft of torque, with drive channelled through a single-speed transmission. In this form, the Ioniq has a top speed of 103mph.
A key standard feature of the electric model is rapid charge compatibility: it can be charged to 80% capability in 33min from a 50kW CCS Combo Rapid public charger. Owners can also plug their car into a conventional domestic charger. To help boost energy when on the move, the Ioniq Electric features regenerative braking which can be adjusted via steering column-mounted paddles.
Chassis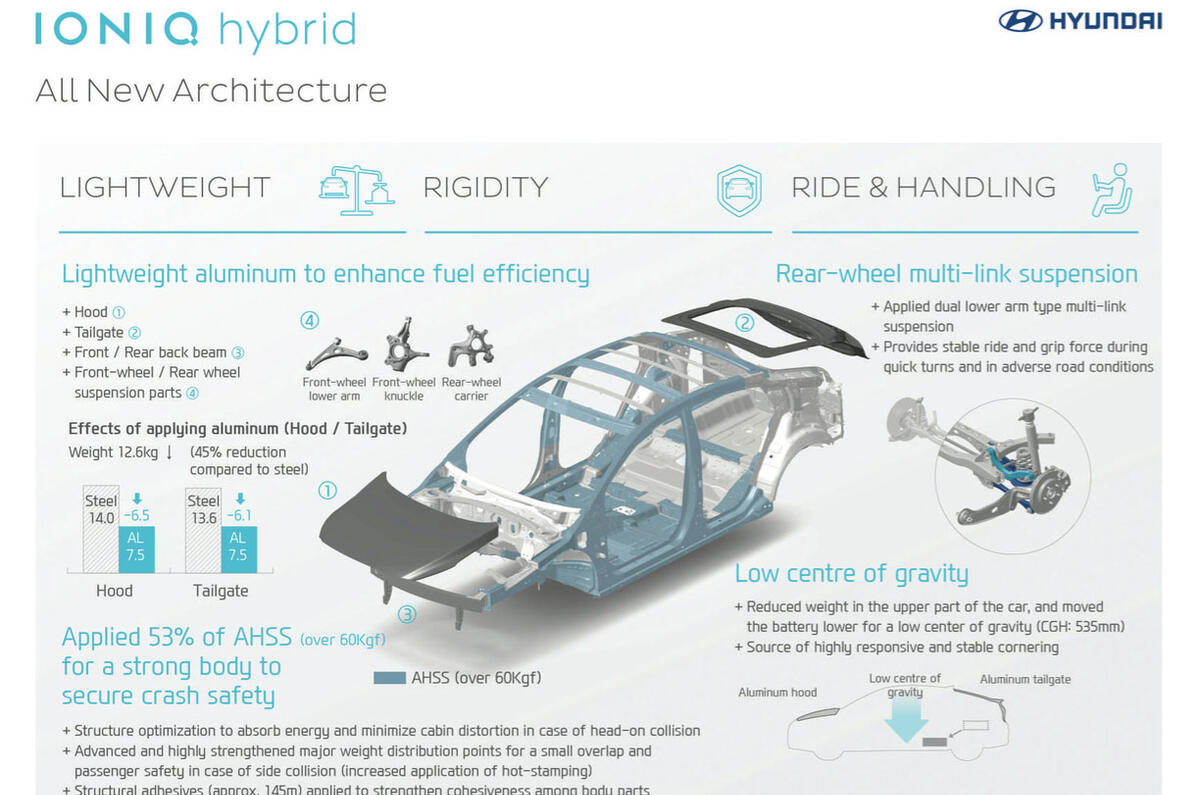 The model is built on a brand new platform, which is shared with sister brand Kia's Kia Niro crossover. Hyundai says the new model's chassis has been optimised to deliver "responsive handling while remaining efficient in each of its three powertrain configurations". It's made up of a mix of Advanced High Strength Steel - the material contributes a significant 53% to the structure - and aluminium, which is used for the bonnet, boot and suspension components and shaves 12.6kg off the car's weight.