Renault has unveiled its long-awaited D-segment flagship, the Rafale, a powerful hybrid coupé-SUV it promises will be "a vehicle born and bred for driving pleasure".
The new flagship will appear first as a 197bhp front-wheel-drive hybrid, but a 295bhp four-wheel-drive version is also scheduled.
The Rafale launch is the latest move in the comprehensive Renaulution model-renewal plan laid out by group boss Luca de Meo after he arrived three years ago.
De Meo identified the firm's first mission as being to strengthen Renault's C-segment range - which it has done with the Mégane, Arkana and Austral - and the next priority is the Rafale's D-segment, which accounts for 15% of car sales across Europe.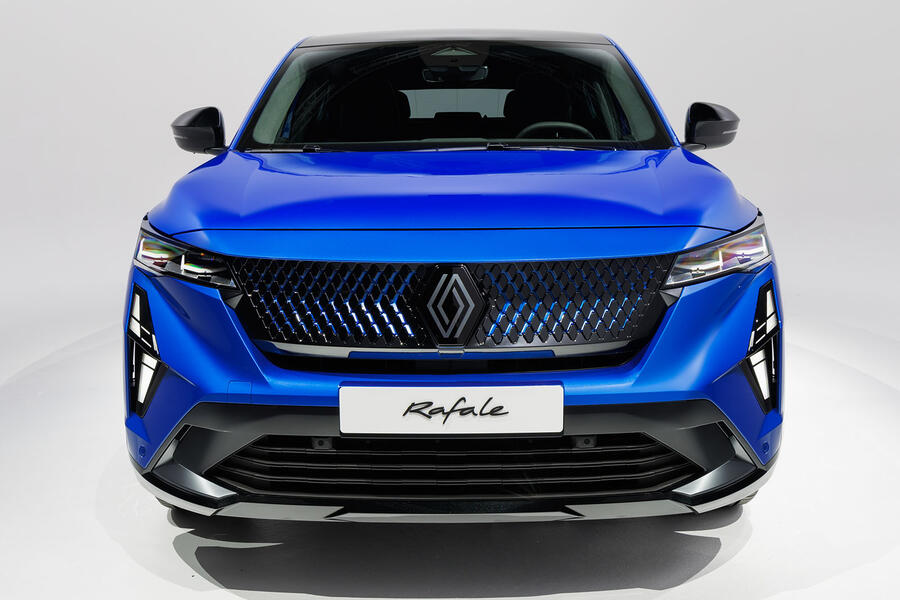 Rafale uses the CMF-CD platform, its own version of a component that already underpins 15 million Renault Group models from the Clio upwards. It fits into the heart of the D-segment with an overall length of 4.7m, is quite tall at 1.61m (as befits a sporty SUV) and has a long wheelbase for the class of 2.74m.
Its prominent features include a striking new grille, prominent haunches and a long fastback roof, carefully configured both for generous rear passenger head room and to have a 17deg rake angle, considered ideal for efficient aerodynamics.
At launch, the Rafale gets the 197bhp clutchless hybrid powertrain already used by its siblings, the Austral and Espace. It derives its power from a 1.2-litre three-cylinder petrol engine and two electric motors.
The 129bhp Atkinson-cycle engine drives the front wheels via a four-speed automatic gearbox in unit with the final drive. A 67bhp electric drive motor (with its own integral two-speed dog box) is sandwiched between the engine and main gearbox.