Mini has released official images of its first series-production electric model, providing a glimpse of the 2019 hatchback a year or so before it reaches roads.
The car, which is described by company executives as marking a pivotal point in the brand's history, because it directly links to the core values for which Mini was created, was recently spotted testing in the Alps.
But today's new images are the first that show the design changes to expect on the production model. It gets a flat grille and four-spoke wheels clearly inspired by the concept that preceded it.
Talking about wheels, Mini head of design Oliver Heilmer said: "at first glance, you recognize them as something that is really different, since the wheel is not symmetric." He added: "The wheel is almost closed which is much better for aerodynamics."
Explaining the grille's design, which echoes many other electric-car grilles in that it is closed, said: "Electric powertrains need air in different places than internal combustion engines. The yellow stripe stands for Mini electric and the grey surface matches the wheels." The grey has also been chosen so it complements any paint colour choice.
Heilmer confirmed the electric model has been completely signed off from a design perspective ahead of its launch next year.
Although no images of the car's body are shown, brand boss Sebastian Mackensen told Autocar earlier this year that the design of the Mini Electric will be toned down from the concept because "Mini doesn't need to make a big statement saying we want to be cool and electric any more". Instead, the final production car's design will mix the updated look of the 2018 Mini models with aerodynamic features of the concept.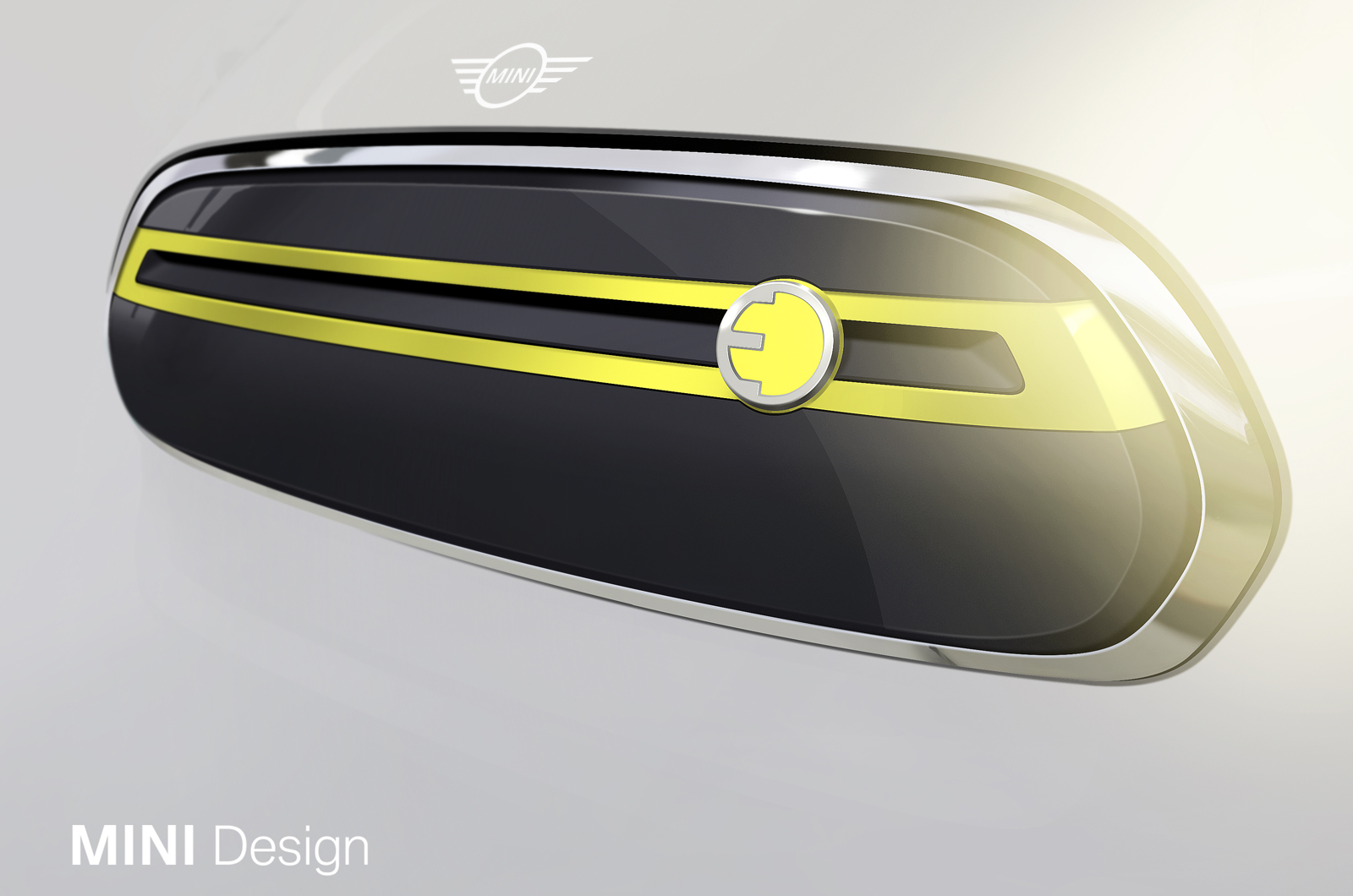 These include vanes that channel air around the body and an air extractor slot behind the front wheel, similar to the one featured on the BMW 8 Series concept. The electric Mini concept also has a more heavily sculpted bodyside and a neat intake with a tiny spoiler in front of the rear wheel.
Mini exterior design boss Christopher Weil referred to this as the "efficiency layer" at the concept's unveiling last year. He said: "The way you manage airflow is specific for every individual car, but the main aerodynamic principles are the same. It's very good for the drag coefficient when you have an opening behind the wheels so that the air can flow out, rather than just creating turbulence [inside the wheel wells]." He admitted that the unusual asymmetric wheel design is heavily influenced by 1980s car design.
Mackensen suggested several of these features could remain on the final car, but that "it will be a car that clearly shows it's part of the latest Mini hatch family". He described the finished product as a "fusion" that "will definitely be recognisable as being the electric Mini but will not be the concept entirely".