Mercedes-AMG has replaced its E43 sports saloon with the new E53 mild hybrid as part of a list of updates applied to the E-Class range.
It's on sale now, priced from £63,790 for the saloon. This is an increase of over £15,000 over the E43 that comes largely thanks to the new car's more complex powertrain. The new E53 estate makes the same jump to start at £65,790.
The coupé splits the difference at £64,790, while the cabriolet is the most expensive at £69,285. The 53-badged models are the punchiest and most expensive to be offered on the two-door E-Class variants, as Mercedes does not offer the full-fat AMG 63 variant beyond the saloon and estate.
In addition to the newly announced prices, Mercedes has also replaced the E350d with a new E400d 4Matic, which starts at £52,685 in saloon form. The estate carries a £2000 premium over this. The E400d uses a new 3.0-litre diesel straight six, producing 335bhp - up from the E350d's 258bhp - and 516lb ft of torque to the 350d's 457. 48.7mpg and 154g/km CO2 are claimed, as is a 4.9sec dash to 62mph.
The electrified E53 model combines a newly developed turbocharged 3.0-litre six-cylinder engine with an integrated starter, which is part of Mercedes' 48V electric architecture.
The powertrain is shared with the CLS 53 and produces 429bhp and 295lb ft of torque, with an additional boost of 21bhp and 184lb ft when the starter motor provides temporary shove. The E53's new 0-62mph time is 4.5sec, two-tenths quicker than the E43, while its top speed is limited to 155mph. An optional AMG Driver's Package increases the top speed to 168mph.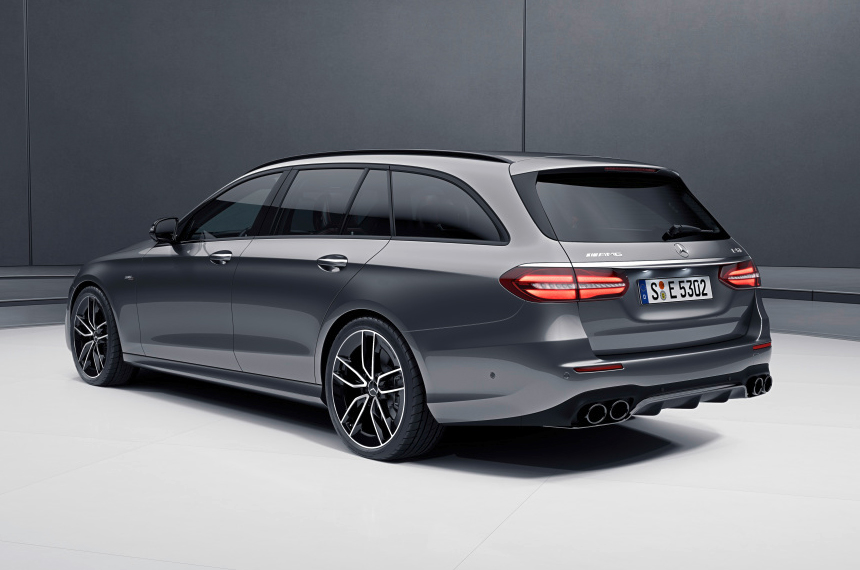 AMG won't be producing a new E43 because that car's V6 engine is gradually being phased out of the range. Although it's currently still available in the C43, where it offers 362bhp, that engine will eventually be superseded by the newer straight-six.