Brabham Automotive has released a preview image of its upcoming track-only BT62 hypercar, which is due to be at an event this evening (Wednesday May 2).
The picture is of the car's badge and follows another image that showed the rear LED lights and a large carbonfibre rear wing in darkness.
Brabham describes its model as a "low-slung, race-inspired car". It will cost £1 million and be powered by a 5.4-litre V8 engine, with a power-to-weight ratio of 720bhp per tonne.
The new company is led by former Formula 1 racer and Le Mans winner David Brabham, the son of three-time world champion Sir Jack.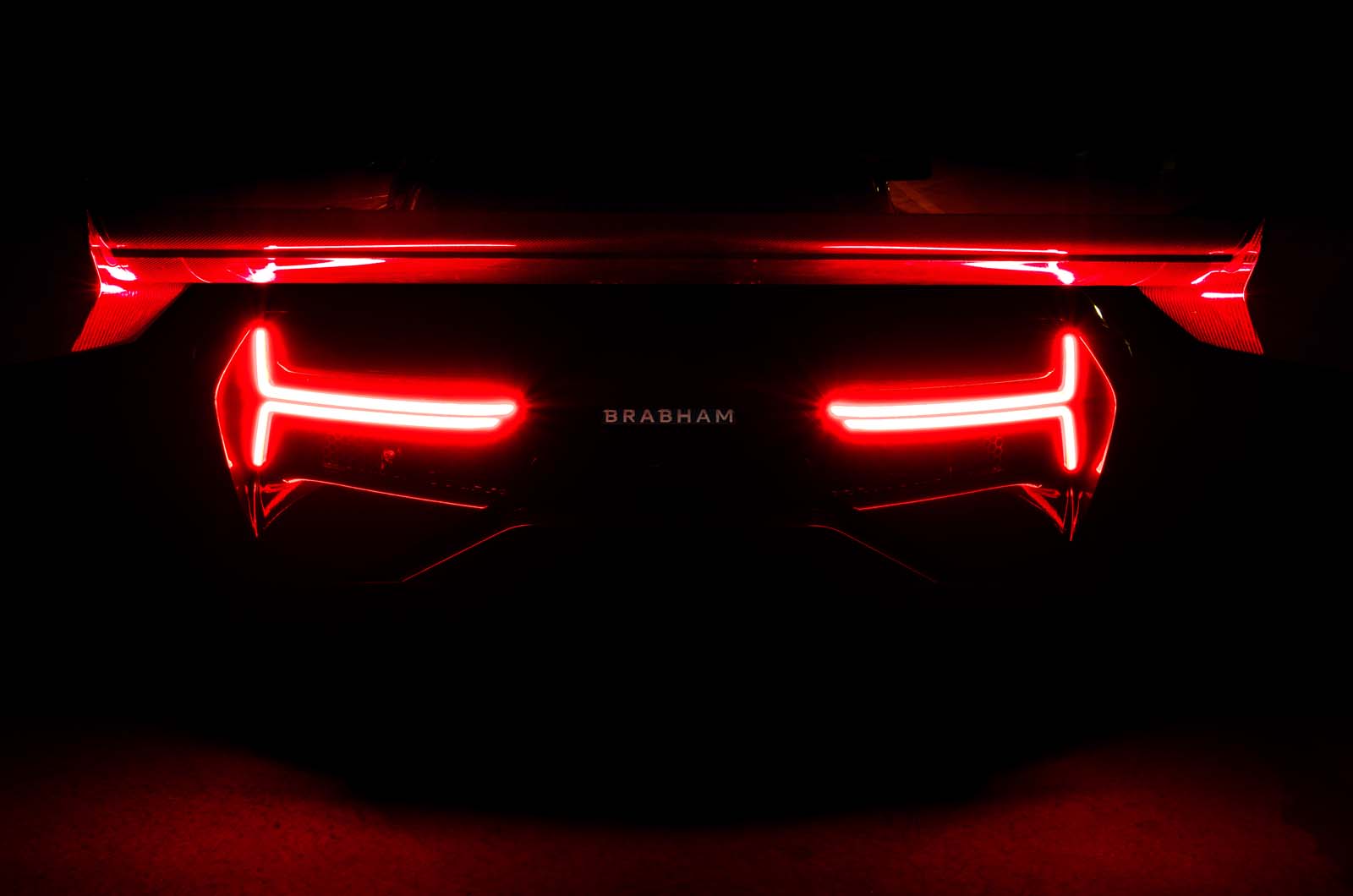 Brabham says the BT62, a track-focused hypercar, will have a dry weight of 972kg and be able to produce more than 1200kg of downforce. For comparison, the McLaren Senna GTR produces around 1000kg of downforce.
Despite the fact that the BT62 has not been shown in public yet, Brabham is already taking orders for the machine, with first deliveries expected later this year. Owners will be given membership of a track-focused driver development programme. After the car is launched on 2 May following a "rigorous and extensive engineering programme", the public will be able to view it at a ticket-only event on 4-5 May that will also include a display of Brabham racing cars and memorabilia.
Footage (below) released last month features a car at full throttle blasting along a pit straight, offering some insight into what the BT62 will be like.
A screen grab of the moment the car passes the camera (above) appears to show a Le Mans-prototype-like silhouette, while the V8 engine revs hard like a racing car motor, with a tone not too dissimilar to that of the eight-cylinder unit used in Formula 2.
The car is described by its maker as one "that has been built to set blistering lap times", suggesting it could be as focused as the McLaren Senna.
"Unquestionably fast but about far more than outright speed, the Brabham BT62 is resolutely focused on uncompromising performance, handling and driver involvement," the company said. "Born from a unique and historic racing pedigree, Brabham Automotive's first car has been designed and engineered to demand more from the driver and reward the limited few who will rise to its challenge."
The BT62 name resumes a discontinued lineage of racing cars produced by the original Brabham brand. Brabham has been synonymous with motor racing since its founder, Sir Jack Brabham, first took to the F1 grid in 1955.
David Brabham (below) said: "The Brabham philosophy has always seen drivers extract every ounce of available performance from their cars and themselves. That same spirit lives strong within Brabham Automotive today and its first project, the BT62, honours the legacy of the cars that have previously carried the iconic Brabham name."