The McLaren 570S Spider is on show at the Goodwood Festival of Speed, marking the folding hard-top, mid-engined supercar's public debut.
Read our first drive of the 2017 McLaren 570S Spider
The Spider uses an electrically operated, two-part folding roof mechanism that's similar to the one fitted to the 650S and 675LT Spiders. The lid takes 15sec to open or close and can be operated when the car is moving at up to 25mph.
Built around the Woking car maker's ubiquitous Monocell II carbonfibre tub, the third Sports Series model adds 46kg to the 570S's 1452kg kerb weight. McLaren claims it retains the same structural rigidity as the coupé.
Read our review of the McLaren 570S here
The roof folds beneath a tonneau cover, which features the car's most significant design change compared with the coupé version: a pair of buttresses that also support a retractable wind deflector.
The car also has a rear spoiler that sits 12mm higher than the coupé's to counter the lift generated by the Spider's different roof design. As such, McLaren claims the Spider has identical aerodynamic performance to the coupé. The rest of the 570S Spider's design is identical to the coupé, including the dihedral doors.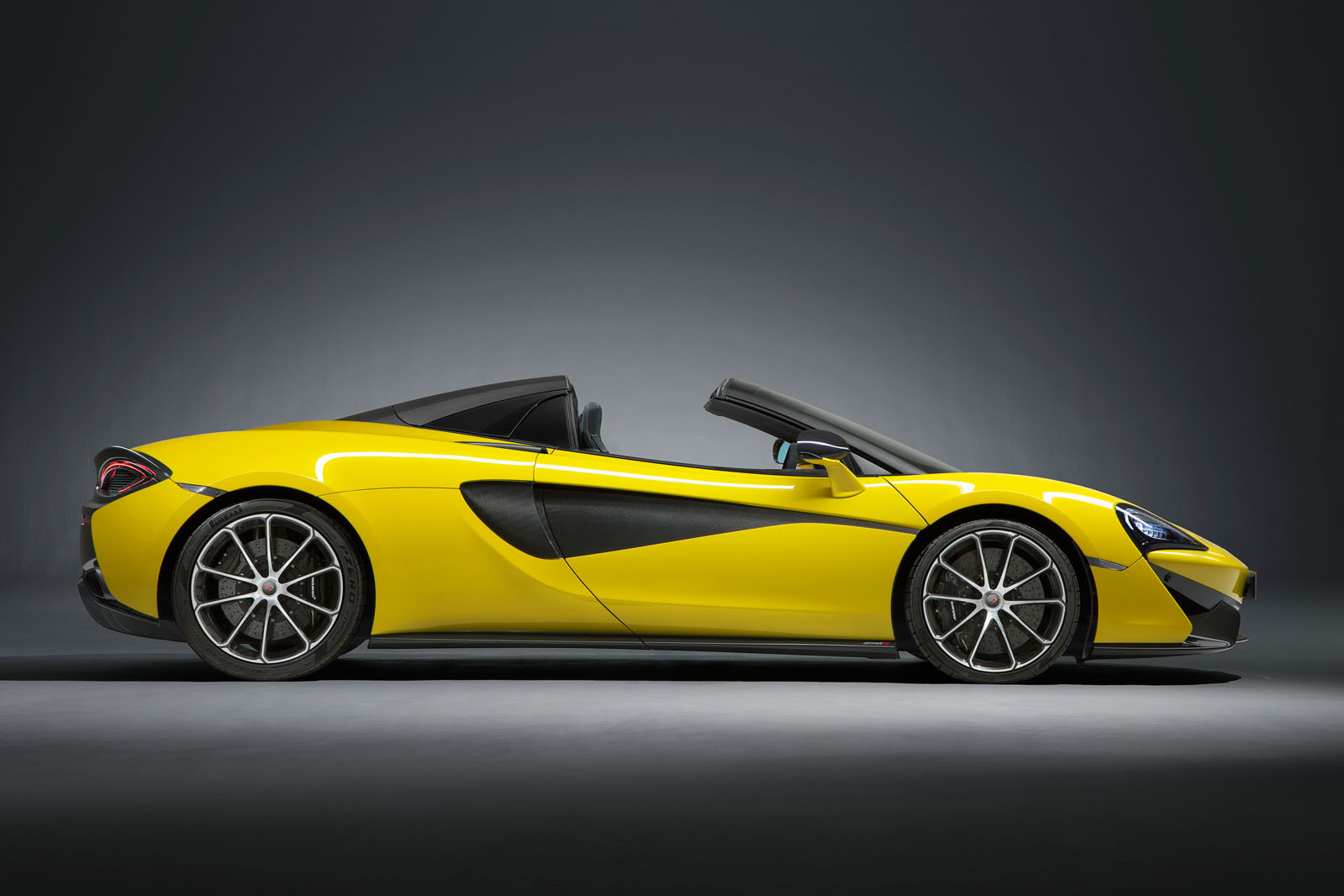 Using the same M838TE 3.8-litre twin-turbocharged V8 and seven-speed transmission as the coupé, the 570S Spider produces 562bhp at 7400rpm and 443lb ft between 5000rpm and 6500rpm. The car has a power-to-weight ratio of 375bhp per tonne. This falls short of the coupé by 12bhp per tonne but eclipses rivals such as the Porsche 911 Turbo S Cabriolet, which produces 328bhp per tonne.
The 570S Spider can sprint from 0-62mph in 3.2sec and has a maximum speed of 204mph. Its performance is near-identical to the coupé's. The Spider can cover 0-124mph in 9.6sec, which is 0.1sec slower than its fixed-head sibling. It has a claimed combined fuel economy of 26.6mpg and emits 249g/km of CO2 – the same as the coupé.