Toyota has taken a major step in the development of hydrogen propulsion with the unveiling of a prototype Toyota Hilux fuel cell electric vehicle (FCEV).
Although the company's first FCEV was a car (the Toyota Mirai, on sale since 2014 and now into its second generation), commercial vehicles' need for quicker refuelling and longer range than batteries can presently provide makes them a better fit for the technology.
Toyota's FCEV pick-up truck has a simulated range of 365 miles and a refuelling time similar to that of a diesel. The project – which was funded, developed and delivered in the UK at Toyota's Burnaston plant – was given the go-ahead in just 12 months.
Toyota won't share the Hilux FCEV's weight or payload until development is done, at which point it will also reveal whether it will go into production.
Development
A team of engineers from Toyota and specialists from Ricardo, European Thermodynamics, D2H Advanced Technologies and Thatcham Research adapted 10 Hilux development vehicles to accept the Mirai's powertrain and fuelling system.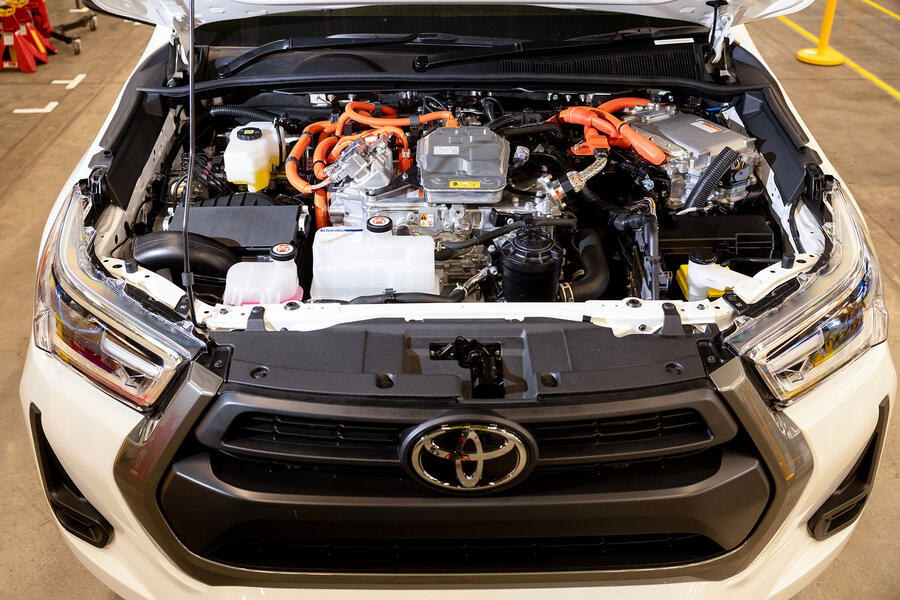 One has been crash tested while on-road development continues with the others ahead of test vehicles being placed with potential customers, who include emergency services.
Despite the emergence of native FCEV truck makers Tevva and Hydrogen Vehicle Systems and the availability of FCEV cars (most notably the Mirai and Hyundai Nexo), the UK has been relatively slow to embrace hydrogen.
Turning the Hilux into a hydrogen vehicle
Outwardly, the new FCEV looks no different from a regular 2.4-litre diesel Hilux. Opening the bonnet, however, reveals the Mirai-sourced fuel cell stack.
Behind the cab bulkhead is a reinforced metal box containing a battery about the same size as that in a hybrid car.
This accounts for around 20% of the deck's total area, but Toyota said it could be located under the rear seats on regular models. Underneath are three large cylinders, each containing 2.6kg of hydrogen (a typical FCEV car uses 1kg per day, costing around £15), and towards the rear is a Miraisourced electric motor.