Ford has released pricing and spec details for its first petrol-electric model on sale: the Transit Custom Plug-In Hybrid.
The commercial van will start from £39,145 (excluding VAT) in Leader trim, rising to £42,950 in Limited spec. It's the first van in its segment to offer a petrol-electric powertrain.
In contrast to the rest of the Transit's diesel-heavy range, the plug-in hybrid makes use of a 1.0-litre turbocharged petrol engine. It's classed as a range extender, though, because the engine doesn't drive the wheels; instead, a 123bhp electric motor powers the front axle and the engine charges the 13.6kWh battery pack when required.
The van also features regenerative charging under coasting and braking, managing a claimed 35-mile electric-only range. The result is a total driving range said to exceed 310 miles, with claimed economy of 91.7mpg and CO2 emissions of 60g/km.
Crucially, the Transit's net payload of 1130kg and load volume of 6.0m3 are unchanged. Ford also offers an eight-year, 100,000-mile warranty for the battery, aimed at giving business customers extra confidence.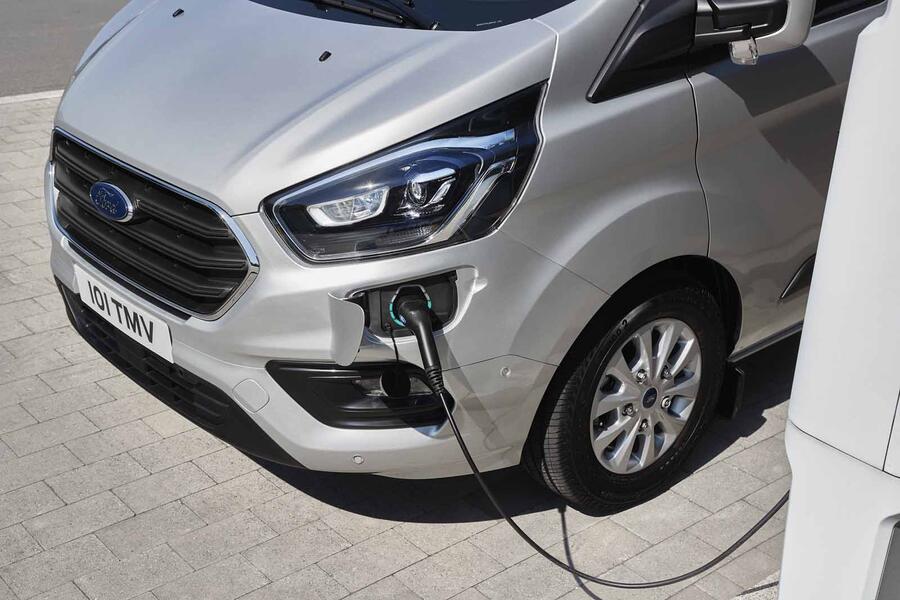 The battery can be charged in 4.3hrs using a domestic 240-watt power supply or 2.7hrs using a Type 2 AC rapid-charger. Four driving modes allow users to let the vehicle decide when to activate the range extender, prioritise stored battery energy, save the battery for later use or use it to power the motor directly and top up the battery.
Other than the expected charging port mounted underneath the passenger-side headlight, the Transit's exterior is unchanged. The interior benefits from new power and charge gauges to replace the redundant rev counter, while the Ford Pass app allows you the check the charge status via your smartphone.
Further features will be added in spring 2020: a Geofencing function that will automatically switch the van to EV Now mode when entering a low-emissions zone. There will also be an optional 12-volt pack, allowing operators to run electrical equipment from the vehicle's high-voltage battery, delivering 6kW of energy.
The eight-seat Tourneo Custom people carrier will be available to order later this year, in Titanium spec only, with prices yet to be announced. It gets many of the same features and occupant space is unchanged, but with a focus on extra comfort and refinement. Its electric-only range is down to 33 miles, however, while economy of 79.1mpg and CO2 emissions of 70g/km are quoted.