There's a memorable episode of Alan Partridge where the eponymous radio show host becomes increasingly exasperated by a Liverpudlian named Tex (Terry) who gets his Dr Pepper from the cooler, manworships John Wayne and calls his lone pick-up truck 'Convoy'.
For the past half a century, buying a Ford Mustang in this country has come with the same Route 66 'he likes American things' whiff. Most people, I'm sure, will have filed the distant icon into the same ambivalent head space that includes baseball, bull riding and pumpkin pie.
Read what we made of the muscular BMW M235i coupé in this road test
For much of that time, Ford did little to counter the sentiment. Almost immediately, the original 'pony' car concept (an American descriptive fraught with peril) was reborn as the Capri – a significant success in its own right. The Mustang itself remained a million miles away, its status an apparent quirk of Hollywood, longevity and mountainous sales volumes.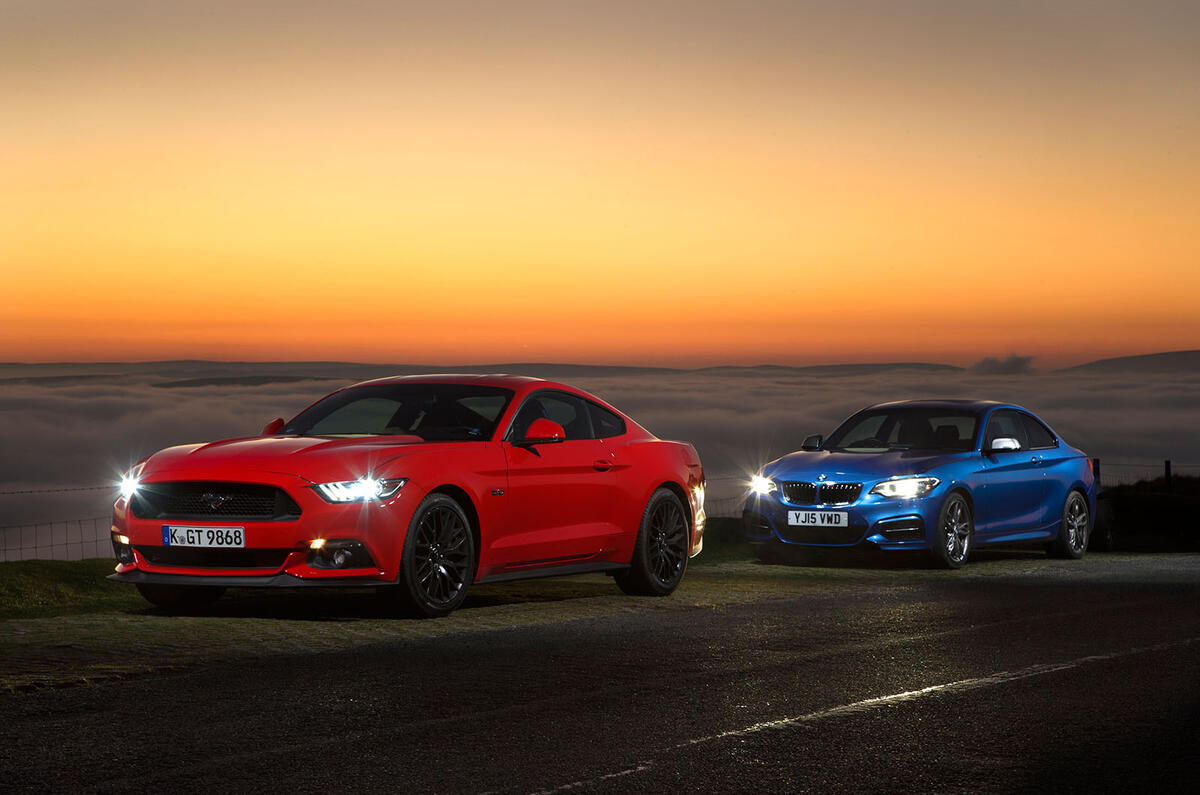 The model's limited re-emergence in recent years has hardly softened the ground, either. The previous generation, as decent as it was, hardly dispelled the notion that it remained too big, too thirsty and, yes, too unsophisticated for an Anglo-Saxon sensibility set permanently to wry. Its 'over there' reputation has hardly been enhanced by the repeat experience of good-naturedly climbing into one only to find the pedals mounted 'over there' in the passenger's footwell.
Fixing that, of course, like staging an NFL game at Wembley, is representative of the sixth generation's first mighty stride into wider buyer affection. The Mustang is global now, Limey – and it's got the independent rear suspension to prove it.
Precisely what that means is the reason why, in a fog so sumptuously thick that even air traffic control has bent to its will, we've congregated on the eastern tip of the Peak District.
Above the blanket of ashen cloud, the day gleams bright. Ford could hardly have laid on a better setting; like a herd of bison, the Mustang is best viewed in proper Panavision, and England's countryside doesn't get any more cinematic than this.
Even blemished by a German plate, the cherry red GT – a cabrio is coming, too – is a large personality to fit into a small gravel car park. Think Quentin Tarantino sitting at your nan's kitchen table.
In the US, the fastback style is the blue-collar special – a coupé cheaply born of larger saloons. In Europe, its position is naturally occupied by hot hatches, so for direct rivals you have to get a little imaginative. Having banged our heads against the desk, the BMW M235i is the contender that fell out, a dinky, darling hatchback spin-off that stashes a stonking turbo-laced straight six beneath an unassuming two-door body as though it were a tea shop waitress serving methylated spirits.