Imagine the luxury. Pre-'One Ford', before the age of austerity, imagine being in a position to not only develop a hatchback just for Europe but also decide that, when you want a hot version of it, you'll pull it away from the production line for finishing, in expensive fashion.
Thus was the 2002 Mk1 Ford Focus RS: unique bodywork, a limited-slip differential, carbonfibre added to the interior and a tasty turbocharged engine.
Read our review of the latest Ford Focus RS
Someone signed off the prospect of building 4501 of them and selling them at the remarkably low price of £19,995, which seems too good to be true now. For Ford's bottom line, it was quite bad, but it did revive the RS brand to considerable effect.
The Mk1 Focus RS wasn't universally loved at launch, though. Some thought its uncompromising nature – and it was uncompromising – harmed it as a driver's car.
I remember driving one on the Cat and Fiddle road at its launch and, mid-hairpin, applying more power. The Quaife limited-slip diff would hook up and pull the front wheels into the corner – a remarkably unusual thing for a front-driver. There was more torque steer than in practically anything but a 
front-wheel-drive racing car, and it didn't please everyone. Not just the accountants were miffed.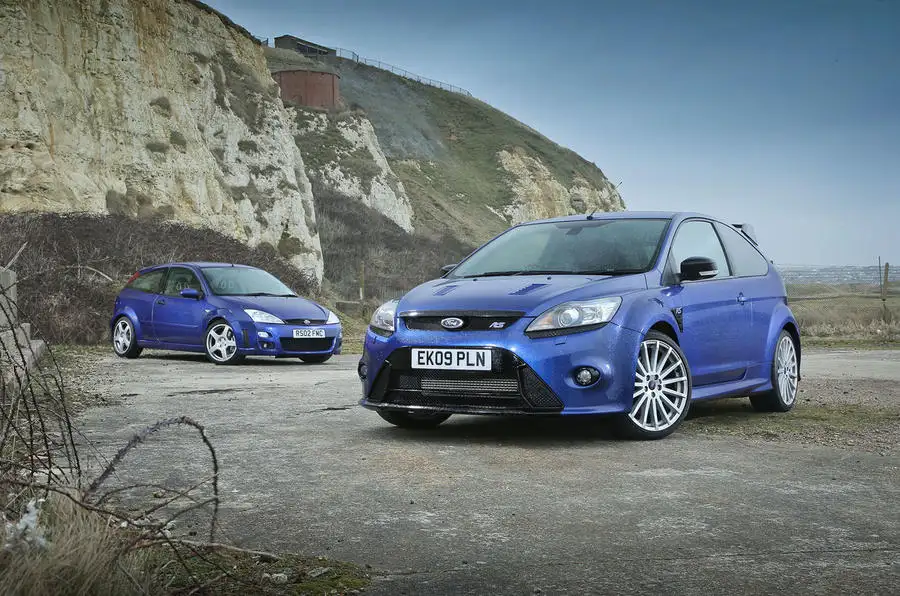 It was no surprise, then, that when the Mk2 Focus RS came around in 2009, things were a bit different.
Ford wanted to make 8000 of them over two years and, crucially, make some money out of them. More than 4000 came to the UK alone, priced from at least £26,995, so it made money, despite the fact that it felt fairly well removed from the standard Focus. Mechanically, it wasn't, though – not by as much as the first one, at least.
Sure, it had fattened arches and a limited-slip diff, but it rolled down the same production line as the regular Ford Focus, which makes a huge difference to the production cost.