Ford has already received 1500 orders from UK buyers for the new Ford Focus RS in anticipation of first deliveries of the hot hatch in spring 2016.
Read our review of the Ford Focus RS on UK roads
One third of the customer's deposits were placed before prices and specifications were announced at September's Frankfurt motor show, and interest has accelerated since the car's base price of £28,940 was revealed.
Read the full Ford Focus RS review here
Many of those ordering the 165mph car are owners of previous RS models, explained Andy Barratt, Ford of Britain chairman and managing director.
"These enthusiasts are taking great care in building their optimum specification," he said. "We expected those first in the queue to be exacting about their requirements, and so it has proved, with many opting for motorsport-style Recaro shell front seats, 19in black forged alloy wheels, Luxury pack, electric tilt/side sunroof and Ford SYNC2 navigation and sound system."
Selecting most of these options pushes the transaction price of the Focus RS north of £30,000. The Recaro shell seats cost £1145 and a set of the 19in black wheels are £595. The Luxury pack, which includes folding door mirrors, rear parking sensors, keyless entry, cruise control and privacy glass, comes in at £1000 and the electric tilt/side sunroof is £575.
Watch the official Ford Focus RS development videos here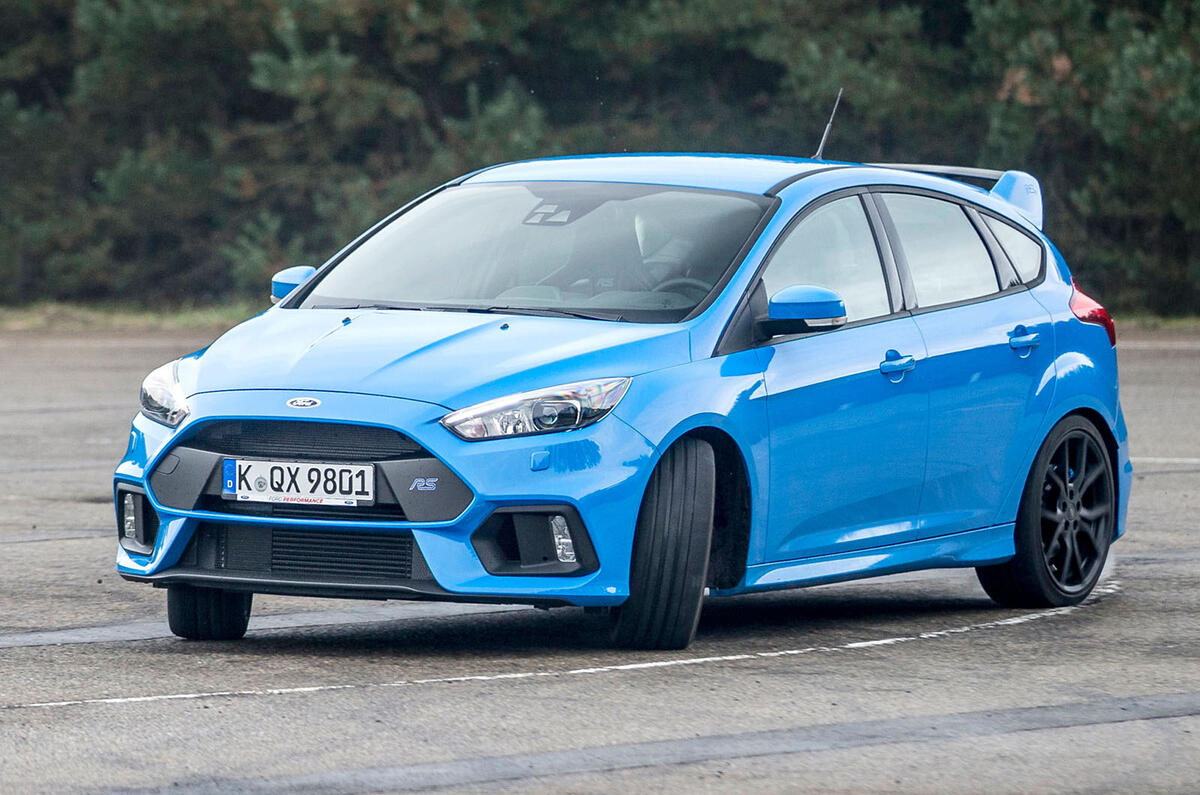 Ford Focus RS goes four-wheel drive
One of the biggest switches in the new Ford Focus RS is the switch from front- to four-wheel drive; this is the first RS-badged family hatchback to drive all four wheels since the Escort Cosworth. It also incorporates a 'drift mode' designed to allow controlled slides when conditions permit.
Ford's global product development boss and chief technical officer Raj Nair said, "Crucially, the technology doesn't detract from the driver experience. This is a car you can have fun in and drift in a totally controlled way, or which you can go out and set a fast lap time in. Those two things don't always tally, but this technology gives us the scope to do that."
Nair also confirmed that the case for four-wheel drive was strengthened by a decision by Ford's top management to use Performance-branded vehicles as showcases for innovations on all vehicles. "You saw with the Ford GT how it will act as a halo for Ecoboost technology - we see a lot of technology that the Focus RS can highlight across the range."