"I worked my ass off to make it do that," says the man to my left. 'It' is the hot hatch of the moment, the brand-new Ford Focus RS. And the man talking about it – driving it, typically enthusiastically – is David Put, vehicle dynamics specialist of Ford of Europe.
The grinning Belgian has done a big chunk of the dynamic tuning of the new RS, and right now he's flicking the car around the damp curves of the legendary 'Track 7' handling circuit at Ford's Lommel proving ground. It looks like fun - a lot of fun, actually.
The car is cornering flat and fast, pulling with huge torque and proper sports car pace down the short straights, and sounding all growly and interesting. That much you don't have to be in the driver's seat to tell. But watching Put's measured inputs carefully, you can see – and feel - exactly what he's so chuffed about.
Read the full Ford Focus RS review
The car's initial handling response and lateral grip levels look considerable; David's not having to do much at all to get the front wheels running towards apex after apex. But it's what happens mid-corner, as he begins to feed power back in, that really surprises. There's a small but perceptible nudge from the outside rear wheel; a friendly little tweak of not just traction but handling impetus, making the car both speed up and turn in at the same time.
Where other all-paw hatches would be beginning to lose their poise, bothering their ESP and running wide as the transmission sends drive first to the harder-working front wheels, the Focus stays neutral. And then it begins to blend into power-on oversteer, as Put unwinds the steering angle and applies a delicate correction.
Four-wheel-drive hot hatchbacks just don't do that - not in this tester's experience. You can chuck a VW Golf R or a Mercedes A45 AMG into a transient slide by unloading the rear axle, but what happens when you come back onto the pedal tends to be all very boring and predictable.
This - it would seem from the passenger seat, at any rate, and judging by both the smile on my co-driver's face and what the 'seat of my pants' is telling me – is a four-wheel-drive performance hatch that you can accelerate into a powerslide - that you can steer on the throttle, in other words, like a proper rear-driver. Praise be.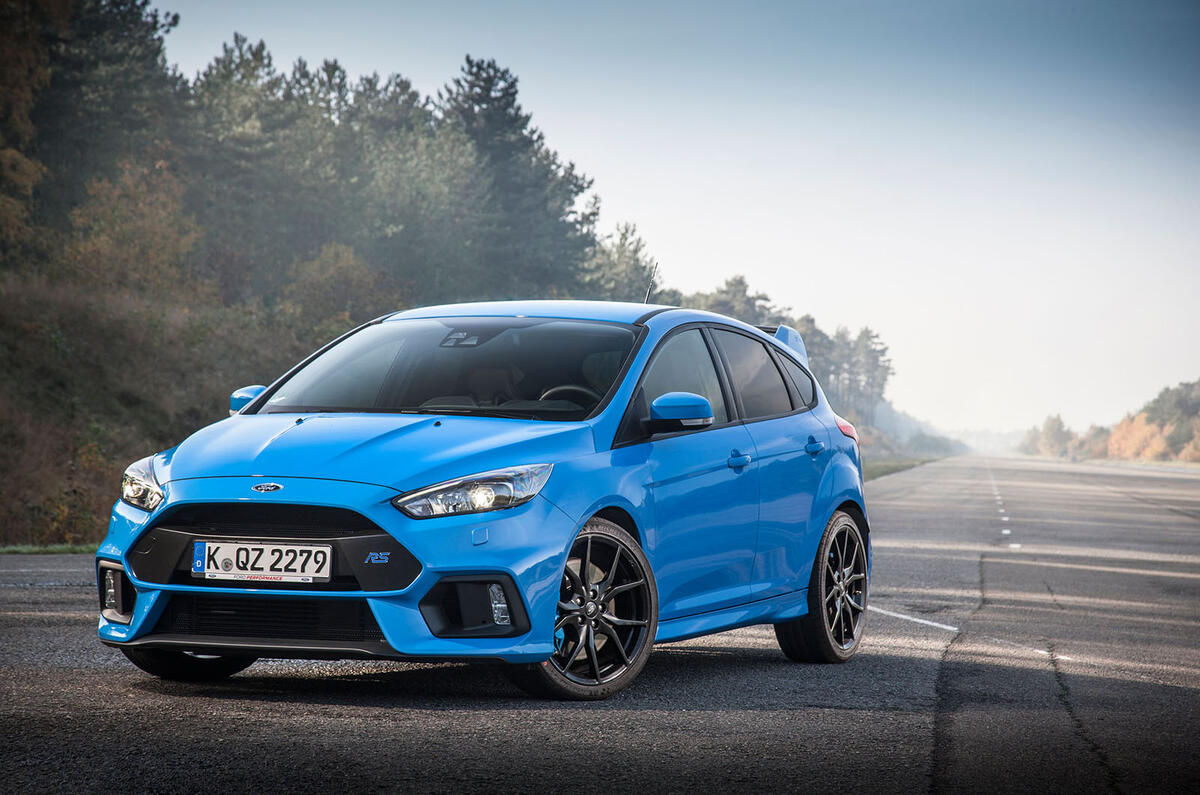 My need to drive the new Focus RS only gets more urgent after that revelation, but it isn't going to be addressed today. We're here for an advanced passenger-seat preview only – and an up-close-and-personal review on the engineering effort that has gone into one of the most eagerly anticipated affordable driver's cars of the past few years.
Among the first things to be announced about this new hot Focus was that it'd be four-wheel drive – just like its 1990s forebear, the memorable Escort RS Cosworth. That was among the very first decisions taken by the Ford Performance engineering team, and you can read all about the pioneering technology behind the drive system here.