It's covered in kaleidoscopic plastic wrap camouflage. Inside, it glistens with high definition graphics. A good five months from its planned UK introduction, it is still very much a prototype with cabling and other paraphernalia used to attach data logging and testing equipment scattered throughout its cabin. Whenever I get up close to it I'm joined by a German engineer who convinces me I shouldn't poke around for too long.
Because it is all a big secret. The only information AMG is prepared to divulge about its second-generation A45 4Matic ahead of its highly anticipated unveiling is that it will drift. Forget that there isn't an official power figure or any other information about Affalterbach's new four-wheel drive hyperhatch yet. What Mercedes-Benz's performance car division wants to you know is that, with its three-stage ESP disengaged and the push of a driving mode button as well as some steering wheel paddle protocol used to engage its advanced rear differential, its rear-end will go sideways just like that of the rear-wheel drive BMW M2 Competition.
This, I can confirm, because I've ridden in the new 2019 model year A45 4Matic. And, yes, it does attain seemingly impossible slip angles with all the rabid throttle induced cornering ambition of a high powered rear-wheel drive supercar when the driver wants it to . . . on ice. In fact, much of my time in AMG's latest model was spent peering out the passenger side window as Reinhold Renger, the head instructor at the company's so-called driving academy, worked his magic behind the steering wheel, displaying the effect of that rather special new differential around a giant test track etched into a frozen lake in the north of Sweden in the middle of winter.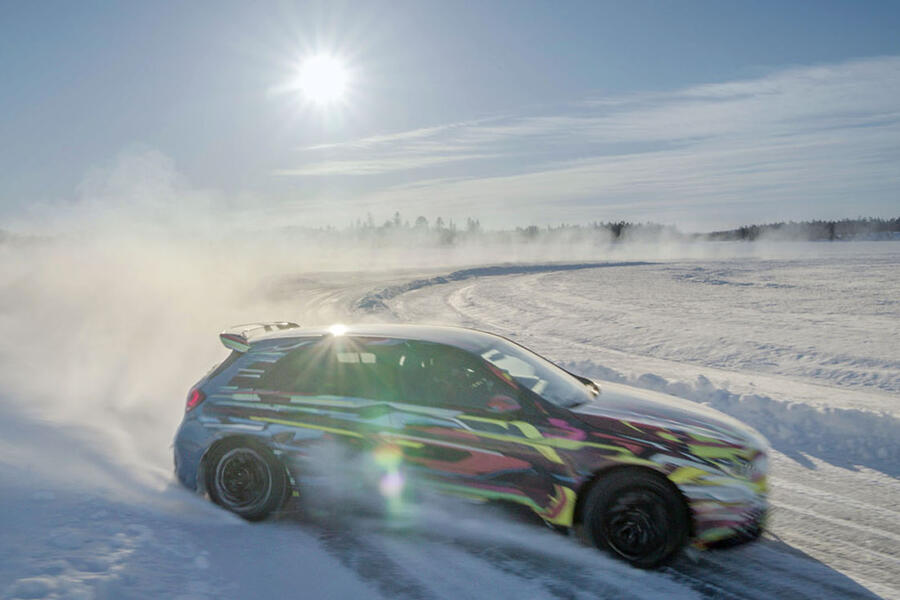 Having only experienced it from the passenger seat, I can't tell you about the nuances in its driving character. But at this stage, it appears AMG has managed to deliver on its promise to make the new model a more rewarding car to drive than its devastatingly rapid predecessor. From what I experienced, the new range-topping A-class model is a more multi-faceted machine with seemingly greater maturity than before. As always, however, proof of this will come when we get to drive it later this year.