Forty years ago, a new car company called Caterham Cars came into being – in a pub in Primrose Hill, as you're asking.
Caterham Cars had been around since the 1960s, but only as a dealer and distributor of Colin Chapman's fabled Lotus 7. Indeed, it was only Caterham boss Graham Nearn who had kept the 7 in production after Lotus moved from Cheshunt to Hethel in 1966, by undertaking to sell every one the factory made.
By 1973, Colin Chapman had far more important things on his mind. With his Formula 1 team as the reigning world champions for both drivers and constructors, Chapman had his eyes on the big time, developing cars with names that would soon become part of UK automotive folklore: Esprit, Elite and Eclat.
He seemed surprised that anyone might still be interested in a car he'd designed in the 1950s before Lotus had won so much as a single race at the top level, so he was only too happy to take Nearn's money in exchange for the drawings, tools, jigs, spares and rights. I wonder what he'd think now to know that, a further 40 years down the line, essentially the same car would still be in production.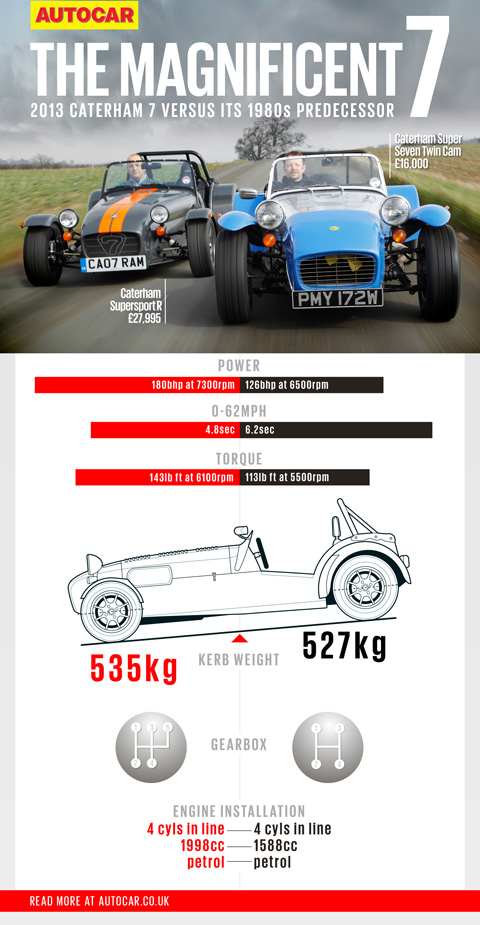 The same car? Conceptually, at least. Like every production Seven ever made by Lotus or Caterham, those you can buy today continue to feature a small-capacity, four-cylinder engine driving the rear wheels. The chassis is still a simple spaceframe design, the body still made from a mix of aluminium and glassfibre components. Much of the hardware may have changed but its DNA (for want of another less hateful and equally effective metaphor) remains unmutated.
Still, there's no denying the fact that the car has evolved, and to a point where it's doubtful that much beyond the rear light clusters have survived from Caterham's earliest days to this. Under that slatted bonnet, there have been myriad engines supplied by Ford, Rover and Vauxhall.
The front suspension is now a proper double wishbone arrangement and most still feature the de Dion rear end that has been part of the line-up since 1984, although if you buy a CSR you'll find it has the properly independent rear end that some say the car should have had from the start.