Bugatti is developing the world's first 3D printed brake calipers for introduction onto its Chiron hypercar later this year – and it said the part is the first of several new significant production breakthroughs.
Each titanium caliper is made from a monobloc of titanium that is crafted using 400-watt lasers. Titanium powder is deposited in 2,213 layers to produce the part, which is heated to 700 degrees celcius during a 45-hour-long production process.
Bugatti claims the caliper - which is the longest car caliper in production at 41cm long - weighs 2.9kg, 2kg less than the aluminium caliper currently offered with the 1479bhp car. Despite the reduction in weight, it's said to be tougher than the aluminium part, able to withstand 125kg of pressure per millimetre.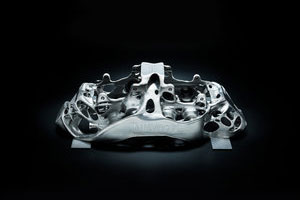 The technology used to create the new caliper stems from the motorsport and aviation industries. Bugatti said the caliper is the first of several potential new parts it can now produce thanks to the introduction of this high-tech 3D printing system.