The winner is... The Porsche 911 R. 
And so, after the toughest podium fight anyone could remember, what must have been the tightest margin of victory of any Britain's Best Driver's Car shootout was decided.
In a change to the usual scoring format intended to allow a fairer distribution of credit, our judges had up to 50 points to award to each car – 25 for a car's showing on the road and 25 for the track. There was no restriction preventing them from awarding the same score to more than one car, but the total number of points on offer was intended to mitigate that possibility and to make a tie for any given place in the final rankings less likely.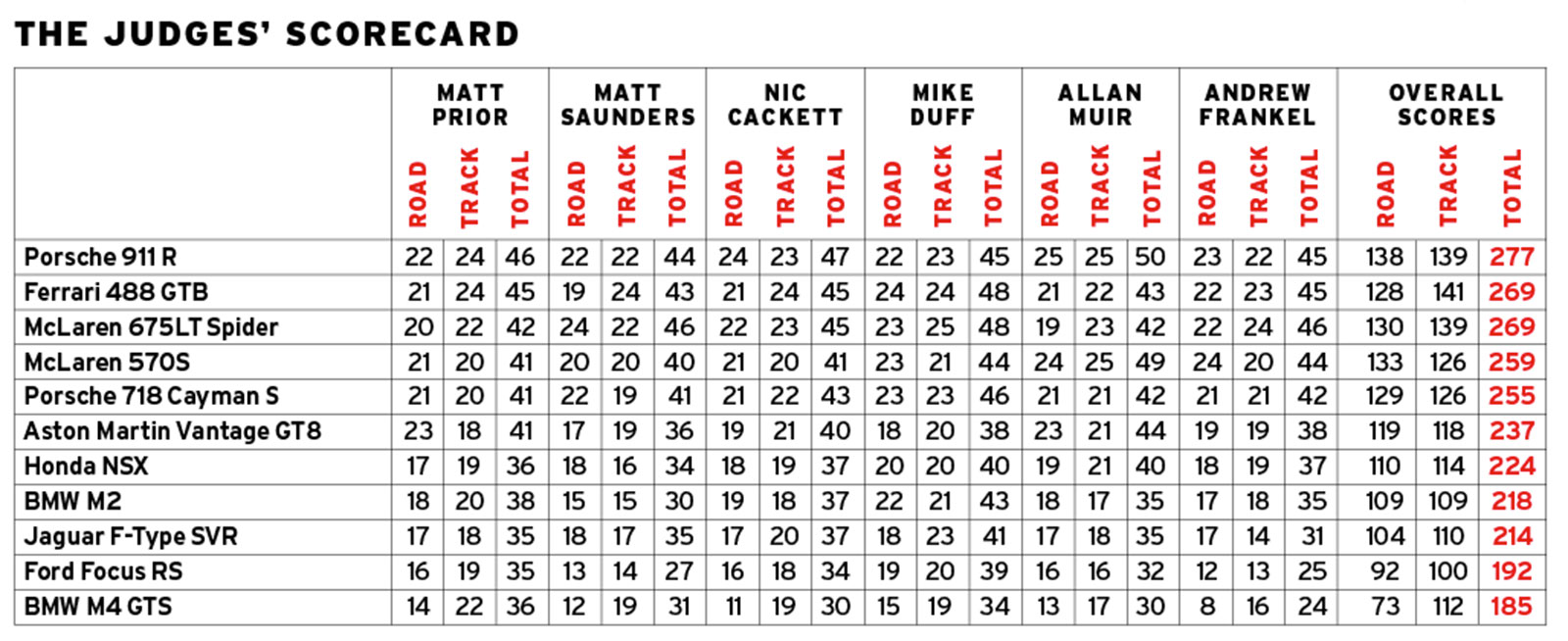 Even so, the 488 GTB and 675LT Spider couldn't be separated for second place. Although two judges scored the Longtail highest overall, the 488 attracted praise more consistently.
Not as consistently, however, as this year's BBDC champion: the brilliant 911 R. Nobody saw fit to deny the 911 more than three points of a perfect 25 for either its road or track performance, and it was the only car to score full marks from a judge.
With an astonishing array of talents, the 911 R's driver appeal is at once multi-faceted and totally convincing. More tactile and communicative than the Ferrari, more theatrical and enigmatic than the McLaren, and wanting for absolutely nothing on dynamic composure or playful adjustability, the 911 R also builds on the qualities that have made 911s so popular for so long. Compact and confidence-inspiring on a narrow lane, it also has the track purpose and poise to mix it with the supercar set and the combustive sound and fury to live with almost any pace. The Porsche 911 R is this year's bit of perfection for keen drivers everywhere, and our one regret is that only 991 owners will get to enjoy it.