The Bentley Flying Spur saloon will gain a V6-powered plug-in hybrid variant at the start of next year.
The Rolls-Royce Ghost rival has again been spotted testing in PHEV form, this time in Europe. It's clear that this is no ordinary Flying Spur due to its two fuel filler caps, one of which hides a charging port for the car's lithium ion battery pack.
UPDATE: Bentley hints at Flying Spur with new images - April 2019
As Autocar previously reported, Bentley will equip the Flying Spur PHEV with an electrified powertrain borrowed from the Porsche Panamera 4 E-Hybrid, instead of the system found in the Bentayga Hybrid. The plug-in SUV will also not arrive until early next year, as the new WLTP economy testing regulations mean Bentley needs to fine-tune the car's powertrain.
Insurance database information showed that a Flying Spur development car, caught on camera in London by Autocar reader Chris Thomson, was using the 2.9-litre V6 engine that's also used by the Porsche saloon, rather than the 3.0-litre unit used in other hybrid models from the Volkswagen Group, such as the Porsche Cayenne E-Hybrid.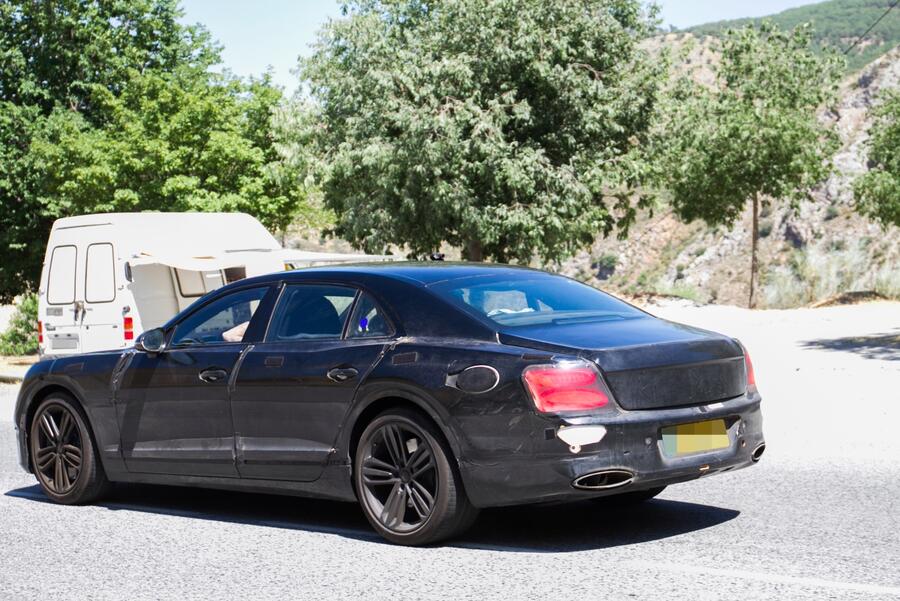 Bentley refrained from commenting on the car when asked why a lower-capacity engine is to be used, but Autocar understands the 2.9-litre version has been chosen because it can provide a higher maximum power output.
This is because it features a larger crankshaft (which shortens the engine's stroke) than the 3.0-litre unit. The Flying Spur PHEV is therefore expected to be launched with at least 456bhp and 516lb ft – those being the outputs of the Panamera 4 E-Hybrid. The Porsche is due in a higher state of tune at a later date, suggesting the pricier Flying Spur could be offered with more power from the off.