Running fast towards my rendezvous with the Aston Martin DB11, the challenge it is about to take on is clear.
The Bentley Continental GT Speed under my right foot doesn't feel like a car in need of replacement at all. Indeed, I'd argue the greatest trick it ever pulled is not to have lived a life this long – it's already in its 13th year – but to have become so improved within that span as to be a better car today relative to its peers than when it was new back in 2003. Usually, cars just don't do that.
And if it seems odd to be banging on about a rather old Bentley in a test whose primary focus is a brand-new Aston Martin (upon whose shapely shoulders rests to one extent or another the future of the company that makes it), I'd ask you to bear with me for the duration of this paragraph, because this stuff matters. If you and I are to understand the nature of the challenge, we must peer beyond the immediately evident – the respective power-to-weight ratios, looks, mass and age gap. We must appreciate that in its sense of solidity and sheer structural integrity, the Bentley has a quality as easy to appreciate in reality as it is difficult to express in numbers on a page. For customers who must value what a car would be like to live with as much as what it would be like to drive, this talent is not only compelling but, if the Aston is to win here, must also be overcome.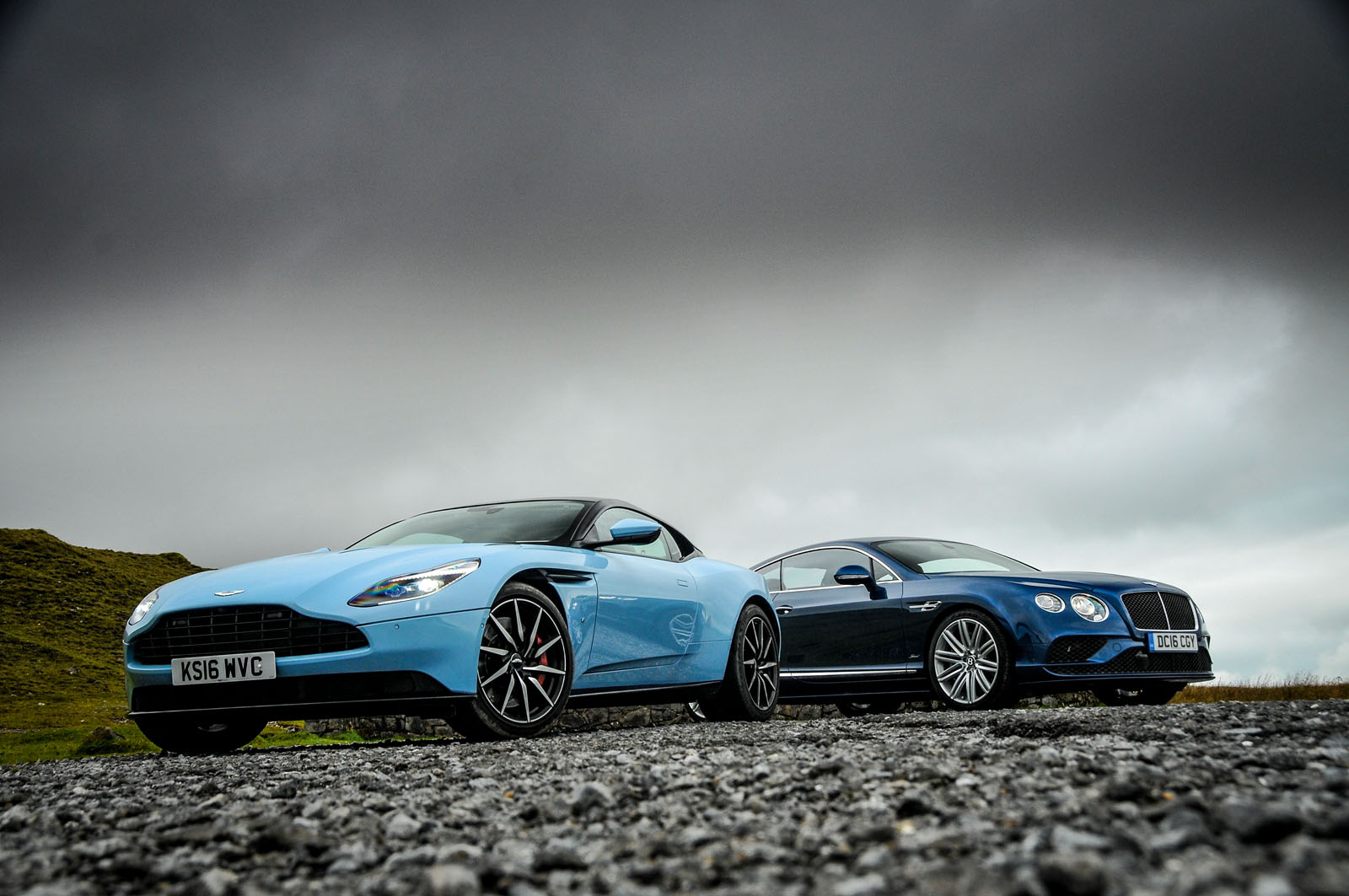 The DB11 sits in a lay-by at the bottom of a mountain while Autocar staffers sponge away the last of the road grime from its flanks. I know some have their reservations, but to me this is how a 21st century Aston should look: modern, dynamic, respectful to its past but not manacled to it. It looks small next to the Bentley, but it's not, really. It's just over 70mm shorter and less than 5mm narrower and sits on a longer wheelbase. The almost 12cm height differential is the only truly telling statistical difference between them on the outside.
Each is powered by a largedisplacement, quad-cam, twinturbocharged 12-cylinder engine and sends drive to the road via an eight-speed automatic gearbox. But whereas the Bentley motor retains its curious W formation – more easily thought of as two narrow-angle V6s sharing a common crankshaft – and directs its power to all four corners of the car, the Aston has a traditional V12, rear-wheel drive layout. Both engines can trace their lineage back years – to 2001 for the Bentley and 1999 for the Aston – but both have been so extensively re-engineered as to be regarded as new.