The Alfa Romeo Giulia Quadrifoglio and Mercedes-AMG C63 S have been put head-to-head in our latest group test.
The rejuvenation of Alfa Romeo as a proper performance brand has brightened spirits and rekindled warm sentiments aplenty these past five years – and long may its ascendant trajectory continue. It's not like us serious road test types to hand out credit that hasn't been won the hard way, against some satellite timing gear or in a repeatable test. But before we get stuck in to what's about to be a very tough test indeed for Alfa's latest – the Giulia Quadrifoglio, in action on UK soil for the first time – let's take a moment to salute the effort, faith, commitment and skill that it has taken to get the Italian firm this far.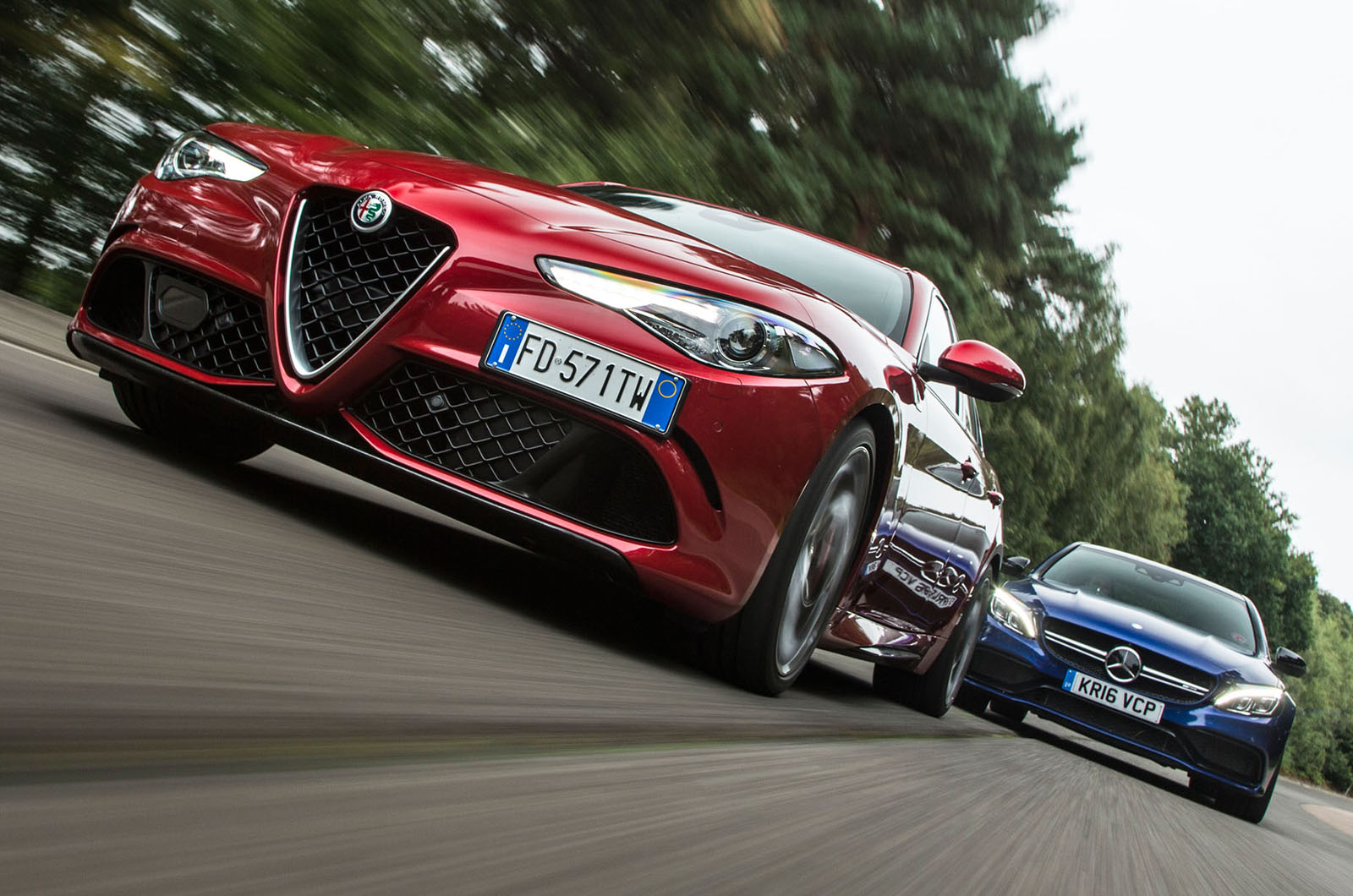 The 4C wasn't perfect, but it was a strong statement of intent and a decent start on the long road back to credibility. The 'new' Mazda MX-5- twinned Duetto Spider didn't happen – for reasons that still baffle this tester and that have only given rise to a damp squib of a sports car in the shape of the Fiat 124 Spider. Never mind. For a while, it was at least the prospect of another Alfa Romeo we could get excited about.
Now the new 'Cloverleaf' has arrived: a rear-driven Alfa Romeo saloon that can be lined up against a 503bhp, £67,450 thunder-saloon from Mercedes-AMG with a straight face and a genuine chance of beating it. What a turn-up that is. A few years ago, with dull, heavy, uninspiring cars like the Brera and 159 in Alfa showrooms, the idea of such a test as this would have come across like a joke in need of a punchline.
Whether you're a fully paid-up Alfisti fan club member or not, this is a transformation that can only be welcomed. Having driven the car abroad back in the spring, we already know the hot Giulia is good – many times better than anything provided by the meagre diet of scraps that has sustained the Alfa faithful for the past couple of decades. This is a momentous car, and that may be enough to make it a triumphant sales success all on its own.