The Dodge Challenger SRT Demon, the 840bhp and 770lb ft-producing brute that was revealed at the New York motor show, has been spotted in the US running with a narrow body.
This comes as a surprise, because the model, which is capable of popping wheelies off the line, had hitherto only been seen in wide-arched form. The new sighting suggests that the Demon's motor will be available with the narrower chassis setup of regular Challengers, likely with a lower price.
Using Fiat Chrysler Automobiles (FCA)'s familiar 6.2-litre Hemi V8 to achieve its peak power figure, the Demon eclipses the Challenger Hellcat's 707bhp thanks to a larger supercharger, 14.5psi boost pressure, 6500rpm redline, additional dual-stage fuel pump and upgraded induction system. It requires 100-octane fuel to hit its peak power; otherwise, it runs at 808bhp, as shown on the spotted car's infotainment system.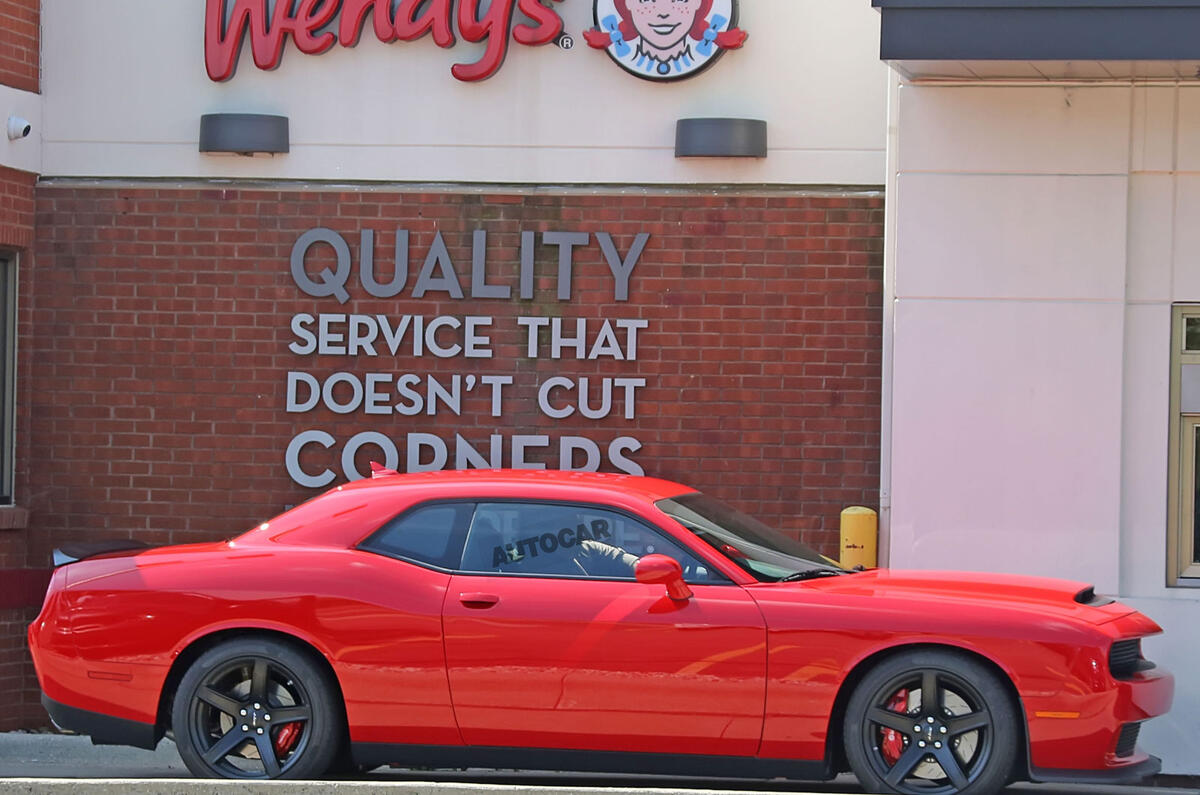 The car's power reserve and performance allows it to claim the Guinness World Record for the fastest quarter-mile of any production car – 9.65sec - as well as being one of the fastest-accelerating production cars in the world, being capable of 0-60mph in 2.3sec.
Under acceleration, the car was the first ever production car to pull a wheelie, with the front wheels lifting by 89cm.
Dodge also claims the car produces 1.8g when accelerating, which is the highest reading recorded yet for a production car, while the car's bonnet scoop is the largest functional bonnet scoop on any production car.
Options on the SRT Demon include deletion of the front and rear passenger seats; $1 each, while a Transbrake – a system that locks the transmission output shaft for quicker launches – is standard. A 'Demon Crate' containing tools, performance parts and other accessories is also included.
The Demon is limited to 3300 units across the USA and Canada, with first deliveries taking place in the autumn. SRT Demon buyers receive a one-day driving tutorial for high-performance driving. A price for the car hasn't been revealed yet, but it's expected to far exceed the £52,000 imported price of the Dodge Challenger SRT Hellcat.
Read more:
Jeep Grand Cherokee Trackhawk is world's quickest SUV
Right-hand-drive Chevrolet Corvettes on sale in UK
used Dodge Challenger cars for sale
Dodge Challenger Hellcat Wideboy
Dodge Challenger Scat Pack
Dodge Challenger Black Ghost 6.2 HEMI Supercharged 807BHP
Dodge Challenger Scat Pack 392 Widebody
Dodge Challenger Scat Pack 392 Widebody
Dodge Challenger Hellcat Hellcat Widebody
Dodge Challenger Hellcat Widebody Jailbreak Redeye
Dodge Challenger R/T SHAKER 5.7 HEMI V8 6-Speed Manual
Dodge Challenger R/T Shaker Coupe 0.0 Petrol
Powered By