Honda's highly anticipated electric city car, the Honda E, has appeared in production form at the Frankfurt motor show, as the firm confirms it will be available from £26,160 in the UK, including the £3500 plug-in grant.
The model's price tag is lower than initially expected, but more expensive than the new Volkswagen ID 3's £24,000 starting price. Entry-level models sit atop 16in wheels, and are powered by a 134bhp electric motor, with prices rising to £28,660 for the 152bhp Advance variant. Both available powertrains produce 232lb ft of torque and deliver 0-62mph in around 8sec.
In addition to the power boost, Advance trim adds 17in wheels, a parking assist programme, a digital rear-view mirror and an upgraded sound system. Range for both models is quoted at 136 miles, with Honda UK boss Phil Webb calling that "more than sufficient" for the average European commute of approximately 30 miles.
Project manager Kohei Hitomi told us earlier this year: "Some potential customers might not be satisfied, but when you think about bigger range and a bigger battery, it has drawbacks in terms of packaging and balance." The e's relatively small powertrain has allowed for a compact footprint; all variants measure 3895mm by 1750mm, with a roof height of 1510mm.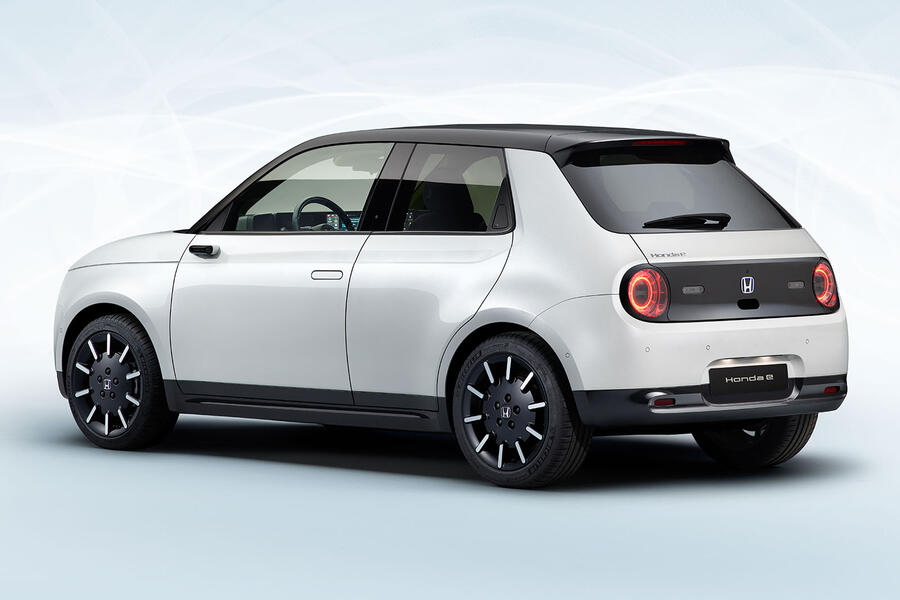 Fast charging at 100kWh means an 80% charging in 30 minutes, claims Honda, while a 50kWh charger will manage the same in 36 minutes.
The e is also available on finance, with prices starting from £299 per month for the base-spec model, and £349 for Advance trim.
Also detailed at the model's Frankfurt debut is an associated smartphone app, MyHonda+, which will give e owners access to a suite of remote-operated services, like interior pre-heating, journey planning and charging process initiation.